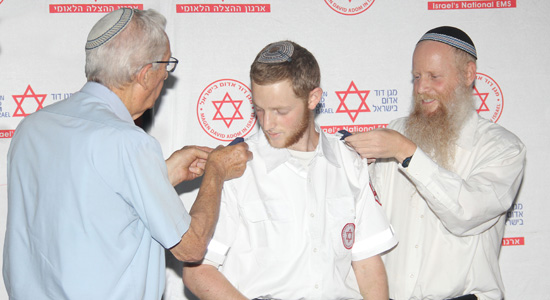 Photo: Dvir Shenarb receives shoulder epaulets from his father, Rabbi Eitan Shenarb, and his grandfather, Zvi Wisbert, at the graduation ceremony of the MDA Medics Course. Photo courtesy Madagascar Photography
Dvir Schnerb was seriously wounded by a remotely detonated bomb
that killed his 17-year-old sister and injured their father
while hiking near Ein Bubin Springs, a popular swimming spot near Dolev in Benyamin Region
Less than two weeks after a terrorist bomb in southern Samaria killed his sister and nearly took his life, Dvir Schnerb completed the EMS course he had been enrolled in and was certified as an EMT for Magen David Adom, Israel national emergency service organization.
In his new role as a volunteer EMT, Dvir, 19, will honor his sister's memory by working to save the lives of others.
The emotional ceremony was held on Sept. 3, only hours after Dvir was released from the hospital. He sustained serious injuries in the bombing, which occurred 11 days earlier. His father, Rabbi Eitan Schnerb of Lod, was also injured. Dvir's sister, Rina, was killed in the blast, which occurred when the three of them were hiking near Ein Bubin Springs in the Benyamin Region. In a cruel irony, Rina, 17, bore the brunt of the blast, partially shielding her father and brother and preventing them from being more grievously wounded.
"Today we are finishing a course which we all began for one reason – the desire to save lives," Dvir said. "We never really think about who our patient is, what their life has been like until now, or what their life will be like after. But this week, I learned that saving lives is not only saving who our patient was, but it's also saving their future. I save the entire life he is going to live, the children and grandchildren he will have, and the good things he will go on doing. An entire world. All of this is in our hands.
"I want to use this moment to say thank you to all of the medical professionals who saved my life. You all gave me a gift, the gift of life. I promise to use this gift to be the best I can be. MDA decided to dedicate this course in memory of Rina. Rina saved lives in her own way. She saved souls by teaching, by kindness, and by volunteering. I think that the connection between saving both the soul and the body is something that we, the caregivers, must take with us," Dvir added.
The event was made additionally poignant by the presence of Senior EMT Shlomo Perel, who was not only the instructor for the course, but was also the first EMT to respond to the scene of the bombing on August 23. Upon his arrival to the attack site that day, he was shocked to discover that it was the Schnerb family who was injured as he's also related to them.
"To see Dvir standing here today, alongside his friends from the course, is emotional, powerful and not to be taken for granted," Shlomo said at the ceremony.
"Dvir today did the impossible by completing his EMT training a mere 11 days after the terror attack," said Eli Bin, MDA's director-general. "We will always remember Rina. And the dear Schnerb family will always be part of the MDA family."