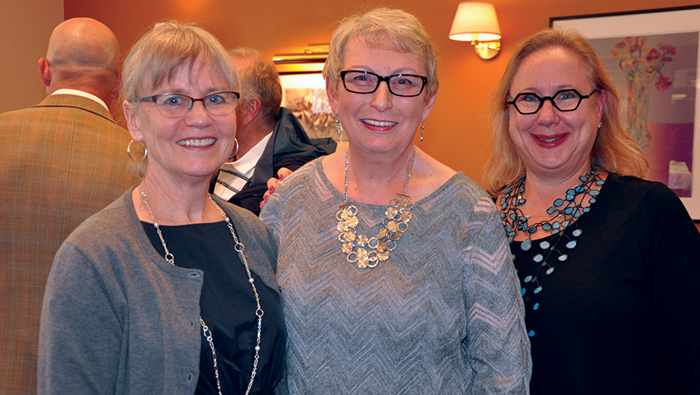 Nearly 20 years ago I sat with a group of parents and community members concerned about the lack of support and Jewish opportunities for children with learning, developmental or physical differences. This summer I attended a retirement party for the woman who spent 18 years ensuring the community included and supported everyone.
About a year after Gaye Schafer and Eve Stern convened that initial meeting, TASK, the disabilities awareness program of Jewish Family and Child Service, was created with a 1998 grant from the Jewish Federation of Greater Portland. But Eve says, "It was really when Corinne Spiegel came on board that things started happening."
"Corinne is really the heart and soul and muscle of the organization," said Eve in a 2009 interview.
On June 9, Corinne retired from her position as JFCS inclusion specialist; a room full of grateful families, JFCS staff members and community leaders gathered at Cedar Sinai Park to share memories and wish her well.
TASK has expanded from its original focus. Originally called Treasuring and Accepting our Special Kids, TASK now stands for Treasuring, Accepting, Supporting Kehilla (community). The change reflected the program's shift from aiding families of children with special needs to supporting individuals of all ages and families coping with disabilities, while also working with the community to raise awareness of and inclusion of people with disabilities. TASK was instrumental in the 2013 creation of Kehillah Housing, CSP's apartments for adults with special needs.
Kicking off the formal festivities, JFCS Executive Director Carrie Hoops said, "The work she has done in this community for the last 18 years has made an indelible impression, from thinking up the concept of Kehillah Housing so many years ago to her daily consultations with clients and community, case management, community workshops, parent support groups and the myriad of social-recreational events she coordinates for adults with special needs."
Carrie's introduction was followed by Eve and Gaye, who alternated in singing Corinne's praises:
"We attribute all of TASK's success to the good fortune that shined on us when Corinne joined the team and really made things happen."
"Now all Jewish children can attend Sunday school, have bar and bat mitzvahs, attend Jewish summer camp, have social opportunities and a place to live. All Jewish children are treasured and accepted. Their families no longer feel isolated. … adults are able to connect with each other and the greater community for social and cultural events."
"All of these achievements are due to Corinne's remarkable vision, hard work and gift for communication."
The duo also praised Corinne as a true woman of valor who sees the beauty and value in everyone.
"We wish you all the best and hope that you pursue your dreams, enjoy some down time and revel in the knowledge that you have made a valuable and permanent change in our community."
In mid-August, Janet Menashe became the new TASK inclusion specialist, adding the role to her position as a skills trainer for JFCS's Partners for Independence Program. Janet can be reached at 503-226-7079 ext. 155 or janetmenashe@jfcs-portland.org.