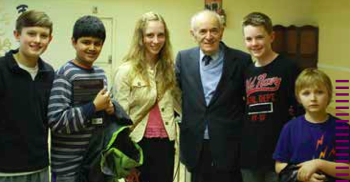 Holocaust survivor Alter Wiener recently spoke to children at the Tulen Center, a martial arts studio celebrating its 10th anniversary. Wiener is the author of From A Name to A Number: A Holocaust Survivor's Autobiography.
"Alter Wiener was amazing," says Silvia Smart, who founded Tulen Center 10 years ago with her husband, Jeff Denson. "I keep running into parents and kids who were there, and we are all still talking about this with our families and in our communities. What a man!"
Wiener has shared his life story with 877 life audiences beginning in November 2000. "My audiences are schools (elementary, middle and high schools), universities, churches, synagogues, prisons etc.," says Weiner. "According to my records I spoke in aggregate to 137,000 people. This figure doesn't include those hundreds of thousands of people who heard me on nine TV and radio stations."
Comments from Tulen students include:
Jade, age 10: Thank you for coming to talk to us. I learned many things from you, especially to be thankful for what I have.
Joe, 11: I sincerely thank you for your sacrifice in reliving your life to educate and inspire the minds of today's youth.
Henry, 13: It's hard to imagine these things happening to anybody. What can we do to make sure this never happens again?
Megan, 15: There is so much to learn about history and how it applies to what's happening in the world today. Mr. Wiener helped me see those connections.
Emilia, 15: In school, in all my history classes over the years, we've never learned about the Holocaust. Why not?