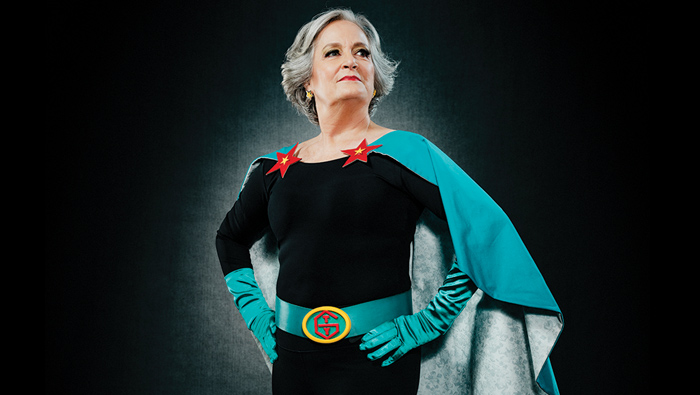 Phyllis Lang is a bona fide Superhero – complete with a caped alter ego, a transformative event that gave her superpowers and a mission to save lives.
Phyllis is among one of six local Superheroes – Susan, Peg, Jasmin, Phyllis, Sherry and Mary – who are working to deliver a knockout punch to ovarian cancer. They are ensuring women know about the Ovarian Cancer Alliance of Oregon and SW Washington's original "Trust Your Gut" ovarian cancer awareness campaign (ovariancancerosw.org/trust-your-gut).
These ovarian cancer survivors/Superheroes are sharing the message: "Be Your Own Super Hero: Awareness and Knowledge – Your Secret Weapon."
For Ashkenazi Jewish women, the message is especially important. Phyllis, like 1 in 40 Ashkenazim, has a BRCA (BReast CAncer) genetic mutation (see box). The BRCA1/2 mutations are associated with breast, ovarian, prostate and pancreatic cancer. Women with a BRCA1 mutation have up to a 39% chance of developing ovarian cancer by age 70.
Ovarian cancer is the fifth leading cause of cancer-related deaths among women and is the deadliest of all the gynecologic cancers. According to the American Cancer Society, in 2017 more than 22,000 women in the United States will be diagnosed with ovarian cancer, and more than 14,000 will die from it.
NO SCREENING FOR OVARIAN CANCER
There is no diagnostic or screening test to detect ovarian cancer. Knowing the symptoms is essential to ensuring an early diagnosis and achieving best-chance odds of survival.
Symptoms of ovarian cancer include:
• Bloating
• Difficulty eating, feeling full quickly
• Abdominal or pelvic pain
• Frequent or urgent need to urinate.
While the symptoms seem nebulous, when they don't go away after two weeks, it's time to rule out ovarian cancer.
IT'S NOT JUST A SLOGAN
Twenty years ago, Phyllis did just what she is now encouraging other women to do – she trusted her gut.
In 1997 Phyllis and her husband, Bruce, decided to move from Florida to Oregon to raise their 3-year-old daughter, Mackenzie. They bought a business – Finer Lines, which represents gift card companies – and planned a December move to Beaverton.
Phyllis had a family history of breast and ovarian cancer. Her grandmother had breast and ovarian cancer, dying when Phyllis's mom was 15. Her mom was diagnosed with breast cancer at age 33 and had two first cousins with breast cancer.
"This was always on my radar," says Phyllis. "I started having annual mammograms at age 21."
But ovarian cancer doesn't have a screening test and, at that time, the symptoms were not recognized as such.
"In September (1997), I started getting what are now called symptoms – bloating, tremendous gas and not feeling right," says Phyllis. When her doctor did a transvaginal ultrasound and found what looked like a cyst on her left ovary, he told her, "Let's wait."
"I had bells going off," says Phyllis. "I asked him, 'Have you looked at my family history?' "
Two days later a different doctor did surgery and removed both ovaries.
"I was diagnosed with stage 3 ovarian cancer," says Phyllis, who was then 45. "You want to be diagnosed at stage 1 or 2, but 85% of women with ovarian cancer are not diagnosed until stage 3 or 4."
Two weeks later she had her first dose of chemo – then she got on an airplane to move to Oregon. She had five more rounds of chemo.
With the diagnosis and family history, Phyllis had a genetic test done. Initially the lab said they couldn't find the results, then said they were negative.
Seven years later, she once again had abdominal pain. Doctors couldn't find a cause, so Phyllis requested a CAT scan. It revealed several tumors on her bowel, so she had surgery again and six more rounds of chemo.
In 2007, three years later, her regular mammogram revealed a bump in her left axilla (armpit). Surgery removed the lump and 15 lymph nodes, seven of which tested positive for ovarian cancer. Four more rounds of chemo followed.
Her 2011 mammogram revealed another lump. A needle biopsy revealed breast cancer. More chemo and then a double mastectomy.
"When I was diagnosed with breast cancer, I decided it is time to do another genetic test," says Phyllis. "I tested positive for the BRCA1 mutation."
Her daughter decided to be tested, too, as soon as she could. She is negative. All of Phyllis's nieces are also negative.
"Genetic testing is very emotional," says Phyllis. "It depends on your mindset. Do you want to be proactive?"
TRUST YOUR GUT SUPERHERO
Now as an ovarian cancer Superhero, Phyllis is sharing her story with all who are willing to listen. She thinks the Superhero campaign is inspired.
"Ovarian cancer is scary," says Phyllis. "They wanted to do something not scary. The Trust Your Gut campaign hit the nail on the head."
"The most important thing women can take away is this: These are symptoms every woman has had. They are also symptoms most of the medical community thinks of as urinary or gastro-intestinal problems. But if the symptoms don't go away in two weeks, this (ovarian cancer) is something you should rule out."
The campaign also ensures women know that ovarian cancer is not just for old women. Of the six Superheroes, all were diagnosed between the ages of 24 and 65.
Even before becoming a Superhero, Phyllis was sharing her story. For the past nine years she has been part of a group of ovarian cancer survivors who speak to medical residents in their OBGyn rotation and to students in nursing, physician-assistant and pharmacology programs.
"This program puts ovarian cancer on the radar of the first line of the medical community women are likely to see," says Phyllis. "They remember three women telling them their personal story."
"That has been the most rewarding thing I'd ever done – until I became a Superhero," she says with a smile.
O-VARY FUNNY!
Dinner and Fundraising Auction 2017
WHAT: OVF is the signature event for the Ovarian Cancer Alliance of Oregon and SW Washington. It includes a comedy act, dinner and silent auction.
WHO: Featuring Comedian Betsy Kauffman
WHEN: 6 pm, Oct. 12
WHERE: DoubleTree Hotel by Hilton, 1000 NE Multnomah St., Portland
WHY: All proceeds raised at OVF17 support programming including the new Here4You financial assistance fund; the By Your Side chemo care kit program; and the Trust Your Gut Awareness Campaign, which was created with a bequest from the estate of Katherine Z. Luecker, who died of ovarian cancer at age 55.
TICKETS: $75 per person available online at ocaosw.schoolauction.net/ovf2017/homepages/show
BRCA1/2 Genetic Risks for Ovarian and Breast Cancer
Ashkenazim have a one in 40 chance of having a harmful BRCA1/2 (BReast CAncer) genetic mutation. By comparison, between 1 in 400 and  1 in 800 people, respectively, in the U.S. general population have a BRCA1/2 mutation.
Women with a BRCA1 or BRCA2 gene mutation have a lifetime risk of 15 to 40% for developing ovarian cancer. By comparison, women who do not have a BRCA mutation have a 1.8% risk of developing ovarian cancer.
A mutation increases a woman's lifetime risk of breast cancer from 12% (1 in 8) to nearly 80% (8 in 10); lifetime risk of ovarian cancer increases to between 16 and60%, versus just under 2% for the general population.
The National Comprehensive Cancer Network (nccn.org) has guidelines with regard to breast exams, imaging (mammography and MRI), risk-reduction surgery (breasts and ovaries) and psychosocial needs.