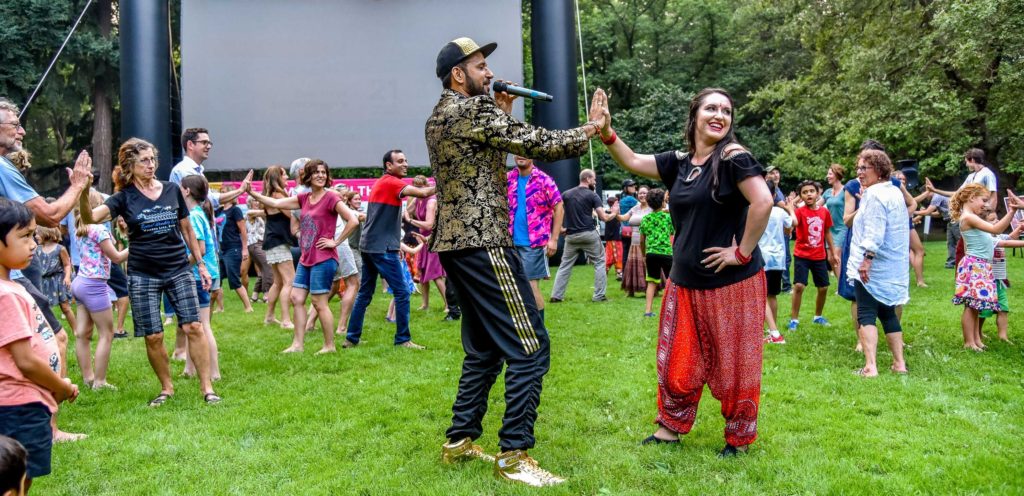 PHOTO: A 2018 Summer Free For All event. Photo by Ben Brinks, courtesy of Portland Parks & Recreation.
Portland Parks & Recreation's extremely popular Summer Free For All series returns for 2019 with amazing events all summer long.
Summer Free For All keeps kids active and healthy, builds community and celebrates our diverse city by providing free, accessible and family-friendly summer activities including live music, movies, crafts, sports, games and free lunches.
"Summer Free For All is about community," says Portland Parks Commissioner Nick Fish. "Families enjoy free events, kids stay active and make new friends, and we celebrate our diverse city. And special thanks to the many civic-minded businesses that make Summer Free For All possible."
This year, Movies in the Park and Concerts in the Park will take place at 41 different parks across the city, and the Free Lunch + Play program will again provide healthy lunches to kids in need, in partnership with five local school districts and Meals on Wheels People.
This year's events begin on June 17. Summer Free For All event guides are posted online at portlandoregon.gov/parks/sffa in English and eight other languages (Arabic, Burmese, Simple Chinese, Nepali, Russian, Spanish, Somali and Vietnamese).
"Summer Free For All is a wonderful way to get introduced to all that Portland Parks & Recreation has to offer," says PP&R Director Adena Long. "When friends and family come together for shared experiences, fun and recreation, it leads to a lifetime of connections and a more united Portland community."
PP&R will host the Summer Free For All Kickoff Celebration at lunchtime on Thursday, June 20.
WHAT: Summer Free For All Kickoff Celebration
WHEN: Thursday, June 20, 2019, 10:30am-12:30pm (music, games and activities start at 10:30; free lunch served at noon)
WHERE: PP&R's Luuwit View Park, NE 127th Ave. and Fremont St.
Summer Free For All Highlights:
2019 is the 13th season of free Movies in the Park, and Portland Parks and Recreation will be showing more than 30 movies throughout Portland this summer with something for everyone! Highlights include a rare showing of the Navajo language Finding Nemo, with English subtitles; the classic E.T. the Extra-Terrestrial; the Academy Award-winning animation of Spider-Man: Into the Spider-Verse; and a screening of Laika's newest film, Missing Link.
Portland Parks & Recreation has set 23 free concerts this summer. Concerts will include the likes of jazz legend Mel Brown B-3 Organ Group; the crooning of Tony Starlight (a Portland favorite); South American dance rhythms from Grupo Masato; The Sirens of Blues featuring the icons and rising starts of Portland's female blues singers; and funk masters Farnell Newton & The Othership Connection.
Thanks to school district partners, PP&R expects to once again serve around 100,000 free, healthy lunches to children this summer in parks, PP&R community centers, and several apartment complexes in areas of town under-served by parks. Lunches will be served at 32 sites across the city.
Mobile Play, part of Free Lunch + Play
Our Mobile Play program is back and will travel to five sites in east Portland in park-deficient areas. Portland Parks & Recreation brings the park and play experience to children at apartment complexes and sites for kids to enjoy games and sports. Every Mobile Play site will have lunch this year, thanks to Meals on Wheels People.
Washington Park Summer Festival
Enjoy world-class performances at the gorgeous Rose Garden Amphitheater in Washington Park on Aug. 1, 2, 3, and 4.
Thursday, Aug. 1 – PDX Jazz presents Mike Phillips with special guest Saeeda Wright; King Louie & LaRhonda Steele
Friday, Aug. 2 – Painted Sky Northstar Native Dance Company with Evening Star Painted Ponies
Saturday, Aug. 3 – Portland Cello Project performing Radiohead, Coltrane, and Bach
Sunday, Aug. 4 – Opera in the Park – Viva Verdi! Giuseppe's greatest works
Special Events:
Festival Latino – Saturday, Aug. 10, at Cully Park from 4pm until after sunset – a vibrant, multicultural annual festival that includes live music by Orquestra Pacifico Tropical, dance performances, and a Movie in the Park showing of Incredibles 2 in Spanish.
Tonga Day 2019 – Saturday, Aug. 17, at Gateway Discovery Park from noon until dusk – the third year of this special event, featuring Tongan and Pacific Islander music and dance performances, food and a Movie in the Park showing of Bumblebee after sundown.
11th Annual Slavic Festival "Heritage"– Sunday, Sept. 1, at Gateway Discovery Park, 10 am until after sunset – an all-day festival showcasing the diverse cultures of Eastern Europe and Central Asia that includes a classic Soviet car show, traditional songs, dances, food, fashion and a showing of Pawn Sacrifice.
Free Swim sessions at Portland Parks & Recreation pools
No registration needed to stay cool at your nearby pool! Just check the website for dates and times for FREE open play swimming at Columbia, Creston, Grant, Montavilla, Peninsula, Pier, and Sellwood Pools.
Stay up to date and follow Portland Parks & Recreation on both Facebook.com/PortlandParks and Twitter, @PDXParksandRec.