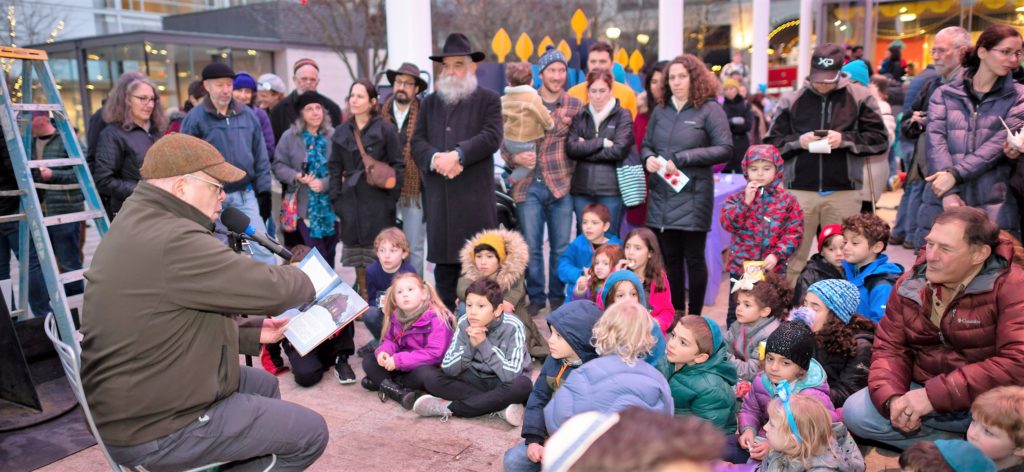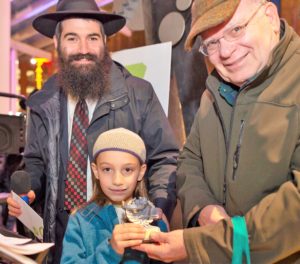 PHOTOS: Above, Eric Kimmel reads his famous book Hershel and the Hanukkah Goblins to children prior to the Public Menorah lighting in Director Square in downtown Portland. At right, Reuben Lev receives his prize from Eric Kimmel and MJDS Principal Rabbi Shneur Wilhelm. Photos by RobPro Photo
Two students shared their award-winning essays on What Freedom Means to Me at Chabad Hanukkah celebrations in Portland and Hillsboro.
Reuben Lev, a Portland Jewish Academy third-grader, and Yehudis Rivkin, a Maimonides Jewish Day School fifth-grader won the Hanukkah Essay Contest sponsored by Maimonides Jewish Day School for the second year.  The Jewish Federation of Greater Portland provided support for the contest, which drew entries from dozens of third- through sixth-graders.  Entries came from all three Jewish day schools in Portland and around the state, including Yujin Gakuen School in Eugene. Students wrote up to 150 words each on "What Freedom Means to Me." The winners of the two age groups each won a hoverboard.
Reuben read his essay at Chabad's Public Menorah Lighting in Director Park in downtown Portland Dec. 2. Yehudis received her award from Hillsboro Mayor Steve Callaway at Chabad of Hillsboro's Menorah lighting at Orenco Station, in Hillsboro. Her winning essay was read at the Portland celebration by Jenn Director, who judged the contest with author Eric Kimmel.
Following are the students' winning essays entitled "What Freedom Means to Me."
By Reuben Lev, Third grade, Portland Jewish Academy
Freedom means not just being free in your mind and body but being free in your heart and soul.
Freedom means being a good person from your heart to yourself and other people.
Freedom means people being happy from the soul because they have been freed from slavery.
When I think of this I think about people in the desert laughing and drinking wine and children playing games.
Freedom means a free ocean with no plastic on the sand or in the water — just normal ocean with waves.
Freedom is children laughing, horses running, the green grass with just a little bit of dew on the blades, the ocean lapping against the shore, plants growing wildly, the sun shining on a perfect day with few clouds in the sky, and people making friends and being happy
When people are free God is happy.
If people are not free the earth is not happy.
By Yehudis Rivkin, Fifth grade, Maimonides Jewish Day School
If freedom means doing everything you want to do, then anything you do will make you unfree from something.
What freedom means to me is not action but being able to think, feel, and  believe. Nobody can take that away from you even if you are in the worst situation possible. You have the freedom to think, feel, and believe freely.
Even if there are chains on your hands and feet, you have the freedom to feel in your heart, think in your brain, and believe freely, notions nobody can ever take away from you.
This freedom will stay forever.