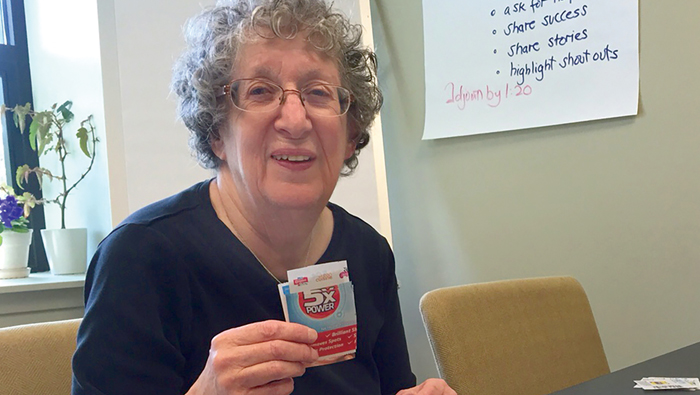 During National Volunteer Month in April, Store to Door honored dedicated volunteers who support homebound seniors and people with disabilities.
With the help of more than 600 volunteers who gave more than 16,000 hours of service last year, Store to Door made 8,322 grocery deliveries to homebound seniors and people with disabilities. Over the past 26 years, Store to Door volunteers have made about 140,000 grocery deliveries to 8,000 clients.
"We have many Jewish volunteers," says Store to Door Director of Development Katharine Quince. "Shirley Bernstein is one of the key volunteers behind Store to Door's money-saving coupon program. For more than 12 years, Shirley has volunteered every week to cut, sort and organize valuable coupons that are used to save clients' money. And when you have a low or fixed income like many Store to Door clients do, coupons help make ends meet."
Shirley herself is a Store to Door client, so volunteering each week is her way to give back.
"The best part of the job is that I get to talk to the staff and help people who can't get out and do the shopping," says Shirley.
Another Jewish volunteer, Myrna Apelby, says, "By helping on special projects, I can keep my skills updated and keep my mind sharp. … It is a 'breath of fresh air' every week I step into the Store to Door office and see all of the wonderful, passionate and creative faces. I feel blessed that I am able to give back to my community."
Store to Door volunteers also participated in Good Deeds Day with the Portland Mitzvah Network on April 17. Volunteers from the network made birthday cards for Store to Door clients.
Volunteers lend their support in roles they find the most fulfilling. They connect with clients by phone each week to provide social interaction and record grocery orders; shop each list individually, giving clients personalized attention; and deliver groceries throughout Portland and Beaverton, making vital social connections with homebound elders.
For more information on Store to Door, call 503-200-3333 or visit StoretoDoorofOregon.org.