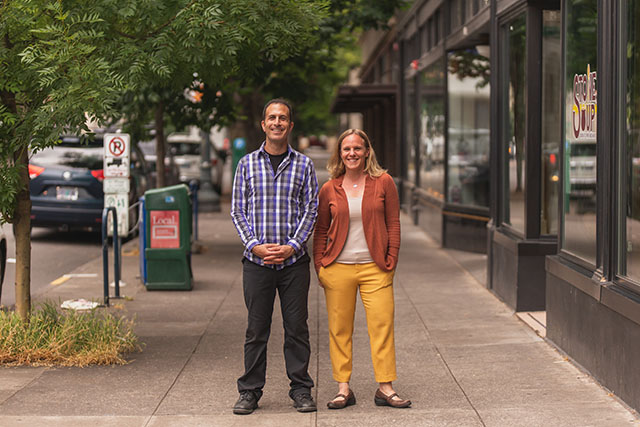 Photo: Craig (left) and Ronit of Stone Soup PDX.
Stone Soup PDX was one of the recipients of Umpqua Bank Charitable Foundation's community grants. The foundation recently awarded 120 community grants to local nonprofits across its five-state footprint totaling $423.500.
Nonprofits were selected from hundreds of applicants who demonstrated a strong commitment to serving their communities, particularly those focused on reaching low-to-moderate income or under-resourced populations in one of the following eight categories: family engagement and resiliency; financial competency; housing stability and home ownership; college, career or technical readiness; entrepreneurship and business expansion; vibrant and equitable neighborhoods; technical and digital connectivity; and small business support and financial guidance.
Stone Soup PDX is a nonprofit foodservice training enterprise based in Portland, providing professional development and hands-on culinary expertise to people at risk of homelessness.
Craig Gerard and his wife, Ronit, both came from backgrounds in foodservice and were raised with the principles of tikkun olam.
Stone Soup is a marriage of both these concepts and provides a 12-week training course for participants to enter the foodservice workforce once completed. They work with a network of Portland area caterers and restaurants that ensures ample job interviews and placement opportunities for graduates.
In the summer of 2019, Stone Soup transformed the old Gilt Club space on NW Broadway into Portland's first hybrid restaurant and nonprofit culinary training program that offered fine dining, catering and daily lunchtime counter service.
When the pandemic hit, Stone Soup closed its restaurant and began doing take-out only.
They also started working with Multnomah County, C3PO Villages and Human Solutions to manage meal production for new shelters in Portland. This means Stone Soup and their partner restaurants are cooking and delivering breakfast, lunch and dinner for thousands of unhoused women and men, seven days per week.
This opportunity has allowed them to keep most of their staff employed, and hire some of their program participants and recent graduates who have demonstrated outstanding skills.