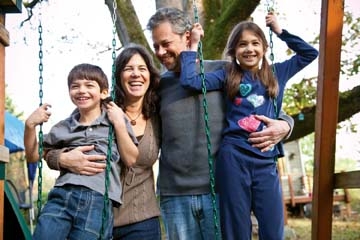 By Lauren Murphy
A glance at Dr. Sharon Meieran's resume brings one word to mind: Superwoman. She's a doctor, a lawyer and a mother of two; and this year Meieran is looking to add state representative to her long list of accomplishments.
"I can't remember a time when I haven't done a lot of things at once," says Meieran, with a laugh. Being busy is definitely when Meieran seems most at ease.
After graduating from University of California, Hastings College of Law in her native San Francisco, Meieran worked as an intellectual properties lawyer helping Silicon Valley companies protect their inventions with trademarks. Though she enjoyed her work, Meieran felt increasingly drawn to the medical world and on her 30th birthday decided she would give medical school a try. She concentrated her studies on emergency medicine and graduated from the University of California, San Francisco with honors.
After a stint in Cincinnati, Meieran and her husband, Fred Cirillo, a fellow doctor she met in medical school, moved to Portland in 2006 with their two young children.
"I had many friends in Oregon and had visited Portland a lot. This was just a place I always thought I should be. That feeling never left me," says Meieran.
Since then she's worked part time doing clinical shifts in hospital ERs throughout the Portland area and spends the rest of her time doing advocacy work and volunteering in her children's school.
Much of Meieran's advocacy work revolves around education and public health care reform. Of particular importance to her is the growing crisis of prescription drug abuse. Over the past few years, she's been a crucial voice pushing state legislation to monitor the prescribing of pain medication. In 2009, she helped gather a group of physicians to testify before the state senate in favor of a drug-monitoring program, which eventually passed. Since then, she's been very proactive in setting statewide guidelines for how to prescribe such drugs in emergency departments. "There's been tremendous support from public health agencies and hospitals. I'm very proud of that," she says.
It was during this time that Meieran caught the political bug and knew that when the time was right she would run for office. This turned out to be the right time for Meieran, and she began campaigning for state representative in House District 36 in August of 2011.
Her medical background certainly gives her insight into the health care issues this state faces. Additionally, Meieran says the qualities that make for a good ER doctor also will benefit her in office. "You need to be a leader, but also a team player, and always be thinking on your feet," she says. With health care transformation such a crucial issue facing Oregon and its residents, Meieran thinks someone with her background would be a perfect fit as a state representative.
"There are nine lawyers in the House of Representatives, but not a single health care provider when this is such a crucial issue at the moment," says Meieran. "I bring experience in so many diverse areas – whether it's mental health or women's issues, public safety or children's advocacy. You see all of this in the emergency room – it's a real spectrum of everything that is going on in our society."
With two small children in the Portland public school system, education is another big issue for Meieran. "My kids go to our local school and I see firsthand through being in their classrooms what is happening. It's really scary to me. We're at a crisis point with the budget cuts and we have the potential to address the crisis," Meieran says. "I think some of Governor Kitzhaber's reforms are attempting to do that. One of the things I really love is his cradle-to-career approach and the integration of community colleges into public schools and a focus on vocational training, which I think is so important."
The respect is certainly mutual; Meieran is the only legislative candidate to have garnered Kitzhaber's endorsement. "I'm so proud and honored to have that endorsement. Especially since he was a fellow emergency physician. I've learned a lot from him and admire his vision for health care reform," she says.
Another focus of Meieran's campaign is the support of small businesses in Oregon, which Meieran calls the backbone of the community. "We need to do what we can to help them thrive," she says. She believes that when small businesses thrive and expand so does our economy.
As the primaries near, Meieran's excitement builds, and win or lose she has no plans to slow down. In addition to her clinical shifts at Portland Adventist Medical Center, she also serves as president-elect of the Oregon College of Emergency Physicians, on the executive board of the Medical Society of Metropolitan Portland and on the Oregon Medical Association's Legislative Committee. As if that weren't enough, she also serves as co-president on the PTA board of her children's school.
Believe it or not, Meieran plans to continue all of these endeavors whether or not she becomes state representative.
A recent Portland transplant, Lauren Murphy is a lifestyle writer and editor whose articles have been published in Los Angeles Confidential, Aspen Peak, Hamptons Magazine and The New Jersey Star Ledger. A native of the East Coast, she is enjoying getting to know her new city and writing all about it. She can be reached at laurmmurph@gmail.com.