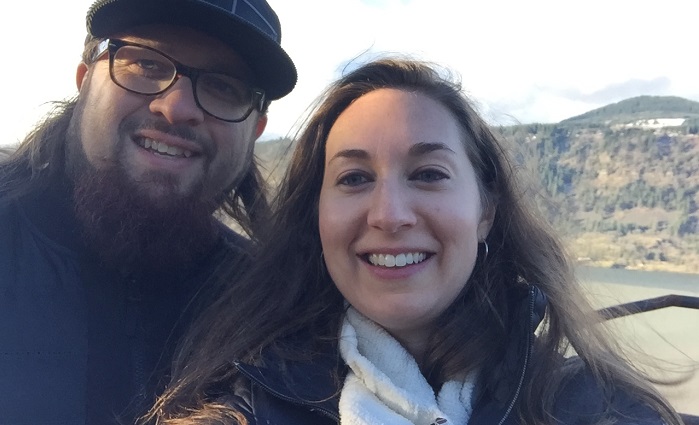 A young couple who met at Portland's Moishe House realizes that building a foundation for a solid marriage and planning a wedding to celebrate that union both take time and effort.
Just a month into their engagement, Rochelle Schwartz, 30, and Ryan Abitz, 36, have already learned the two rules of wedding planning. Rule number one: Everything is a lot more expensive than you think. Rule number two: You are going to get a lot of unsolicited advice.
They also learned a lesson about internet privacy settings.
"I'm a little bit of an old lady (in terms of internet savvy)," says Rochelle. "I was looking on Pinterest and I got calls from two friends that they saw I was looking at wedding ideas." The couple hadn't announced their engagement, so Rochelle quickly figured out how to change her settings on Pinterest from public to private.
The couple announced their engagement Dec. 15, 2017, and is now busy planning an August wedding.  They have set a budget and are researching venues, videographers, photographers, live music and food. "We want to be sure all are in our budget before we say yes to anything," says Rochelle. "We are doing research and deciding what is in our value system – for example do we want paper or electronic invitations?"
They want to incorporate Jewish elements such as a ketubah, chuppah and of course breaking the glass at the end of the ceremony.
In addition to ideas from Pinterest, they have found online resources such as 12-month checklists that are helpful for organizing what needs to happen when. They also have discovered that spreadsheets and lists are indispensable.
"It's too much to keep track of in your head when you compare venues," says Ryan. "What's included and what's not – that can vary the cost big time."
They've decided they want their wedding to be outside Portland and are planning a weekend getaway for themselves and their guests, complete with outdoor activities such as hiking and white-water rafting, as well as golf for their dads and some other relatives. Ryan wants to add jumping out of a plane – "I love skydiving," but Rochelle says she'll keep her feet on the ground and take pictures.
Both Rochelle and Ryan seem to have their feet firmly on the ground when it comes to how they approach life and their relationship.
The daughter of Brenda and Larry Schwartz, Rochelle grew up attending Congregation Neveh Shalom. She is a mental health therapist. Rochelle was a resident of Moishe House for three years and participated in the first PDX Pathways mentorship program of the Jewish Federation of Greater Portland. She now serves on the federation board and co-chaired federation's women's Impact event in October. She's been to Israel twice, once on Birthright.
Ryan is a chef who owns Urban Roots, a niche market, weekly meal delivery service focused on paleo and gluten-free diets. He was raised Lutheran, but says he loves Judaism's values and identifies most with Judaism. So when he moved from Austin to Portland three years ago, he went to the Portland Kollel to study Kabbalah and other Jewish subjects. He helped with food for some Kollel events and then got involved at Moishe House, where young Jewish professionals live in a rent-subsidized home while hosting meaningful Jewish experiences for their peers.
Ryan went Moishe House's Passover seder in 2015 when Rochelle was one of the Portland  home's residents.
But it wasn't romantic feelings for Rochelle that inspired Ryan to continue returning. "We were both involved in different relationships for the first couple years," he says. "I liked the group of people (at Moishe House). They are laid back and fun. I helped cook and taught some cooking."
Meanwhile Rochelle and Ryan became friends, and when they split up with their previous partners in the same month Ryan cooked her dinner.
"It was just a check up as friends to see how we were both doing," he explains.
The two were just hanging out when each realized they had a magical feeling. That was in December 2016.
"We spent a week getting to know each other and asking adult questions," says Rochelle, adding that they did not touch or kiss during that time.
"Incredibly, every single point we hit, we were spot on," says Ryan.
They talked about what they wanted for the future in terms of marriage, kids and home situation; they asked about skeletons in the closet and talked about spirituality, beliefs and values. Through it all, "there was a lot of laughing."
The shared laughter should serve them well in both planning the wedding and building a meaningful life together.