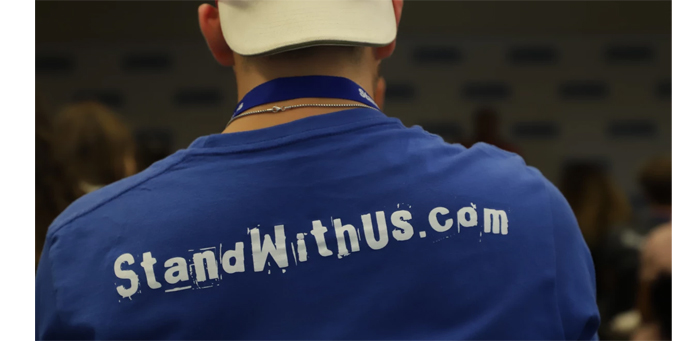 Each year, the StandWithUs High School Internship and its Emerson Fellowship bring all the students in the respective programs together for a week of learning and getting to know one another in Los Angeles.Created in 2012, the StandWithUs High School Internship is a year-long program for North American students in 11th and 12 grades.
The goal of the program is two-fold: to prepare students for challenges they may face regarding Israel in college; to grow their Israel knowledge and leadership skills not just for the future, but to have an important and necessary impact for Israel in their schools and communities while they were still in high school. Interns are passionate about creating educational opportunities to inspire their peers with thoughtful, nuanced, and intentional Israel education programs throughout the school year.
The StandWithUs Emerson Fellowship was founded in 2007 by Los Angeles philanthropists Steve and Rita Emerson. Student leaders on campuses throughout the US, Canada, the UK and Brazil are selected and trained to educate about Israel and confront anti-Israel rhetoric. Throughout the year, they create interesting Israel programming designed to engage others, including bringing in speakers and creating educational and cultural events. They also monitor and respond to anti-Israel and anti-Semitic actions.  Interns and Fellows attend two conferences, including SWU's annual "Israel in Focus" International Conference.
This year, due to the pandemic, the conferences were hosted virtually from Aug. 2-6 (High School Internship) and Aug. 9-13 (Emerson Fellowship). While virtual conferences have their challenges, and students worldwide are experiencing zoom-fatigue, none of this seemed to matter! Educational sessions were run by SWU staff, and they bonded as a group via the multiple networking and engaging sessions designed to help them get acquainted.
Rena Nasar First, StandWithUs Executive Director of Campus Affairs and Liora Bacharch, Managing Director of Campus Affairs, together with the college team, including Matthew Levin, Pacific-Northwest Campus Coordinator and Miri Kornfeld, Executive Director of High School Affairs and Liz Tsai, Managing Director of High School Affairs together with the high school staff including Aviv Attia, Pacific-Northwest High School Coordinator kicked off their respective conferences, mentored the students throughout the week and ensured the programs flowed smoothly on Zoom.
Students learned how to create their personal "Israel story," and present it to different groups. They took a deep dive into Israel's history, the Arab-Israeli Conflict, and the social history of Israel to have the context necessary to have insightful conversations about Israel. They also learned about when criticism of Israel crosses the line into anti-Semitism.
Participants were exposed to tactful debate skills so that they can begin to practice addressing anti-Israel claims in a respectful and effective manner. They shared strategies of how to confront anti-Israel boycott campaigns and disputes with professors.
A record number of students from the United States and Canada were selected for the 2020-21 year. For the High School Internship program, 125 students were selected and 107 students were selected for the Emerson Fellowship.
Randy Kessler, executive director StandWithUs Northwest stated, "Educating and inspiring the next generation about Israel is so important, and we're not about to let a global pandemic stand in our way. I am so proud of how incredibly well our students have adapted to this virtual world, and am positive that they will continue to strongly impact their schools and communities throughout the year."
Aviv Attia, StandWithUs Pacific Northwest High School Speaker said,  "October will be my fourth anniversary as part of the StandWithUs family. In Israel, I was a StandWithUs student fellow and participated on countless delegations that the organization sent me on including to this region and South Africa. Last year, I moved from Tel Aviv to Seattle to be a shaliach and high school speaker in the Pacific Northwest.
"I am pleased to be part of such an outstanding organization that is on the frontlines of educating the next generation of leaders for Israel in North America and around the world and who stands up to hateful anti-Semitism. I am very excited that I will be continuing my work for another year!
"Usually, the High School Internship Conference takes place in LA, but COVID had different plans for us. I must admit that at first, I was a little stressed about how it would work with 125 interns, but the conference exceeded everyone's expectations. The high school department has a very professional and cohesive team. Together, we created a conference that educated and prepared our high school interns for the year to come.
"Last year, although approximately half of the school year ended up being virtual, I engaged 4,300 people in over 100 different locations in the Pacific Northwest in Israel-education programming. This year I'm looking forward to increasing our reach. Not even a pandemic can get in the way of StandWithUs' Israel education!"
MEET THE OREGON STUDENTS
Rachel Yoken, 2020-21 StandWithUs High School Intern from
Catlin Gabel School
From preschool until my bat mitzvah, I regularly took classes at my synagogue, Congregation Neveh Shalom, learning lessons from the Torah and developing Jewish values of tzedakah and tikkun olam. As I entered high school, I joined the Oregon Jewish Community Youth Foundation (OJCYF) to help others in my Jewish community.
I joined the internship to learn more about the Jewish homeland and to have the tools necessary to educate my peers about Israel and combat rising anti-Semitism. I hope to create programs about Israel's history, the connections it has to other countries, and encourage peaceful discourse around the Israeli-Palestinian conflict that includes all sides of the story.
The High School Internship Conference experience was extremely informative and I feel more equipped to have real discussions with my peers and other members of my community.
Adam Allina, Emerson Fellow from Portland State University
Adam was born in Israel and moved to Portland in 2018.  He is a student leader at Portland State Hillel and assumes the presidency of CHAI- the Cultural and Historical Association for Israel at PSU.
The StandwithUs Emerson Fellowship provides me access to many resources to help us combat campus BDS and anti-Semitism.
I hope to generate more conversations about Israel and help students understand that the situation is complicated and that Israel stands for human rights and the world is better with it.
I learned at the conference how diverse the pro-Israel community is.  Although we don't have to agree with what transpires in Israel, we agree that Israel is important and has a right to determine its own destiny.