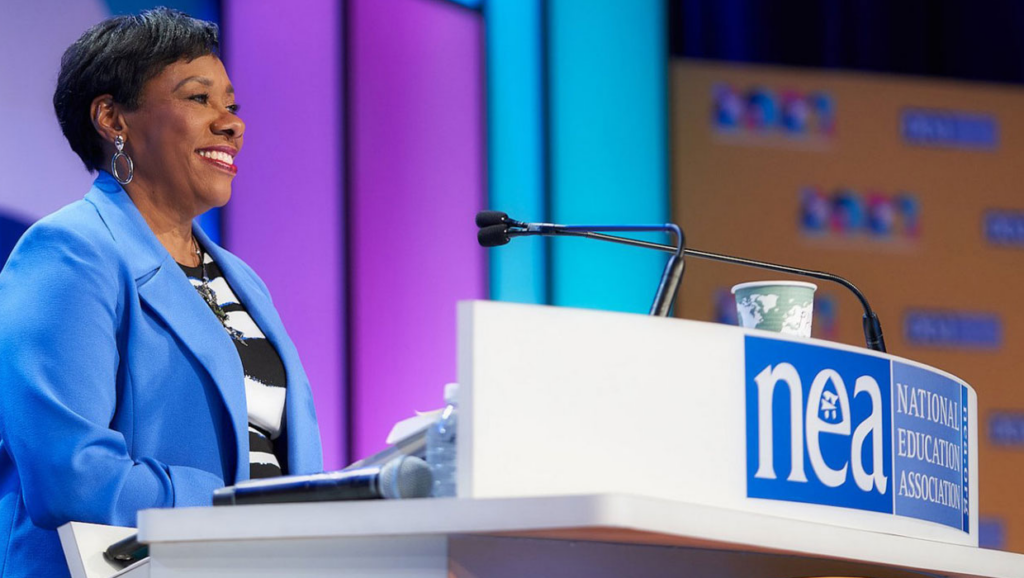 Photo: NEA President Becky Pringle
StandWithUs congratulates National Education Association (NEA) members who overwhelmingly defeated a motion attacking Israel at their 2021 Representative Assembly. New Business Item 29 (NBI 29) failed with 23% of the RA voting in favor, and 77% voting against.
"We applaud the NEA Jewish Affairs Caucus and all members who spoke out and persuaded their union representatives to defeat this harmful motion by such a large margin," said Kate Chavez, National Associate Director of High School Affairs at StandWithUs. "NBI 29 promoted dehumanizing smears against Israel, while ignoring the crimes Hamas has committed against Israelis and Palestinians alike. We applaud the NEA for rejecting an approach that only fuels more division and hate, instead of justice and peace."
The NEA is the largest labor union in the United States, representing over 3 million education professionals across the country. Every year, 8,000 NEA representatives come together to vote on various "New Business Items" at the NEA Representative Assembly (RA). NBI 29 was one of two anti-Israel motions submitted for the 2021 RA. The RA ended before the other motion, NBI 51, could be voted on, meaning that it will now be referred to committee.  SWU launched a campaign urging NEA members to stand up and oppose these motions.
Local NEA affiliates in San Francisco and Seattle have passed anti-Israel resolutions in recent weeks. The one passed by the Seattle Education Association (SEA) is especially egregious and has sparked backlash for promoting a vicious antisemitic conspiracy theory. Meanwhile, hundreds of members of the NEA affiliate United Teachers of Los Angeles have signed a letter strongly opposing a similar resolution that is scheduled for a vote in September, 2021.
StandWithUs will continue to work with educators across the United States to tell Israel's story, correct misinformation, and push back against hate.