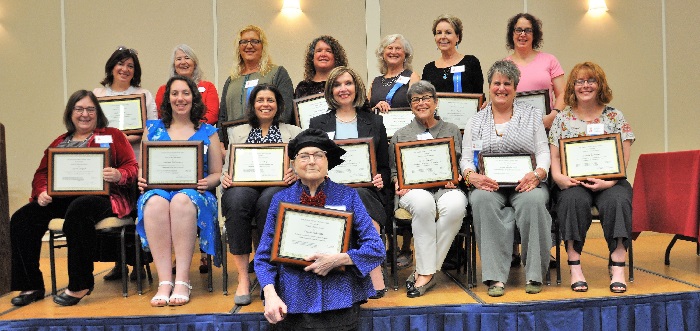 PHOTO: Song of Miriam 2019 Honorees: (Front standing) Cheryl Richards; (from left, seated) Sarah Orzech, Beit Am Corvallis; Marissa Richardson, Congregation Neveh Shalom; Andrea Sanchez, Mittleman Jewish Community Center; Liz Stanley, Congregation Shaarie Torah Sisterhood, Linda Veltman, Oregon Jewish Museum & Center for Holocaust Education; Abbey Vanderbeek, Temple Beth Shalom, Salem; Jennifer Zeidman, Portland Jewish Academy; (back) Tehila Derfler, Congregation Kesser Israel; Evie Lerner, Temple Beth Tikvah, Bend; Emma Lugo, Congregation Shir Tikvah; Gila Ormiston, P'nai Or; Nancy Becker, Havurah Shalom; Karen Hyatt, Congregation Kol Shalom; and Kim Kent, Beit Haverim; Not pictured: Carmella Ettinger, Jewish Federation of Greater Portlnd; and Susan Milstein, Women of Reform Judaism, Beth Israel Sisterhood.
The Oregon Jewish community honored 17 women at the 27th Annual Song of Miriam awards brunch on June 2, 2019.
Though each woman is nominated by her respective organization, the community as a whole honors the women who volunteer their time and energy to ensure the continuity and vibrancy of the Jewish community of Oregon and Southwest Washington. This annual event is sponsored by the Jewish Women's RoundTable, whose mission is to strengthen the Jewish community by honoring the excellent work of women volunteers and bringing the community together to celebrate Jewish life.
Including this year's honorees, JWRT has now celebrated the volunteerism of more than 400 women, says JWRT President Leslye Epstein. Past honorees Marki Maizels and Toby Blake presented the awards.
Dorice Horenstein led hamotzi and presented a dvar Torah on the shehecheyanu blessing traditionally recited to celebrate special occasions. Rather than thanking God for bringing us to this moment, Dorice translated the third verb in the prayer as 'enabling us to arrive' – "We are partners in this arrival," said Dorice.
Nancy Becker            Havurah Shalom
Nancy helped organize Portland's chapter of "New Jewish Agenda," (1980); organized a "Children of Survivors" group (1982); shepherded the landmark bill to banish potato chips and soda from Oregon's public schools (2007); lobbied Congress to defend Michelle Obama's healthy school-lunch program (2014); and now chairs Portland's "J Street" chapter. At Havurah, Nancy's been at the helm of committees and fundraisers, and represented Havurah on the Community Relations Council promoting inclusivity, transparency and openness.
Tehila Derfler              Kesser Israel
After four years as Rebbetzin for Ahavas Torah in Eugene Tehila came to Kesser Israel in 2013. Tehila put her experience with programming, community leadership and outreach to use leading the Kesser Kids' program, where she engineered a rich, warm environment. Her steady guidance help guide older girls through leadership positions. Tehila is very involved with the Maayan Torah Day School, where she went from volunteer to teacher.
Carmella Ettinger        Jewish Federation of Greater Portland
Carmella came to Portland in 1953 when her father became executive director of the Portland Jewish Education Association. Her mother, Ceal, was one of the community's most active volunteers, a tradition Carmella continues. She is in her third year chairing federation's Overseas Special Projects Committee, which funds smaller programs in Israel. She is board secretary for "A Wider Bridge," a North American organization that works to support the LGBTQ community in Israel.
Karen Hyatt     Kol Shalom
A nine-year member of Kol Shalom, Karen was on the board for four years and served as PR director. She worked on the Music Maker's fundraising auction, Kol Shalom's website and the 25th Anniversary Celebration committee. She conducted a site search for the Passover Seder and worked on the Seder each year. She also developed and leads a monthly dinner group and serves on the board that oversees the Jewish Cemetery at River View.
Kim Kent        Beit Haverim
Kim has been a member of Beit Haverim for 13 years, a religious school teacher for 10 years and a board member since 2016. A public school teacher with a doctorate in education, she became religious school director in 2018. She wrote a multi-grade curriculum for kindergarten to b'nai mitzvah. She is passionate about equity and strives to increase accessibility and inclusivity for students with learning and behavioral challenges. Kim believes that if she can do good, then she is obligated to do good.
Evie Lerner     Temple Beth Tikvah
Every Beth Tikvah member knows where Evie Lerner lives, because for a decade she has opened her home for countless gatherings, large and small: Yom Kippur break fasts, Shabbat dinners, Passover Seders, Hanukkah parties, and weekly Torah studies. Evie is determined to mix bubbes and babies, new members and old-timers. Evie organizes the "care and feeding" of the community, arranging meal trains and hospital visits. Evie has managed Beth Tikvah's Facebook page for seven years posting birthdays, mazel tovs and welcomes.
Emma Lugo     Congregation Shir Tikvah
Since joining the Shir Tikvah family, Emma Lugo has become an important companion in its primary mission of seeking, learning and teaching Torah to members. Beginning as a student, she became the leader of the popular Torah study. She leads an LGBTQ Torah study and seder. She participates in Shir Tikvah's regular visits to Coffee Creek Correctional Facility to lead Torah study for the imprisoned women. Emma hosts "Trans-positive PDX," a regular radio show on KBOO, and is a long-time social activist.
Susan Milstein Women of Reform Judaism/Beth Israel Sisterhood
Upon retiring in 2010, Susan and her husband moved from New Jersey to Portland and joined Congregation Beth Israel. An active member of Beth Israel and Sisterhood, she has served on numerous committees including co-chairing Beth Israel's Social Action Committee. Susan was board president of Lift Urban Portland, and is currently chair of the Advisory Council, a member of the Development Committee, and packs food boxes. She not only chaired Lift Urban Portland's annual holiday dinner but has been its head chef for the past two years.
Gila Ormiston             P'nai Or
In 1986, after returning from Israel, Gila attended a Shabbos gathering with Rabbi Aryeh Hirschfield, z"l, that was soon to become Congregation P'nai Or. Gila was volunteer coordinator for five years, coordinated many Torah readings and ark honors for High Holidays, schlepped music equipment, chanted Haftorah and Torah, and has stepped in as Gabbi. Gila helps distribute fresh vegetables through P'nai Or's Community Food Program. "The Tree Song" she sings for Tu B'shvat makes almost everyone fall in love with that holiday!
Sarah Orzech               Beit Am
Name a committee at Beit Am, and Sarah either organized it or has been part of it. Name a Jewish holiday, and Sarah has helped organize its observance. Sarah's parents are Beit Am founders Ze'ev and Mimi Orzech. She cut her volunteering teeth at age 7 by helping with Hadassah projects. Sarah began her adult volunteer career helping with her kids' school activities. From there, she was on the Hadassah and Beit Am boards, and was president of both.
Cheryl Richards          Congregation Kol Ami
Cheryl has served in multiple positions of leadership on the Kol Ami Board – trustee, vice president and president, during which the congregation built the new synagogue. She interviewed Rabbi Elizabeth Dunsker during Kol Ami's long rabbi-search process. She chants Torah during High Holidays and is a member of the congregation's "Holy Rollers," which rolls the Torah scrolls each year at Simchat Torah. She has been a religious school teacher for 10 years.
Marissa Richardson     Congregation Neveh Shalom
Marissa and her parents, Sam and Phyllis Louke, joined Congregation Neveh Shalom when she was 12. She attended Wednesday Night School and later she served as leader of the Junior Kadima youth group. When she returned to Portland with her husband, Marissa immediately became involved at Congregation Neveh Shalom. She and son Freddy are active in Shoreshim, a group for young families. She serves on the finance committee and co-chaired the 2019 synagogue auction.
Andrea Sanchez          Mittleman Jewish Community Center
Andrea is the immediate past co-president of MJCC. She guided the center through developing its new strategic plan. She also led the J's board in aligning its governance with best practices, and in developing better succession planning for the board and its leadership. She is now the director of project finance for Portland's Housing Development Center, leading its work in structuring the financing for development of affordable housing and community facilities to serve low-income people.
Liz Stanley      Congregation Shaarie Torah
Liz has been a member and dedicated volunteer at Shaarie Torah for 20 years. She helps prepare Shaarie Torah's world famous hamantaschen for Purim and latkes for Hanukkah. At Sisterhood she has filled in as secretary and drives members needing a ride. Liz has presented animated discussions to "The Shtetl Group" on controversial aspects of Judaism. She now sings with the Shaarie Torah Holiday Band after having played Esther in Shaarie Torah Purimshpiel.
Abby Vanderbeek       Temple Beth Sholom
Abby has been an active and generous member of the Salem community for more than 30 years. As an artist, she has donated her time to the beautification of the synagogue.  She has provided beautiful flower arrangements for holiday celebrations, and bar and bat mitzvahs, and caters delicious meals for holiday banquets. She has served on the synagogue's board and adult cultural-education committee; participates in chevra kadisha; and heads up major events such as the annual auction.
Linda Veltman            Oregon Jewish Museum & Center for Holocaust Education
Linda brings a lifetime of volunteerism to her OJMCHE board position. She is a persuasive and effective fundraiser, and an enthusiastic booster of the museum. Linda's career of volunteerism began in Portland at City of Hope. Linda was treasurer of National Council of Jewish Women when it used the bequest from Florence May to provide seed money for the May apartments and hire a Jewish studies professor at Reed College.
Jennifer Zeidman        Portland Jewish Academy
Since her daughter Ruthie started kindergarten, Jen has helped in the classroom. She has been a PJA Ambassador for five years, worked on the used book sale and volunteered at the auction. She is a current PJA and MJCC board member and past Jewish Family and Child Service board member. She participates in Positive Charge!, a local volunteer network. A meal provider for "Portland Homeless Family Solutions," Jen has organized PJA to prepare monthly meals for that organization for two years.