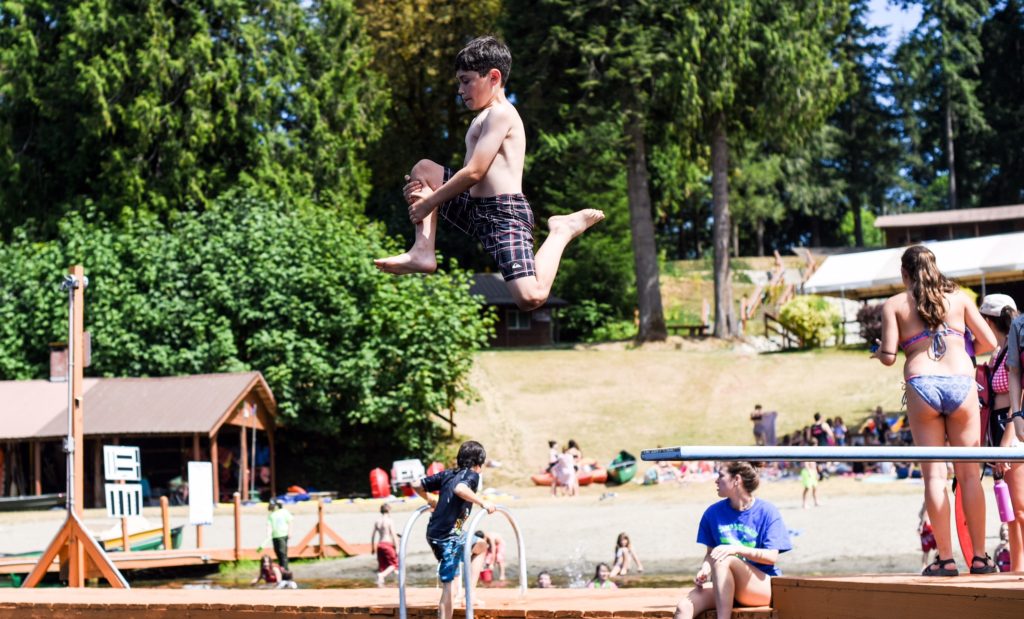 PHOTO: A camper leaps from the dock into the camp's private lake. This summer Solomon Schechter campers will have a new aqua park on the lake giving them more options for water fun.
Last summer under new Executive Director Zach Duitch, Camp Solomon Schechter swelled by 60 campers, bringing more than 460 campers to the Jewish camp near Olympia, WA. This summer Zach expects tremendous growth again with new programs, expanded outreach to families and communities (see box), and a new multi-age schedule.
"This year we are moving away from age-based sessions to multi-age sessions, so first- to 10th-graders can come for the full summer," says Zach. "That's common in our field but new to our camp. It allows flexibility for families and also gives older campers opportunities for leadership and role modeling. Now campers can come from one to six weeks."
The camp is also rolling out a new aqua park on the camp's private lake, a stable of mountain bikes, a new culinary program in the new kitchen that opened last year, and a rabbi or Jewish educator on staff to enrich the Jewish content of all programs.
Portland's Stern family funded the aqua park, an inflatable, floating water park featuring monkey bars, rope swings, trampoline, catapult and other fun ways to launch into the lake.
The 50 new mountain bikes will expand the camp's use of its wooded facility. The main camp facilities sit on just 10 acres of Solomon Schechter's 175-acre site. Campers will learn mountain biking skills and explore the woods that surround the main campground.
"The majority of camp is backcountry," says Zach. "We have miles of trails we will take campers on."
Last year a new kitchen and a new chef brought fantastic kosher meals to camp. This year campers will be able to learn cooking skills in a specially designed teaching area in the kitchen.
While Schechter has been steeped in Jewish values and traditions since its founding in 1954, Zach says they plan to deepen those connections this year.
"We are bringing on a Jewish educator, so we can infuse Jewish life into all our curriculum and programs with great intention," he says.
He says the essence of Camp Solomon Schechter is "building lifelong friendships, new skills and a commitment to living Jewishly. We want campers to be compassionate, courageous, curious and creative."
To help the camp recruit new participants, the Garry and Judith Kahn Campership fund gives new campers from Oregon and Southwest Washington a $250 discount.
Though the camp was founded by three Conservative rabbis, it is not affiliated with a synagogue, JCC or movement.
"It is a home for Conservative, unaffiliated and other affiliated campers to learn and live Jewish lives," says Zach. "It's an opportunity to come and learn and fall in love with everything Jewish."
In addition to learning skills in arts, sports and teva (nature), campers also gain "Jewish wisdom … so they feel comfortable to participate in Jewish life."
For more information, visit campschechter.org.
CAMP SOLOMON SCHECHTER EVENTS IN PORTLAND
Cupcakes & Havdalah
Join Camp Solomon Schechter, Portland Jewish Academy and Congregation Neveh Shalom for a pizza dinner, song session, games, cupcake decorating and a camp-style Havdalah service. 
WHERE: Congregation Neveh Shalom, 2900 SW Peaceful Lane, Portland
WHEN: 5:30-7:30 pm, Saturday, March 9
COST: $5 per person (18 and under free)
REGISTER: campschechter.org/cupcakes-havdalah
CSS Info Parties
Come learn about camp, speak with camp staff, nosh on snacks, and of course, win lots of camp SWAG!
CSS Westside Info Party
12:30-2 pm, Sunday, March 10
RSVP for address: jniehaus@campschechter.org
CSS Eastside Info Party
5-6:30 pm, Sunday, March 10
RSVP for address: jniehaus@campschechter.org