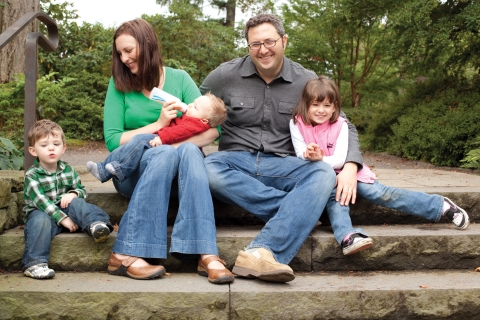 Roy Kaufmann wears many hats: political enthusiast, PR consultant, comedian, husband and dad. But there's another hat this 34-year-old father of three recently began wearing that he never really expected.
"A few years ago, had you asked me what I'd be doing, running Oregon's marijuana regulation campaign would have been an unlikely response," says Kaufmann.
Kaufmann, who has always had a strong interest in politics and served as Mayor Sam Adams' communication director from 2009 to 2011, stumbled across the public access show Cannabis Common Sense while channel surfing one night. Expecting nothing more than some mindless entertainment, Kaufmann was intrigued with what he saw on the show "that tells the truth about marijuana and the politics behind its prohibition."
"It was so interesting, and very clear the hosts really knew what they were talking about," he says. "I didn't expect it to be such a deep and complex issue."
This piqued Kaufmann's curiosity, and he decided to look further into the issue and contacted host Paul Stanford.
"I discovered how insanely backward our nation's marijuana policies were, and what the economic, social and cultural costs were that we were paying to sustain prohibition, when we know how poorly prohibition works as a model," Kaufmann says. "The more I studied the drug war in this country the more insane I thought it was."
Kaufmann, who was born in Israel to an Israeli father and a South African mother, spent his childhood in Israel and South Africa before his family moved to San Diego when he was 9. "I grew up in a boisterous Jewish family where no topic was off limits – religion, politics – everything was discussed at the dinner table."
He received a bachelor's degree in International Relations at U.C. Davis and a master's at the University of San Diego in the same field. In 2001, Kaufmann moved to DC to work for a lobbyist for a year before moving to Los Angeles with his girlfriend, Claire, who is now his wife. It was in L.A. where Kaufmann honed his political and comedic chops. He worked at AIPAC (pro-Israel lobby) and also studied improv-comedy at the renowned Second City comedy powerhouse.
When his wife became pregnant with their first child, they decided Portland would be a better place to raise a family and headed north. Once here, Kaufmann worked in PR at Edelman before taking the communications position in the mayor's office. But it's his new role as consultant and spokesman for the Yes to 80 campaign that Kaufmann is most passionate about. The campaign supports the Oregon Cannabis Tax Act, or Measure 80, which Kaufmann is quick to distinguish, is not so much about legalizing marijuana as it is about regulating it. "When you say 'legalizing,' you're not providing all the stipulations that will actually come into place like taxation, age limits and public safety requirements. It's the least supportable way to say it."
Before you dismiss Kaufmann as just another pothead looking for an easier way to score weed, it's clear from the moment he opens his mouth on the matter that for him this is a much deeper and bigger issue our state and country are facing. "It's not about whether pot-smokers can get bud, they can. It's about the insanity of locking people up, destroying lives and wasting billions of taxpayer dollars to prohibit one of the largest markets in the country – to prohibit adults from using a relatively harmless, in some cases beneficial, safer-than-tobacco-and-alcohol product."
The measure, which will be voted on this fall, is no doubt a controversial topic in our state, but for Kaufmann it's simple. "As a Jew, as a progressive and as a political professional, when an issue approaches a national tipping point where 53% to 56% of Americans support legalization, and 67% of Americans agree that the war on drugs has been a massive failure, you have to make the choice whether you'll stay quiet because of the associated stigma or whether you'll speak out for justice and fairness."
Portland transplant Lauren Murphy is a lifestyle writer and editor whose articles have been published in Los Angeles Confidential, Aspen Peak, Hamptons Magazine and The New Jersey Star Ledger. She can be reached at laurmmurph@gmail.com.