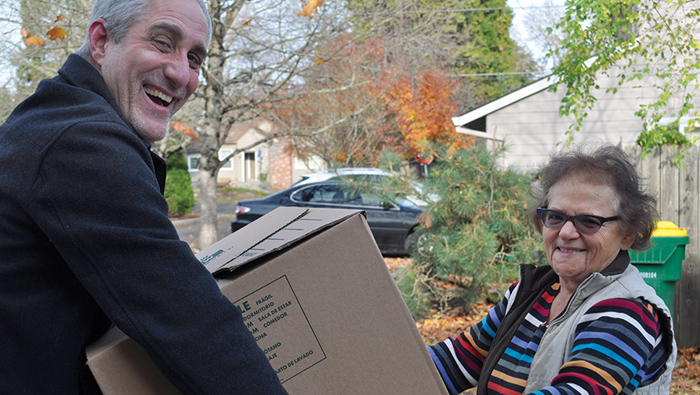 Jewish Family & Child Service invites the community to participate in two holiday programs to help people who are facing adversity feel more connected to their community.
The Torah tells us, "When we eat and drink in celebration, we are obligated to feed the stranger, the orphan and the widow."
Continuing a 15-year tradition, JFCS will once again brighten the holiday season for needy individuals, families, Holocaust survivors and other seniors through two campaigns: the Thanksgiving Food Box Drive and the Adopt-a-Family/Mitzvah Menorah program.
JFCS Executive Director Carrie Hoops stresses the important role of the community for the success of the holiday campaigns.
"What started as small JFCS programs, the holiday campaigns have grown into a community-wide endeavor," says Carrie. "JFCS now serves as the coordinating entity for the Thanksgiving Food Box program and Adopt-a-Family gift drive, but it is really the community at large that makes these programs a success. We rely on the participation of many partner organizations that actually collect the food and gifts. Without those partnerships, we simply couldn't meet the huge need that exists in our community. We are seeking several new partner organizations this year to enable us to reach our goal of providing 150 Thanksgiving boxes and holiday gifts for 50 families."
With JFCS now a subsidiary of Cedar Sinai Park, this year's campaigns will be a collaborative endeavor of the two organizations. Additionally, the Mittleman Jewish Community Center provides its facilities for assembling food boxes later this month and again in December for organizing gift bundles to deliver to families.
JFCS enlists more than 150 volunteers each year to buy, assemble, wrap, and deliver the food boxes and holiday gifts.
At Thanksgiving, volunteers will assemble and deliver food boxes to 150 households, enabling more than 600 people to enjoy a Thanksgiving feast. The large boxes are filled with all the ingredients for a traditional Thanksgiving feast, including a turkey (kosher for families who observe kashrut), potatoes, green beans, cranberry sauce, stuffing, gravy, pumpkin pie supplies, milk and eggs. Volunteers pack these "boxes of bounty" and deliver them on the Sunday before Thanksgiving.
Each year partner organizations serve as collection sites, with each asking for donations of a specific food item to help fill the boxes. Last year's partners collected nearly $3,000 worth of nonperishable items. For the second year, Safeway Albertson's will provide a grant to purchase 150 turkeys.
JFCS is currently seeking partners to collect food to fill this year's food boxes. Monetary donations are also being sought to help offset JFCS's $4,000 grocery bill for the perishable items purchased to complete the bountiful ingredients for each box.
Last year one food box recipient wrote the following thank you note:
"I want to say thank you for my kosher Thanksgiving box. This will give me a minimum of 15-20 meals (after roasting turkey, take bones and skin with some meat and boil it with carrots, onion, celery and parsnips and make turkey soup stock, and either can in jars or freeze for later). You put a smile on my face, when everything seems black. So I thank you. My cat Antja-Katrein thanks you (she will help eat some of the turkey, as well)."
• • •
Through the Adopt-a-Family/Mitzvah Menorah campaign, JFCS will help at least 50 low-income families create personalized Hanukkah and Christmas wish lists and then work with partners to fulfill those requests. All told, the gifts will benefit about 120 individuals, including children.
Gift bundles contain basic necessities such as kitchen items or cold weather gear as well as toys, books and other gifts for the kids. The "wish lists" of the participants are a reminder that life's good fortune is not evenly distributed. Many of the requests are simple: a pair of walking shoes, frames to hold cherished photos or paint supplies for a budding 5-year-old artist.
Again, JFCS relies on community partners and many families and individuals who "adopt" a person or family in need.
The following vignette illustrates the impact and value of the campaigns:
Last holiday season, a family of five was among the Adopt-a-Family recipients. The single mom worked full time despite medical challenges. The two oldest children have developmental disabilities. The younger twin boys help out as much as they can around the house.
The children's father has been in and out of substance-abuse programs and does not provide any financial or moral support. The family was behind on their electric bill and worried about how they would manage with cold weather approaching. They asked for warm jackets and beanies for the four children.
If it wasn't for the generosity of community agencies and individuals, many families would not have gifts to give their children during the holiday season, and older and disabled adults would not feel remembered. When the community comes together, great things happen!
To sign up as a volunteer, contact Phoenix Barrow at phoenix.barrow@cedarsinaipark.org or at 503-535-4055.
To support the holiday campaigns as a partner or donor, contact Carrie Kaufman at carrie.kaufman@cedarsinaipark.org or 503-535-4447.