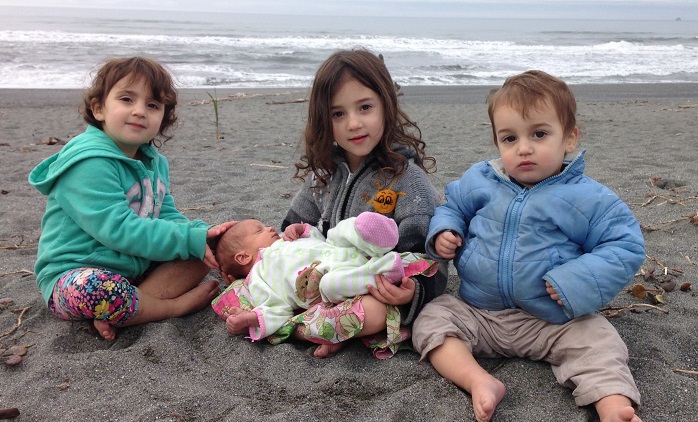 Photo: The Fried children enjoy a beach outing.
Family travel is great but can be costly, exhausting and challenging to find the time between everyone's schedules for a full-blown trip. Luckily, staycations can make staying put just as fun as exploring a new destination. There is so much to do in and around Portland. Here are some ideas to get you started planning a local family staycation:
Head to the Oregon Coast Aquarium in Newport for the day or get a group together for a "Sleep in the Deep" adventure, where you can spend the night in one of the aquarium's three tunnels. Pair this with a visit to the beach for a day or two of family fun. More info at aquarium.org.
Salem, just 47 miles from Portland, is home to the Gilbert House Children's Museum and the nearby Riverfront Park. While the museum is not huge, it is ideal for young kids and offers a change of scenery from metro-area options. The Outdoor Discovery Area offers ample room to run around, and climbing structures abound. The carousel at Riverfront Park is a favorite for our kids, and it's also fun to watch the barges and activity at the Port. Save $: If you are a member of Washington County Libraries, you can obtain a free pass to the museum; find out how from your librarian.
On a clear day, take a hike in Forest Park, pack a lunch and picnic on the lawn outside Pittock Mansion. The hike is moderate, mostly shaded and your picnic spot is sure to offer a gorgeous view of Mt. Hood and the Willamette River. Of course, there are plenty of hikes to take in and around Portland. Some other favorite spots are Tryon Creek and Mount Talbert Nature Park near Clackamas.
In true tourist fashion, take a jet boat adventure on the Willamette River. Combine this with a visit to OMSI and a stroll on the Eastbank Esplanade.
Take a kayak tour to Willamette Falls, the 17th-largest waterfall in the world, and witness the immense beauty and intense rush of this masterpiece close up. Or simply rent the gear and head out yourself. Check out eNRG Kayaking (enrgkayaking.com) in Oregon City for tours and rentals.
Rent a bike (or grab your own) and take the day to explore Portland's 12 bridges. There will be plenty of places to stop for ice cream or coffee along the way.
Attend a festival. A lot goes on at the Portland Waterfront each summer. Don't miss our premier festival, the Portland Rose Festival, which runs from May 25-June 9. With vendors, rides and food, there's something for everyone!
For a low-cost way to close out your day, head to a free concert or movie in the park. These take place all summer long at locations across the city. Check out portlandoregon.gov/parks/61921 for more info.
Now it's your turn. Grab a hat, hop in the car and become a tourist in your own hometown!
A South African native, Jodi Fried grew up in Portland, then spent time in Colorado and Montana where she and her husband started their family. They moved back to the Rose City three years ago, and enjoy adventures and travel of all sorts. Jodi is the program director at Kesser Israel, and, as a passion, helps parents get out and about with kids. Check her out at loveadventuremom.com/home.
Need a place to stay in Portland? Check out this site, AllTheRooms, the largest accommodation search engine on the internet.
QUICK TIPS TO HELP SANITY REIGN
As parents we've all experienced those moments… kids bickering, disagreeing with everything we say, keeping us up at night. And we know they can get the best of us — especially when traveling or on the road. Here are a few quick tips to help sanity reign when you're out and about this summer:
Take a deep breath before you head out (really!).
Know that you are in control. Also remember WHY you're doing this in the first place.
Give yourself permission to be flexible (it's unlikely everything will go as planned).
Take snacks the kids will actually eat (let them help you pack the snacks). There's nothing like ending the day with starving kids and a cooler full of uneaten, unappetizing food.
Involve the kids: Make a quick list and let them pick what they'd like to do.
Plan some games and activities for kiddos to do during downtime, especially in the car.  Sticker books and finger puppets are often a hit.