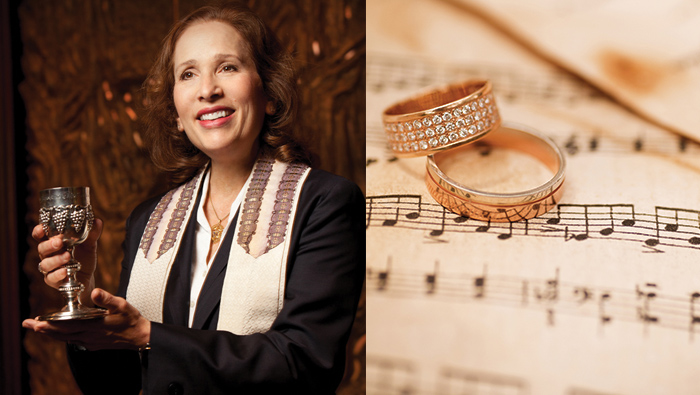 Though it's often given only fleeting consideration in wedding planning, music is a great way to set the mood a couple wants for their special day.
"What do you hear in your head that you want to hear at your wedding?" asks Cantor Ida Rae Cahana, senior cantor of Congregation Beth Israel. "The bride and groom should talk to a cantor or other Jewish music professional who can help them create the spirit they want."
The processional, recessional and music played while guests sit waiting all offer opportunities to create a special ambiance. Music can reflect a couple's taste, heritage and family. The music can also enable friends and family to contribute their talents to the day.
"It can really reflect the personality of the bride and groom," says Cantor Cahana. "Music can honor different parts of the family."
For couples with a Sephardic background, Cantor Cahana suggests checking out the beautiful repertoire of Ladino music, which includes many sweet songs about the bride and groom.
Popular culture is also a source of inspiration for couples. One couple who enjoyed the movie "The Mission" included the film's romantic song, "Gabrielle's Oboe," at their wedding.
She recalls one bride who, for her processional, selected a piece by the Spanish composer Joaquín Rodrigo, from whom the bride is descended. A fan of Bob Marlow, the groom wanted a medley of British pop music for the recessional.
"It is interesting to see how we can accommodate two different people with two different tastes," the cantor adds.
"I also encourage couples to tap talented friends and family in helping to personalize the day," she says.
The wedding of Jamie and Jason Sperling was a beautiful example of that concept. Beth Israel Cantor Emeritus Judith Schiff sang at her daughter's wedding, which featured a composition by Jamie's father, David Schiff, titled the "Sheva Brachot" for the processional. David also composed a medley of the couple's favorite songs for piano, flute, violin, viola and cello.
A key consideration for the processional and recessional is that the music be easy to walk to. Cantor Cahana encourages Jewish couples to avoid Wagner's "Bridal Chorus" (Here comes the bride) and Mendelssohn's "Wedding March," since both are associated with Christian weddings in most people's minds.
Cantor Cahana has compiled a list of songs suitable for Jewish weddings featuring suggestions from classical, religious and contemporary sources. Classical ideas include "Spring" from Vivaldi's "The Four Seasons" and Tchaikovsky's "Love Theme" from "Romeo and Juliet." Contemporary options include "Sunrise, Sunset" from "Fiddler on the Roof" and "Wedding Processional" from "The Sound of Music." For a more religious feel, she lists Hebrew love poetry such as "Erev shel Shoshanim" or "Dodi Li" or the traditional Sephardic melody "Scalerica de Oro."
Couples can find CDs or listen online to melodies at transcontinentalmusic.com/home.php and tara.com.