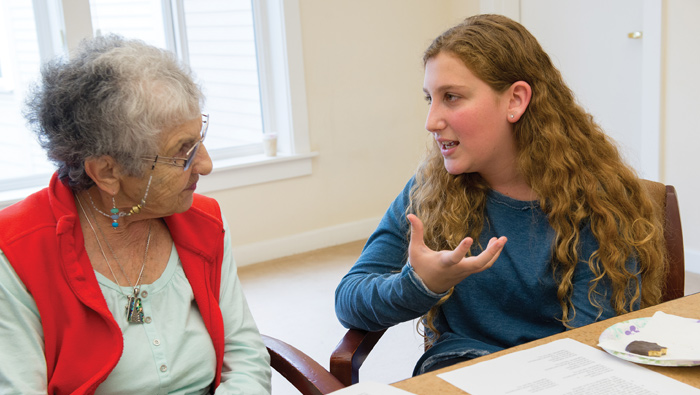 Cedar Sinai Park has received an anonymous grant to provide the Better Together Shabbat Leadership Program, in partnership with Portland Jewish Academy.
"We are excited about this opportunity," says CSP Director of Spiritual Life Jemi Kostiner Mansfield. "Not only will it strengthen our partnership with Portland Jewish Academy, but the experience will deepen the multi-generational relationships between CSP residents and the students. PJA's Jewish Studies program includes t'fillah (prayer) instruction. By seventh grade, students are able to lead both the shacharit (morning) and mincha (afternoon) services. Learning to lead Kabbalat Shabbat services is a natural addition to an already strong t'fillah program."
The two-year Better Together program will involve about 16 PJA seventh-graders paired with residents at CSP.  Students and seniors will train to lead Kabbalat Shabbat services over eight monthly sessions. Classes will include prayer book literacy, text study, chanting instruction and practice, as well as time for the students and seniors to get to know each other. To cap off the year of study, the students and their senior learning partners will lead the Shabbat evening service on Friday, May 20, 2016, at Rose Schnitzer Manor.
In the program's second year, the now eighth-graders will mentor the seventh-graders in preparation to lead services.
"We were approached by … (a foundation) as possible participants and applied for a grant last February," says Elana Cohn-Rozansky, humanities teacher/service learning coordinator at PJA. We'll be one of more than 20 communities. This is a concerted effort on their part to move forward with this type of intergenerational learning. The curriculum itself has been the work of PJA teachers Kim Schneiderman and Amy Katz. The goal is to get young people and seniors connecting and understanding each other. We hope the pairs will sign up and volunteer to lead future services."
Judy Ross moved to CSP from New York about a year ago to join her daughter, Bonni Goldberg, son-in-law and grandchild in Portland. "My daughter is active in the Jewish community, and she helped me rediscover my Jewish roots," Judy says. "I started attending various services, but stopped because I didn't understand the liturgy. I thought if I could understand what was being said, I'd probably go back to attending services. I want to pick up the language and songs so that I don't just sit there; I don't go in for spectator sports. It is delightful to work with a young person. The young people in Portland are special. They grow up volunteers and always want to do things. I'm excited about these kids. It gives me hope for the future."