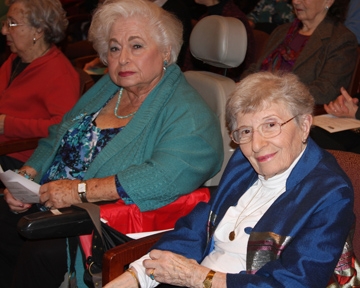 Picture your grandmother or aging parent.
Now, consider the following expletives or uncomfortable topics: bitch, ass, sex, infertility and shut up!
The elderly and invective don't really go together. Or do they?
Actually, you bet they do.
"We underestimate those on the extremes of the age spectrum," says Matthew B. Zrebski. "Those over 60 don't know about sex? No! They know more than everybody."
And Zrebski would know. He and educator Eddy Shuldman teach different genres of writing to people of all ages, including Rose Schnitzer Manor residents in a playwriting class the elders call "Older But Wiser."
On a Sunday in late January, Shuldman, Zrebski and frequent assistant Laurie Fendel's behind-the-scenes talents were on display in the RSM's Zidell Hall. There, professional freelance actors performed "Acting Our Age," a staged reading of the teaching trio's seven students' one-act plays.
* * *
The house was packed with nearly 150 residents, including the playwrights, family members, members and supporters of the National Council of Jewish Women-Portland Section and Cedar Sinai Park employees. (CSP is the umbrella organization for RSM and Robison Jewish Health Center.)
The playwrights are Martha Pomeranz, Francine Stone, Barbara Dubin, Ruth Henning, Charlotte Wiener and Evelyn Hirsch. The seventh, Michael Mogell, died last August, but he'd had the chance to view a video of his one-act play's staged reading before he passed away. Mogell's work, "Food for Thought," was the only sci-fi piece in the bunch.
Many attendees used canes, wheelchairs, walkers, hearing aids and human aides. Most had neatly coiffed hair and wore Shabbat finery. Over the next hour actors Nathan Gale, Paige Jones and Debbie Lamedman brought to life each writer's play.
Each of the seven plays is a snippet from what could be seven larger stories. And while each play is unique, some common threads can be teased from the collective weave.
For example, in "Birthday Surprises," by Martha Pomeranz, 90, a couple's love has faded; they've been trying to rekindle their affection; and a complication is thrown in to derail the main characters' efforts.
In Pomeranz's play, Joe finally drags his wife, Mandy, out of their house for a brief stint away from their son, Denny, who has autism. Joe takes Mandy to the bowling alley he frequents to watch a competition. There, the couple bicker, the reason for their animosity quickly evident. Joe feels he's taken a backseat to the mother-son pair; Mandy feels entirely responsible for her son with special needs and is very anxious when not in charge of his care.
"I can't relax if I don't check in with the sitter once in a while," a plaintive Mandy says to a frustrated Joe.
Soon, her focus on the game she doesn't understand fades and she jumps up to make a phone call. She returns to her husband's side, clearly relieved. Mandy reports to Joe that all is well at home. Then: "I'll call again in an hour," she says. Joe's face falls.
Yet, at one point, Mandy demonstrates gratitude toward Joe for having taken her on a date; she starts showing some interest in bowling's rules and the sport's interesting vocabulary, asking the definition of gutterball, strike and spare.
Finally, desiring to watch the bowlers and no longer field Mandy's questions, Joe sighs and lets loose a multi-layered observation: "It's a complicated game."
* * *
Just like life. And the playwrights have lived very long, full lives, which indeed are the inspiration they draw on.
For instance, Charlotte Wiener, 91, writes in "Tango" about a couple experiencing the challenge of infertility and its possible cure through acupuncture. Wiener is a slightly stooped, diminutive woman who walks with a cane and wears her straw-colored hair close-cropped. Her gold-rimmed glasses frame very sharp eyes.
"My son is a doctor of Chinese medicine in Canada," Wiener says. She adds that the song, "It Takes Two to Tango," served as her plot's muse, but her play's content leans heavily on medical information she's learned from her son.
Wiener – like every "Acting Our Age" playwright – shies away from accepting compliments. Instead, she turns quickly from talking about her doctor-son and her play to praising Zrebski, Fendel and Shuldman's teaching talents. (Shuldman is the reason the writing class exists in the first place. Please see the sidebar.)
Wiener says that Zrebski urges his students to mine their plays' plots with surprises and that Shuldman encourages her students to include twists to cause the audience to sit up and take notice.
The lifelong learners succeeded.
b b b
At the end of the readings, RSM resident Murray Kaufman got up from his front-row seat, took a microphone from an actor and addressed both the writers and the audience: "To me, this [work] was a revelation. … All I can say is, 'Don't quit. Keep writing. And keep going on.'"
Florence Blitch, also an RSM resident, finds the playwrights' stories unexpected and their use of language very convincing. Blitch comments her peers must have put in a lot of time, not just writing, but also being coached and having their work carefully edited. "They were taught well," she says.
After the readings, each writer took a seat at the front of the chapel to field questions and make comments. Each displayed poise, gratitude, confidence and pleasure. Each lacked any hint of ego.
Such as Francine (Fran) Stone, 87. "I've never done anything like this before," says the author of "Injustices," which draws on volunteer work Stone undertook in the 1960s to promote fair housing. "I'm full of joy and comfort, and thank you very much for coming."
Jenn Director Knudsen is a freelance writer and associate development director for the Harold Schnitzer Family Program in Judaic Studies at Portland State University.
Educators and students teach each other
Eddy Shuldman – Jewish educator, artist, b'nei mitzvah tutor, Congregation Neveh Shalom gabbai, the founder of Jewish Arts Month and much more – embodies passion for lifelong learning and creativity. She created the writing class at the Rose Schnitzer Manor that the students have dubbed "Older But Wiser."
"When I retired from the public school system [teaching at-risk youth]," Shuldman says, "I wanted to continue teaching, and working with the residents at Cedar Sinai Park meant I could continue my own learning."
Shuldman continues, "Getting [the residents'] voices out there helps the public understand that just because someone is over 70, that doesn't mean they stop being intelligent and creative."
Two years ago, Shuldman won a grant from The Regional Arts and Culture Council and then secured RSM as the writing course's enthusiastic host. She brought on writing teacher Matthew B. Zrebski and volunteer Laurie Fendel, and then enrolled residents with stories to tell.
Seven residents each created a polished one-act play, which were performed last summer at the Community Music Center in southeast Portland. The excited response from the writers and audience goaded Caryn May, Carol Chestler and Nikki Director to bring the works back home so their friends at CSP could easily attend.
Board members of the National Council of Jewish Women-Portland Section, May, Chestler and Director convinced the nonprofit organization of the import of bringing "Acting Our Age" to the RSM. Meryl Haber, the local NCJW president, agreed and dipped into the NCJW's Dorothy Asher Tribute Fund for Senior Cultural Programs. CSP, Mittleman Jewish Community Center, RACC, Oregon Arts Commission, National Endowment of the Arts and JAM also contributed funding or in-kind support.
The process of brainstorming, writing, editing and polishing required residents to work hard, Shuldman reflects. She, Zrebski and Fendel pushed the writers; in turn, the teachers experienced their students' pleasure and frustration.
"Nothing these folks do surprises me," says Shuldman, who, like Fendel, volunteers her time for Older But Wiser. "Everything they do delights me."
An additional RACC grant means Zrebski will teach another term at the Manor.
On March 3, RSM's writers will participate in an open-mic short-story and poetry reading at the Geezer Gallery, 7710 SW 31st Ave. in Multnomah Village. For more information, call 503-244-0441.