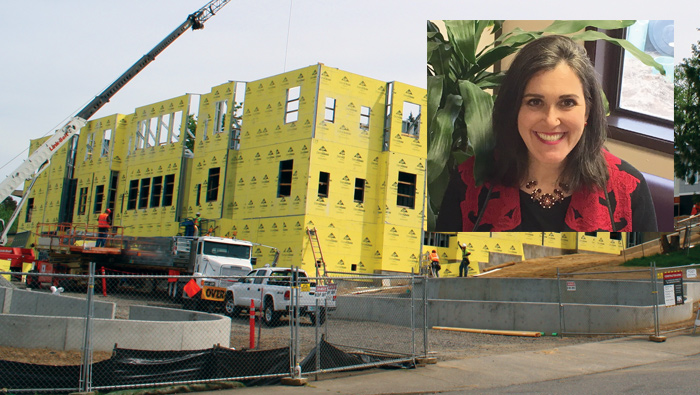 When the first of four new households open at Cedar Sinai Park at the end of July, the 12 residents who move in from Robison Home will enjoy more control of all aspects of their daily life.
The Green House Project, under which the new households will operate, focuses on creating real homes, meaningful lives and empowered staff explains CSP Life Program Director Jennifer Felberg. Over the past year, Jennifer has attended three national trainings for The Green House and is now training CSP staff in how to operate in the new model, which shifts from an institutional to a resident-centered philosophy.
"CSP has been doing person-centered care and bringing in plants and children for a long time," says Jennifer. "We are ahead of the curve."
But she says in The Green Houses, the resident is in the center of the "organizational chart" with frontline staff in the circle closest to them. The 12 core staff members in each household will be Certified Nursing Assistants and will be trained in The Green House methods. That team will set a weekly schedule for the household to have three CNAs each day, two in the evening and one overnight (to be joined by an RN or LPN). A "guide" will coordinate with those caregivers to arrange for any needed support from social workers or other CSP staff. An older volunteer "sage" will also be available to help with any communication issues.
"CNAs become the universal caregivers and self-managed work teams," says Jennifer. "They cook, clean and organize activities in the home, eat with the household and become a family. We (CSP administration) support and coach them, but they are empowered to manage the home."
"Residents get up when they want," says Jennifer. "They can make a sandwich in the kitchen if they want. They decide what they want to eat (for the coming week), and the CNAs order the food and prepare meals."
Each resident will have their own bedroom and bathroom. Each of the four 12-resident households (known collectively with the current Robison building as the Harold Schnitzer Health and Rehabilitation Center) will have a kitchen, dining room, living room and den. The kitchen and dining room will be strictly kosher, but residents can eat outside food in the den. Referred to as the legacy building, Robison will also be remodeled to include 44 private rooms for skilled care. The chapel and other common areas will remain available for use by residents of all the households.
"We are changing nursing homes forever," says Jennifer. "You won't be in a nursing home, you will be in a home."
Before the first household opens, tours will be available. For tour information, call 503-535-4300. For information on The Green House philosophy, call Jennifer at 503-535-4390.