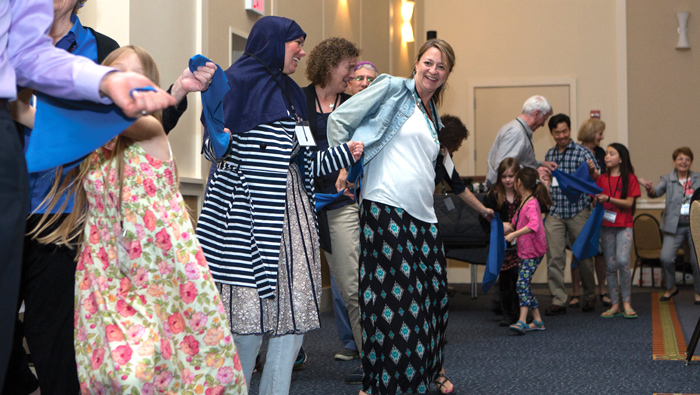 Let all who are hungry, come and eat. Let all who are in need, come and celebrate Passover with us."
So will start the evening of April 10, 2017, for millions of Jews around the world as they celebrate the first seder of Passover 5777. April 10 will actually be the second seder, however, for those who join 175 new and old friends April 6 at the 18th annual Community Intergroup Passover Seder in Portland. It will be led by Rabbi Joshua Rose and is organized by the Jewish Federation of Greater Portland and supported by federation and by the Emily Georges Gottfried Fund at the Oregon Jewish Community Foundation.
"This is a big part of Emily Gottfried's (z'l) legacy," says seder organizer Rachel Rothstein Nelson. According to EmilysFund.org, the fund supports "initiatives and programs that open dialogue among people of different faiths, cultures and socioeconomic backgrounds." Passover, Rachel says, "is a story of our people, and (the intergroup seder is an opportunity) to share our experience with the broader community." Last year, 150 people of all ages from all across the community attended, including Muslims and Christians. It is a "learning experience. Our rabbi does a great job of presenting the universal themes in history and in modern times."
Rabbi Joshua Rose agrees: "The intergroup seder is a beautiful opportunity for the Jewish community to open its arms and share the stunning message of hope, freedom and redemption with our friends in the broader world. It is our particular story, but it is one whose core idea speaks to the universal impulse toward dignity and freedom. At this moment in our nation's history, it is essential that Jews break down walls that divide, and our Haggadah points the way."
Many of us participate in multicultural seders by inviting non-Jews to our seders at home. We have friends who want to share what is important to us, learn more about Judaism or enjoy a joyous occasion with people they love. Other interfaith seders happen when mosques and churches invite Jewish leaders to conduct seders in their own communities. Sister Sharon Collver at The Madeleine Parish in Northeast Portland has been organizing Madeleine's Seder for three years. A scripture instructor herself, their first seder grew out of her love and respect for scripture, including the Torah. "Christianity is really based on many of the principles there," she says. She thought the seder meal would be a good way "to familiarize our people with how Jewish scripture affects our own worship." They chose The Passover Celebration by Leon Klenicki and Myra Cohen Klenicki for their Hagaddah and guide, because it was written specifically for seders involving both Christians and Jews. She and her volunteers take pains to prepare the seder plates correctly, and they carefully adhere to the Hagaddah.
She prefers to have a Jewish leader. Congregation Beth Israel's Cantor Ida Rae Cahana led it two years ago, and Kim Schneiderman of Portland Jewish Academy stepped in last year. Sister Sharon is looking for a Jewish leader again, but she thinks they may hold the seder again even if she can't find someone. "A Jewish leader helps give the flavor of the true seder. The service is not about Christianity. This is truly a Jewish feast and we stick to the Hagaddah, yet it has relevance for us as Christians. I like the thought that it puts us back into that original experience. It helps us understand our relationship to God in a covenanted way."
"It really was a model seder and a learning experience for them," says Cantor Cahana. "We focused on the nature of Hagaddah – telling and retelling the seminal story that defines us as a people. We talked about how to let that story lead us to empathy with others, understanding of our responsibility to help others who are not free and exploration of the ways in which we personally or communally may still be enslaved with modern-day plagues."
And it is fun. "People enjoy it," Sister says. "The kids were running around looking for the afikomen with the adults calling out 'Hot! Cold!' when the kids were on or off the right track. People in the parish have asked when we are having another."
Sister Phyllis Jaszkowiak of St. Charles Borromeo in Northeast Portland says her congregation has been having seders for more than 20 years. It started as a part of the religious education program. "We come from the Jewish faith, and we needed to know who our ancestors were, what they did, how they worshipped." Now people come back, year after year. They, too, use the Klenicki text.
"We go through the whole seder, all of us, the leaders, participants and children. It is serious and it is fun. At the end, one of our guys plays Dayenu and we all dance, dance, dance," she says. It goes without saying that there is wine for the adults and grape juice for the kids.
"I'd love to see more members of the Jewish community offer to lead model seders for our Christian friends," says Rabbi David Zaslow of Havurah Shir Hadash in Ashland. In his new book, Reimagining Exodus, he delves into what it is about the Passover story that has the power to bind Christians and Jews together but can also divide them.
He is careful with his criticism of Christian-only seders. "I would not make blanket statements: some Christian seders may be totally appropriate." But, he says, "Jews for Jesus, about 25 years ago, started promoting seders in churches in order to try to convert Jews to Christianity." He points out that some Christian-only seders "misappropriate" the seder symbols to apply them to their faith, such as using the bitter herbs to symbolize Christ's suffering on the cross as well as the Jews' suffering in Egypt.
"The impact it has had is significant enough to warrant a respectful response, which I believe is for Jewish leaders to accept invitations to lead model seders," the rabbi says. "This way our Christian friends can get a sense of the Jewish roots of their faith without a misappropriation of our sacred yearly ritual."
"The era of interfaith work needs to begin," says Rabbi Zaslow. "We are willing to reach out to the world and share our beautiful rituals."
"Let all who are hungry, come and eat. Let all who are in need, come and celebrate Passover with us."
Liz Rabiner Lippoff is a marketing consultant, freelance writer and community volunteer. LizInk.biz