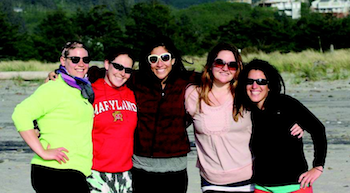 Portland's Moishe House, one of the few places Jewish young adults can go to casually bond, connect and learn, is on the brink of losing funding. At this residence in Southeast Portland, young Jews live together to host and plan events for members of the Jewish community. Since moving to its Southeast location in July of 2011, Moishe House has planned more than 70 events per year, with 15 to 25 attendees per program.
For young Jews, Moishe House is a hub for social and religious programming, since residents put on about seven programs each month for 21- to 30-year-old Jewish Portlanders. These include not only social programs, but also Shabbat dinners, community service events and cultural programming.
This support for the young Jewish population will be lost if the community cannot raise much-needed funds by May 2013. Since 2008 the Moishe House national office has covered the $34,694 yearly operating budget. Starting last year, the national office began a plan to wean the Portland Moishe House from national funding. This year the local house needs to raise $22,000. As of early March, Moishe House had raised $6,077 from the local community, far shy of the amount needed to stay open beyond May. David Cygielman, national CEO of Moishe House, has been thrilled with the success of the Portland house and hopes it is able to remain open.
"In order for Moishe House to stay open and host the wide variety of programs that it does for the young adult Jewish community, it has to be a partnership between both Moishe House nationally and the local community," said Cygielman. "Through the generous matching support of the Rubin Family Foundation in St. Louis, we have been able to continue supporting Portland, but to date, have not had the local partner- ship support needed for long-term viability."
The closure of Moishe House Portland would not only affect Moishe's residents but also would be a serious loss of engage- ment for young adults. Former resident Jonathan Morgan personally planned more than 133 events for young Portlanders and believes Moishe House programming is instrumental in keeping young Jews connected to the community and their Judaism.
"Moishe House is an investment in the future," said Morgan.
He further explained that Moishe House is one of the few- organizations in Portland that provides programming to people all along the Jewish spectrum. "If Moishe House shuts down, Portland would lose a critical entry point for unaffiliated Jews and a launching pad for those already involved. It would be a missing link in the chain. In my mind, Jewish life pre-marriage should go as follows: camp and youth groups, Hillel, Moishe House," said Morgan.
Analucia Lopezrevoredo, a current resident of Moishe House Portland, echoes Morgan's sentiment. "Moishe House is the true embodiment of an inclusive Jewish community. As a pluralistic Jewish organization, our mission is to unite Jews of all backgrounds by engaging them in fun, thought-provoking and celebratory programs," she said. Lopezrevoredo takes great pride in the group's diverse attendees and worries that without Moishe House, many of its followers will stop being engaged altogether.
"We have native Portlanders, out-of-state transfers, affiliated, nonaffiliated, Orthodox, Renewal, Spanish-speaking, Russian- speaking, kashrut-eating, dim-sum-eating, kippah-wearing, dreadlock-bearing Jews," said Lopezrevoredo. Moishe House resident Steve Marcinuk says Moishe House's demographic of post-college, pre-children followers are both "diversely Jewish and unabashedly Portland."
He emphasizes the importance of having an organization like Moishe House address the real needs of this community and generation. "Our events range from more traditional events like classes on koshering your kitchen and Shabbat meals every month to a chocolate-making workshop or a concert series in our house," said Marcinuk. The residents and young supporters of Moishe House are turning to the community for help. "Closing Moishe House will be a significant loss to Portland's Jewish community as a whole, and one that can be prevented if the community at large supports us in our vision," said Marcinuk.
If the community can help raise the rest of the $22,000 by May 2013, Moishe House Portland will function for at least one more year. They will need the full operating budget, or ap- proximately $40,000, by the end of Summer 2014 and every year thereafter to remain open.
Supporters hope the community will see that $22,000 is a small price to pay for engaging our young adults. Lopezrevoredo added that Moishe House is more than just an organization that provides programming: "We are a home, and our participants are our family. If our house were to shut down, a large number of Jewish young adults, in particular unaffiliated Jews, would lose what they have come to know as their Jewish community. My fear is that a large number of participants will lose interest in keeping Jewish traditions alive."
Vanessa Van Edwards is a speaker and writer living in Portland.
To make a donation to Moishe House, visit moishehouse.org