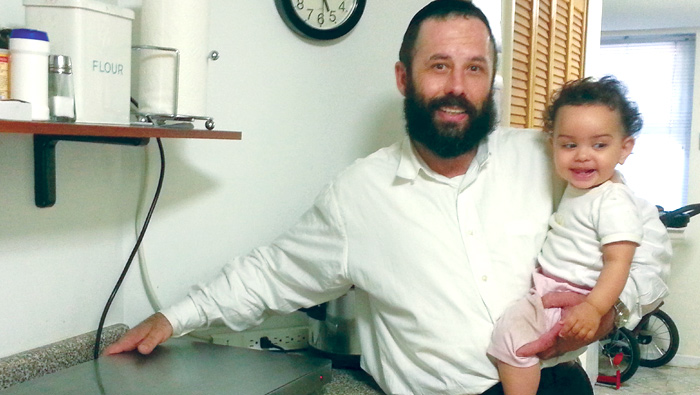 A 2001 ultralight crash that broke his back changed life forever for BenTzion Davis – for the better. Now BenTzion is making life safer for the Orthodox Jewish world that helped him discover a satisfying and happy life.
A successful 45-day Kickstarter campaign has given BenTzion the funds needed to begin production of the Shabbos Safe Hotplate, which has been endorsed by Oregon Kosher for Shabbat use. He expects his TechYid Co to have the hotplate on the market by February. He designed the hotplate in the wake of a fatal house fire in Brooklyn last spring, one of several fires in the past 15 years resulting from the Orthodox practice of keeping food warm on Shabbat and holidays.
"Since cooking is one of the 39 categories of 'Creative Work' that we rest from on Shabbat, the hotplate was designed so that the temperature self-adjusts so as to not present a cooking issue," says Rabbi Tzvi Fischer, kashrus administrator of Oregon Kosher and dean of the Portland Kollel. "The endorsement tells the concerned consumer that not only is it designed to be safe with long-term use, it is also safe for use on Shabbat to reheat foods on Shabbat."
Raised on a ranch in La Junta, CO, BenTzion grew up surrounded by dogs, horses and cattle – but his only Jewish acquaintance was one classmate. His family has been ranching in Colorado for four generations. As a young adult, he moved to Oregon because he wanted to live on the West Coast, and he bought a farmhouse near Eugene. After crashing an ultralight in 2001, he spent months in a body cast.
"That accident led me to start searching," he says. Reading the Torah, some Hassidic texts and Jewish history "convinced me of the truth of the Jewish faith."
After studying on his own for a couple years, he went to Ahavas Torah, a small Orthodox shul in Eugene that was only big enough to have a minyan on Shabbat morning. He decided to move to Portland to continue his studies with Rabbi Kenneth Brodkin at the larger Congregation Kesser Israel. In Portland he also enrolled at Portland Community College for an electronic engineering tech degree.
As he became immersed in Portland's Orthodox community, those secular studies came into play. Rabbi Brodkin recalls that members of the community would often call on BenTzion when they had problems or questions about an electrical appliance. When Maayan Torah Day School was setting up classrooms, he says BenTzion came in and got all the electronics properly set up.
BenTzion's first hint that Shabbat hotplates needed to be updated came in Portland. He was renting a basement apartment, downstairs from Oregon Kosher Rabbi Dov Chastain. One Friday afternoon, Rebbetzin Chastain asked him to look at her malfunctioning hotplate.
"The inside was horrible," he wrote on the Kickstarter page. "The heating element was just a thin live electric wire coil surrounded by ceramic insulators. The blech (another term for Shabbat cooking unit) had been dropped on the counter like all blechs in time will, and one of the ceramic insulators had broken. This allowed the live wire coil to arc-weld itself to the metal housing of the blech. This is an extreme fire and safety hazard."
BenTzion points out that most, if not all, Shabbat hotplates on the market are heated by a live electric coil that plugs directly into the wall with no added resistors. He says the only insulation is the external cover, and if you touch the live coil it will shock you.
"It turns red hot," he says. "And it pulls a lot of electricity."
BenTzion realized that Shabbat hotplates now on the market become unsafe over time when used for 25 hours every week and 72 hours on some holidays. While the hotplates look fine on the outside, he says the hard use can lead to the uninsulated elements inside overheating.
"They are not safe to operate past a year from an electronic engineer's point of view," he says.
BenTzion's Shabbat hotplate uses a heating element similar to those in toaster ovens, which will not shock you if you touch it. The heating element makes the hotplate more costly to make, but it pulls only two amps. Combined with a solid steel housing and several circuit breakers, including an internal thermal circuit breaker that cuts power temporarily if the unit gets too hot, the hotplate is more durable and safer.
"The hotplate is raised three centimeters from the counter, so even on a three-day yom tov it won't burn the counter," he adds.
Response to the idea was, shall we say, electric. The project was fully funded through Internet crowd-funding in just 45 days.
"The response has been pretty amazing," he says. "I was worried since half of my intended audience is not known for their Internet use. And the first unit is only designed to use 110 volts, so they won't work in Europe or Israel. I got so many responses from Israeli Jews, I already started designing an Israeli unit."
Though he had known of the limitations of the existing hotplates, he didn't decide to design his own until after he moved to Brooklyn. He has been married for two years to Avigayil, whose story he says is more interesting than his own. Avigayil arrived in Israel in 1984 after her mother carried her across the desert in Sudan for four months so they could escape Ethiopia and make aliyah during the first airlift of the Ethiopian Jewish community. Avigayil and BenTzion have a 1-year-old daughter, Raquel Tiffereth.
Perhaps having recently become a father made the Brooklyn house fire that killed seven Orthodox children even more alarming to BenTzion. When neighbors asked for his professional opinion on a safe Shabbat hotplate, he says he could not recommend any. So he set about creating one.
"He is a real self-starter," says Rabbi Brodkin. "He is always advancing himself spiritually and in his career. … He wants to enhance people's ability to celebrate Shabbat."
Rabbi Fischer adds, "This product is a part of his desire to help and make a difference. He is not an entrepreneur as much as a caring engineer who saw a need for a safe device and created it. I am happy that he is succeeding, and I'm happy that a truly unsafe practice/device will now be faded out and replaced with a safe option."