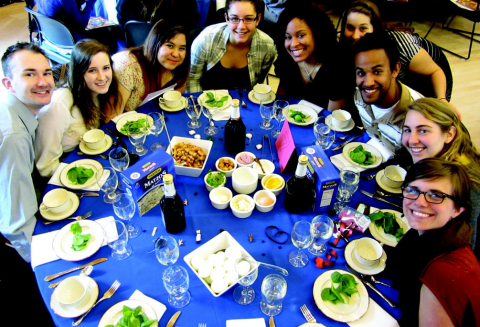 For young adults, going off to college can be a thrilling journey into the unknown. As exciting and liberating as that journey can be, it can also be a disorienting shift, and having a home away from home can be a big help.
For many Jewish students, Hillel is that home. The largest Jewish campus organization in the world, Hillel International serves as a vital link between Jewish students and the Jewish community. Hillel's mission is "to enrich the lives of Jewish undergraduate and graduate students so that they may enrich the Jewish people and the world." For nearly a century Hillel, also known as The Foundation for Jewish Campus Life, has helped Jewish students learn, connect and be at the forefront of the pursuit of social justice.
Staff and students alike echo the feeling of home that Hillel provides.
University of Oregon Hillel student president Rebecca Constantine put it like this: "After high school, I spent a year abroad studying and volunteering in Israel. My Jewish identity has always been important to me, and Israel just made it even stronger. I came to the University of Oregon seeking a Jewish community, a home away from home. I was immediately welcomed into Hillel. … At Oregon Hillel we create a warm, homey feel. We offer home- cooked Shabbat meals and a Matzo Ball Soup program, in which we deliver soup directly to students who are sick." Greater Portland Hillel welcomes incoming students with fun events such as New Student Shabbat and the New Student Bagel Brunch. In today's age of social media, students are also welcomed through Facebook and Twitter.
Portland State University student Amy Albertson says: "Hillel says it is your 'home away from home' because it is. Shabbat dinners are always a fun time to get to eat home-cooked food and be surrounded by people. The board members and donors are always opening their homes up to students for different things, whether it is another Shabbat dinner, the High Holidays or Thanksgiving. …Last Thanksgiving was my first holiday where I was not able to return to Sacramento to be with my family. Luckily a friend of mine from Hillel invited me to join her with her family who lived locally. It was great and made the whole holiday feel a lot better." Lewis & Clark student Jordan Anderson adds: "It definitely reminded me of the things I missed about home. Without expecting it, I felt a cool connection to my upbringing and childhood and all the stuff I learned as a kid. … I've felt a sense of belonging that I needed."
Besides being a place for Jews to connect, Hillel is a place for Jewish students to practice tikkun olam, or repair of the world. When it comes to engaging on issues of social justice, there is perhaps no more fertile time in one's life than in college. PSU's Amy Albertson explains, "At Greater Portland Hillel we often discuss different social issues in our community and communities around the world. Last spring I had the opportunity to go on Alternative Spring Break with Hillel to New York City, where we served a number of different communities in need." U of O student Anna Kovach explains: "Hillel helps me practice tikkun olam by reminding me that there is a world outside of the University and Eugene. … Sometimes as a college student, it is easy to get wrapped up in the trivial day-to-day issues, but Hillel reminds me that there is more to my time at U of O than just hitting the books. We have the opportunity through various community service events to help others and remind ourselves that giving back is a vital part of our lives." U of O Hillel Executive Director Andy Gitelson wants kids to know that "by visiting the sick or helping out at a homeless shelter, they are leading a very observant Jewish life by practicing tikkun olam. Judaism is a way of life, not just a religion."
He also emphasizes there is no membership – "Every Jewish student is a member."
I recently discussed an experience I had with Hillel when I was in college in the 1980s with PDX Hillel Executive Director Rachel Hall. When I was 19 and in my sophomore year at the University of Hartford, my father was paralyzed in a skiing accident. Eighteen months later he died from his injuries. By then, I was 21 and struggling with both my grades and my identity as a Jew. I had attended a few Hillel events and knew some of the students. The Hillel rabbi contacted me and asked if I would attend a Shabbat service and hold the Torah. I remember standing stiffly in the chapel holding the Torah. I felt very moved that my community had reached out to me in my darkest hour.
Rachel pointed out that positive experiences such as the one I had with Hillel could serve as anchors in a person's life, pulling him or her back into the fold of the Jewish community. She says, "I think all those positive mini-moments a student can have with a Jewish campus community can add up to a positive overall view of the overall Jewish community." In pursuit of reaching a critical mass of such mini-moments, she devotes her energy to facilitating the numerous popular events Hillel sponsors each year. PDX Hillel has sponsored events such as "Stand Up For Peace: The Two-Comedian Solution," featuring both a Jewish and an Arab standup comic, which was co-sponsored by the Arab American Cultural Center of Oregon and others. The success of "Stand Up For Peace" led to a similar event, "United by Music," co-sponsored by the Arab Persian Student Organization, PDX Hillel and the Jewish Student Union. These events are especially remarkable on a campus where there is an active anti-Israel Boycott, Divestment and Sanctions movement. While always a strong supporter of Israel, Hillel remains committed to promoting dialogue and unity wherever and whenever possible. PDX Hillel also sponsored the groovy event "Tie-Dye for Peace," where students made tie-dyes and sold them as a fundraiser for Hand in Hand for Peace. In response to the recent conflict in Gaza, Oregon Hillel students co-sponsored a pro-Israel gathering, and Portland students at- tended the "We Stand with Israel" rally at the Mittleman Jewish Community Center.
It's easy to see that Hillel is living its mission of enriching the lives of Jewish undergraduate and graduate students so that they may enrich the Jewish people and the world. As Andy Gitelson told me, "Our job is to be a conduit and connector in the Jewish community." For the Jewish community, Hillel is the crucible from which tomorrow's Jewish leaders are forged. For the Jewish youth that form its heart and soul, Hillel is simply home.
Portland freelance writer Rich Geller and his wife are raising three children to be proud Jews.