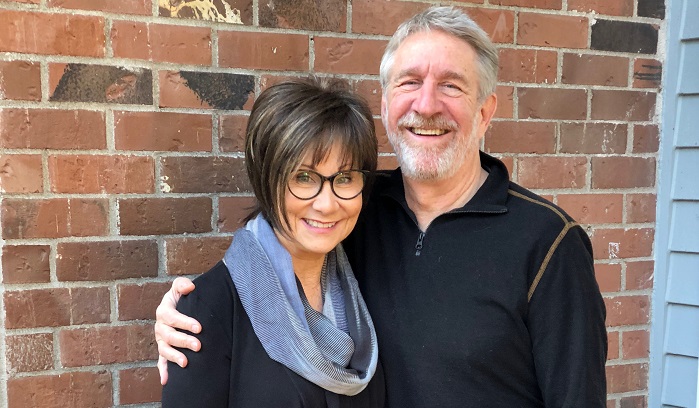 By Deborah Moon
For decades Rob and Mara Shlachter have opened their hearts and home to youth and young adults. They have donated their time and money to create or enhance programs that give young people the skills, confidence and connections they need for a bright future.
In Portland alone, they have been instrumental in creating or enhancing several organizations and programs. When one takes the lead in a project, the other is always on hand to provide backup and support. For Mara's part, support almost always includes food and an invitation to the couple's Portland home or vacation home on the coast. Many of the young people they work with maintain lifelong connections with each other and the couple.
"Rob and I can't help it; maybe we're too much family oriented," says Mara. "That is how we are and that is how we treat the students."
"We love being around young people," Rob adds. "We like those formative years. … It keeps us young and current on pop culture and everything else."
In 1995 Mara organized Portland's first JCC Maccabi team and served as delegation head for nine years; Rob coached whichever sport Mara needed a coach for each year. For more than 20 years, the two have coached high school mock trial teams, first at Catlin Gabel and now at Lincoln High School. Three of those teams became state champions. The two provided key leadership and funding to create the Hillel of Greater Portland, with Rob serving as the first board chair. Rob mentored five young professionals in Jewish Federation of Greater Portland's first cohort of PDX Pathways; Mara hosted events at their home for Rob's group and an anniversary dinner for everyone involved in the first year of the program.
PDX HILLEL HONORS COUPLE
Now one of those organizations, Hillel of Greater Portland, has chosen Rob and Mara as the honorees at the 10th Anniversary Celebration of PDX Hillel (see below). Neither Rob nor Mara do what they do expecting recognition, and they both say they accept the honor as a way to draw attention to Hillel.
"I'm so embarrassed," says Mara of being honored. "So many people do so much in this town. But I'm happy if we are bringing important attention to Hillel."
Rob adds, "This is nothing we seek. The important thing is that this event is able to draw attention to the good work Hillel is doing. If people see this because of our names, we are honored. It is about the mission, not the honorees."
PDX Hillel Director Rhonda Abrams thinks it's about the honorees too: "Rob and Mara are well-deserving of this honor. Personally, I wouldn't be in this role today if it weren't for Rob's mentorship in the Jewish Federation PDX Pathways program, and his seat on the PDX Hillel board of directors. I can't imagine how many other young adults' lives they have touched."
Current PDX Hillel Board Chair Debbie Plawner also believes the couple richly deserve the recognition.
"We are honoring Rob and Mara because as one of our founders, our first board president and an active board member for each of our 10 years of existence, Rob has given voluntary leadership, financial support and wisdom to almost every committee, program, staff member, student leader and board member of our organization," says Debbie. "He and his wife, Mara, are devoted to building the next generation of Jewish leaders. From hosting Shabbaton retreats and holidays to generous support for a broad range of Jewish educational experiences, Rob and Mara model for our local Jewish college students what it means to be Jewish leaders. When I look at how PDX Hillel students graduate and become Jewish community leaders, I can almost see the spark that Rob and Mara passed on to them through their mentorship, kindness and inspiration."
Attendees at the anniversary brunch will have the opportunity to hear one example of how Hillel alumni "exemplify Jewish leadership and credit PDX Hillel for the development of their skills and life purpose." Noa Raman, who will be a speaker at the event, is the Northwest campus director of StandWithUs, an Israel education organization. While a student at Lewis & Clark College, Noa went on a Birthright Israel trip during the Gaza war. When she returned to Portland, she saw the political climate surrounding discussion of Israel worsening. "I felt it was my duty to step up," says Noa. "I organized a Hillel event focused on presenting Jewish perspectives on the Israeli-Palestinian conflict that featured representatives from AIPAC and JStreet. This ignited a passion within me to help students seek the truth and become responsible lifelong learners." It also set Noa on her path to becoming a leader in the broader Jewish community.
PATH TO PDX HILLEL BEGAN IN URUGUAY
But what set Rob and Mara on their path to help found PDX Hillel?
In 2003 their son, David, graduated from college and their daughter, Jenna, graduated from high school, both intending to take a gap year.
"They came to us and said let's do something as a family," says Rob. "When your 18- and 22-year-old kids want to spend time with you, you don't say no."
So they began researching safe places to spend three months. The family already had lived in Israel for three months in 1998/99 while David attended Alexander Muss High School.
"Through our connections at federation, we were told about a new Hillel in Montevideo (Uruguay)," says Rob. "We contacted people there, and they said they would find us a place to live and things to do."
Find things to do they did. In addition to volunteering at the Hillel, they also volunteered at the Jewish day school.
Soon after the family arrived in Uruguay, Mara wrote the following in an email to friends: "We are all teaching English about five hours a day. In addition, Rob and Dave have started a basketball clinic, Jenna has begun teaching rugby, and I have been teaching art classes and preparing curricula in tzedakah and tikkun olam, which the entire high school will begin teaching next week. Dave and Jen also run an English conversation class at Hillel on Wednesday nights."
David and Jenna formed lasting friendships with the Hillel students. The two arrived in Uruguay a week before their parents and ended up staying at the Hillel all week to participate in "Survivor Sukkah," which was adapted from the TV show "Survivor" to celebrate Sukkot at the Hillel.
When Rob and Mara arrived they were very impressed by the Hillel, which unlike most Hillels was not based on one campus – it was a city Hillel for all college students in Montevideo. Rob says Montevideo and Portland are similar in the size of both the general and Jewish populations. "The building was fabulous," says Rob. "It was in the city and very functionally built. It was needed. We liked the direction. … We felt Portland deserved a Hillel."
Three years later the idea resurfaced during a conversation with Aaron Pearlman, the community outreach director for the Harold Schnitzer Family Program in Judaic Studies at Portland State University. "Aaron said, 'We need Hillel and I'd like to be the first director,' " says Rob. "I said, 'We'd like to be involved.' "
In May 2008 more than 40 people gathered to collaborate on the need for a Hillel in Portland.
"My wife and I said we would help get it off the ground and commit funds with two conditions," says Rob. Those conditions were a pledge of support for three years from the Schnitzer family and buy-in from the Jewish federation with a commitment for three years. Rob wanted to guarantee funding for three years "so we wouldn't have to worry about funds for tomorrow from day one."
That summer JFGP made a three-year commitment of $35,000 from funds outside the annual campaign to help Hillel. When The Harold/Arlene/Jordan Schnitzer Family pledged funds for three years from their CARE Foundation, Rob and Mara also made a three-year pledge, and Rob agreed to serve as the first board chair.
The Greater Portland Hillel, or PDX Hillel, was founded in 2008 to serve the Jewish students attending schools in the greater Portland area – primarily on the campuses of Portland State University, Reed College and Lewis & Clark College.
The first three years created a successful addition to the community. In 2012 Rob and Mara invited community leaders, educators and philanthropists to their home for an overview of the Hillel's success and the need for ongoing financial support.
CONNECTIONS, COMMUNITY & CONTINUITY
Two years ago when PDX Hillel needed a new director, Rob reached out to PDX Pathways. Rhonda (Kruschen) Abrams, who had been in Rob's mentor group, jumped at the opportunity and is now in her second year as executive director. She will be leaving after the 10th anniversary event to accompany her husband, Daniel, to Chicago, where he has been accepted to the University of Chicago Law School.
For Rob, having one of his mentees become the head of an organization he helped create is just one more example of the connections, community and continuity he and Mara strive to build. Another one of his mentor group, Ben Weinstein, is now on the Hillel board. Two past student board presidents, Marcus Dorsen and Kelsey Kaplan, also serve on the PDX Hillel board.
"That is how you build community," says Rob. "I love that kind of stuff."
Looking back on Hillel's first decade, both Mara and Rob say they are proud of all that has been accomplished, and they look forward to an even more successful second decade.
"We hope to expand services and reach more students and have more contact with the students we already reach," says Rob. "We want to bring more Jewish experiences and meaning into their lives and be a resource for challenging times and fun times."
While one might think Rob and Mara spend all their time volunteering, that is not the case.
Rob is a trial lawyer and a partner at Stoll Berne Lokting & Shlachter in Portland. On March 16, he will be awarded the Owen Panner Professionalism Award by the Litigation Section of the State Bar of Oregon, about which he says, "I am very proud of this award."
Rob served as a board member of the Jewish Federation of Greater Portland for almost 20 years and was president from 2001-03. He was on the board of the MJCC during its renovation. He is presently a member of the Oregon Jewish Community Foundation and Greater Portland Hillel boards.
Beginning in 1969, Mara was a nurse active in women's reproductive rights; she retired from nursing in 1983 to spend more time with her kids. She had started creating Judaic artwork in 1982, making chuppot and ketubot for weddings and tallitot and kippot for b'nai mitzvahs. That evolved into an event-planning business while the family lived in Los Angeles.
CREATING PROGRAMS BEGAN WITH KOALA
Los Angeles is also where Mara created her first program. The school district had cut funding for art and physical education, so Mara started an afterschool program at her children's elementary school. Following the mantra that it is better to seek forgiveness than ask permission, Mara says, "I got if off the ground then went to the school district and asked 'Did I need a permit to do this?' " Her KOALA (Kids on a Learning Adventure) became a pilot program for the district.
"I was raised that if you see something that needs to be done, just do it; don't wait for someone else to do it because they probably won't," says Mara.
When the Shlachters moved to Portland in 1991, Mara continued creating Judaica. Her tapestries can be seen twice a year at Portland congregations. Every year during High Holiday services, Havurah Shalom hangs the tapestries she created for David's and Jenna's bar and bat mitzvahs. And the tapestries that Barb Schwartz commissioned for her twins b'nai mitzvah are now draped on the sukkah at Congregation Neveh Shalom every year. Since she and Rob are now grandparents (Sigal is almost 3 and Zev is 1), Mara has "officially retired" as a Judaic artist. But she occasionally succumbs to requests from someone she made a bar mitzvah tallit for years ago who now wants her to craft the ketubah for their wedding.
She also continued volunteering and creating programs when she saw a need.
"If someone says it can't be done, that's my thing," she says.
For example, Portland didn't have a Maccabi team, so in 1994 she arranged for David to play on the Seattle soccer team at that year's JCC Maccabi Games. She tagged along and hung out with the delegation coach. The Los Angeles delegation coach mentored her, too. The next year, she started a team in Portland and took seven kids to compete at the games in Los Angeles. One year during her nine years as delegation head, she took 63 kids to compete.
"It was a way to keep them engaged in their Judaism," says Mara.
She also joined Rob coaching Mock Trial, originally at Catlin Gabel where David was a student. When David moved to Lincoln High School, Rob and Mara started coaching there. While Jenna was on the team, Lincoln won three state championships. Among the many other Jewish students who were part of their teams were Andrew and Scott Rosenthal, Emily Lande, David Barker, Maura Kaminash, Brian Kettler, Erica Mandell, Julie Becker, Britta Lokting, Max Masin, Marty Berger, Simon Yugler, Sam Zackheim, and Joel and Matt Berning.
Mara says she has seen kids develop lifelong friendships through the Maccabi Games, Mock Trial and at Hillel. The students also stay in touch with the Shlachters.
Every year Mara hosts a mock trial holiday party and of the 225 kids they coached over the years, about 50 show up each year.
Rob receives a phone call or email almost every week from one of their "kids" who went through one of their programs.
Mara says she often hears from kids five, 10 or 15 years later. "They call and say, 'This specific skill came in handy for this situation at work.' …We give them a sense of confidence and accomplishment."
Those lifelong connections mean everything to the Shlachters and speak glowingly to the inner satisfaction of giving back.
 Greater Portland Hillel 10th Anniversary Brunch
WHEN: 10 am, April 29, 2018
WHERE: Mittleman Jewish Community Center, 6651 SW Capitol Hwy., Portland
HONORING: Rob and Mara Shlachter
TICKETS: $36 available at pdxhillel.org/celebrate10 or 503-867-3646