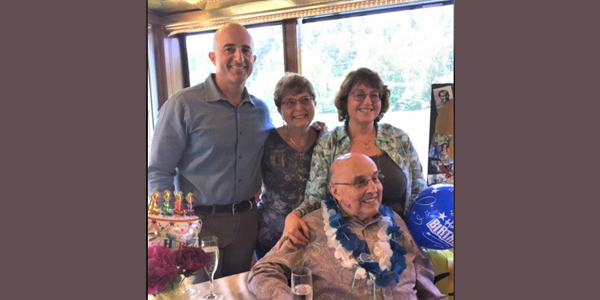 Photo: Rob with parents Les & Eva Aigner and sister Susie Johnson.
The Next Generations group invites the community to their virtual November event on Thursday, Nov. 19 from 4 to 5 pm. They are delighted to have Rob Aigner as the speaker. Rob, the son of Portland survivors Les and Eva Aigner will discuss such things as: how his perspective as a 2g has changed over time, what keeps him energized, and especially how can we all keep active in the "cause" to keep stories and the important lessons of the Holocaust alive and relevant — now and into the future.
As a speaker about his unique family history, Rob offers audiences true gifts of inspiration, insight and caring, while helping them make the tough choices that today's world demands.
In addition to sharing his family story, Rob produces a podcast called Clear Choices https://clearchoices.live/home. The Clear Choices podcast showcases intriguing conversations with ordinary people who have overcome extraordinary challenges, like many of us have, but made the difficult choices that allowed them to channel those experiences into amazing legacies.
Rob lives in LA with his family and works in the real estate industry. He is a certified trainer and coach for real estate professionals. Rob holds a degree in journalism from the University of Oregon and completed graduate work in psychology at New York University. Pictured is Rob with his parents and sister Susie Johnson. For more details please visit nextgenerationsgroup.wordpress.com.
To attend this event and receive a Zoom link, please email Sue Wendel, co-coordinator, Next Generations Group at suemwendel@gmail.com