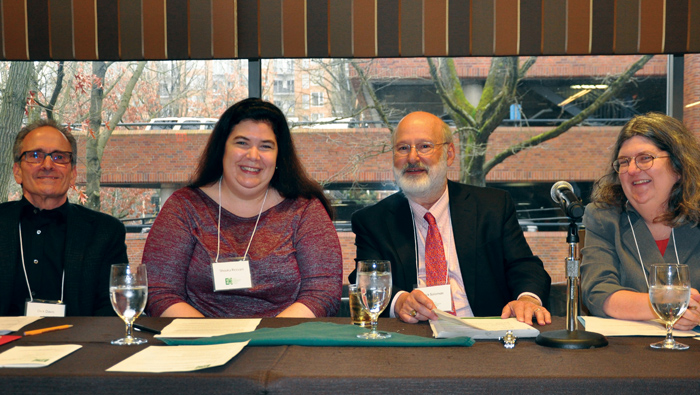 Panelists at a Jan. 25 program on the risks and rewards of serving on a nonprofit board spent most of the program ensuring that attendees understood how to avoid potential risks to themselves and the organizations they serve.
Presented by the Professional Advisors Group of the Oregon Jewish Community Foundation, the lunch program drew 75 board leaders, attorneys, and tax and insurance experts, who learned about issues such as insurance and liability, governance responsibilities, best practices and risk management. Each attendee also received A Guide to Nonprofit Board Service in Oregon, published by the Office of the Attorney General (Oregon).
Panelist Elizabeth Grant, who heads the Charitable Activities Section in Oregon's Dept. of Justice, said her section generally is working on the same side as the charitable board. "You don't have to be right, but you must exercise judgment and use rational decision-making," she said, emphasizing the importance of due diligence.
"The bigger issue is how would you feel if something bad happens that you could have prevented if you had been more engaged," she said.
Panelist Dick Davis said the most important question to ask when buying any insurance is "What is not covered?" He also warned that a personal umbrella policy does not follow an individual into their nonprofit activities.
At the conclusion of the panel's portion of the program, panelist and attorney Shouka Rezvani noted, "All of us worried we would sound like downers." She went on to quickly share several benefits of serving on a nonprofit board: "networking opportunities, good karma, the chance to make friends while doing something you care about … the benefits far outweigh the risks."
CPA Richard Solomon, who moderated the panel, added, "When you believe in a mission and want to further that mission, it is greatly satisfying to be on a board of people who are wholly committed to it."
Rounding out the benefits part of the program, OJCF Executive Director Julie Diamond gave an example of the wonderful things that can happen in a community through the efforts of nonprofits and their boards. She shared the story of the Oregon Jewish Museum and Oregon Holocaust Resource Center's collaboration over several years. With the assistance of OJCF to create an endowment for the Oregon Holocaust Memorial, the two organizations were able to merge. That put the new Oregon Jewish Museum and Center for Holocaust Education in a position to buy a permanent home, which is set to open in June.
"Though there are pitfalls (of serving on a board), great things can happen," said Julie, which she called "the sweetness of serving."