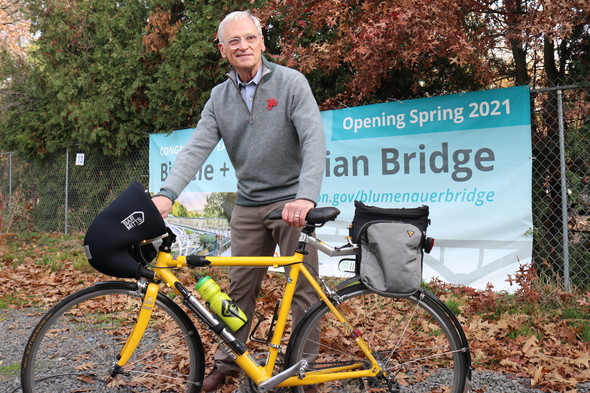 Photo: Congressman Earl Blumenauer at the groundbreaking event of the Blumenauer Bicycle and Pedestrian Bridge over I-84. Photo by Pierre Haou, Portland Bureau of Transportation.
On June 2, U.S. Representative Earl Blumenauer (D-OR), founder and co-chair of the Congressional Bike Caucus, introduced legislation to make federal transportation funding available for communities across the country to design and implement Vision Zero programs. The Vision Zero Act would support local transportation safety initiatives – such as plans to improve conditions on 82nd Avenue in Portland and 181st Avenue in Gresham – that use data, partnerships, safe planning, and community-focused solutions to achieve zero traffic fatalities.
"It's inexcusable that the federal government continues to sit back as bikers and walkers are killed on a daily basis. What makes this loss of life and injury even more appalling is that the victims are our most vulnerable populations: children, the elderly and people of color. Right now, we are seeing Portland, Gresham, and communities across Oregon working to combat this. Congress needs to get off the sidelines and help," Blumenauer said. "Our Vision Zero legislation will provide local governments additional resources needed to ensure our streets are safer for everyone."
Pedestrian and cyclist deaths make up a disproportionate and growing share of traffic fatalities. While annual fatalities for motor vehicles have stayed largely stagnant over the past decade, pedestrian and cyclist deaths have increased by 52% and 36%, respectively.
A bike commuter since 1973, Congressman Blumenauer first began biking to work when he became a state legislator, riding regularly from his apartment in Salem to the Oregon State Capitol. As a member of the Portland City Council from 1987 to 1996, Rep. Blumenauer launched and provided critical leadership on many of the bike initiatives that are staples of Portland today. Among these are:
The Neighbor Ride Event (a precursor to Portland's Sunday Parkways)
BikeFest on the Burnside Bridge (a precursor to Providence Bridge Pedal)
Bike to Work in the Rain Day (a precursor to the Worst Day of the Year Ride)
The Traffic and Transportation course at Portland State University, hosted by the Portland Bureau of Transportation
The Yellow Bike Program (a precursor to national bike-share programs such as Portland's BIKETOWN)
School Zone Transportation Safety Projects and "Portland Kids on the Move" (a precursor to PBOT's Safe Routes to School program).
The Vision Zero movement aims to eliminate all transportation-related fatalities, including pedestrians, bicyclists, transit users, motorists and passengers. In more than 40 urban, rural, and suburban communities across the country, residents, activists, and elected officials have come together to adopt and implement Vision Zero plans. However, the federal government remains on the sidelines without a system of financially supporting their design or implementation. The Vision Zero Act introduced today would change that.
In addition to Blumenauer, the Vision Zero Act is supported by U.S. Rep. Ayanna Pressley (D-MA) and endorsed by People for Bikes, the League of American Bicyclists, the North American Bike Share Association, and the National Association of City Transportation Officials.
The Vision Zero Act previously passed the House in July 2020 as part of the Moving Forward Act. Earlier this year, President Biden endorsed the idea of funding state and local Vision Zero plans in his American Jobs Plan.
Full text of the Vision Zero Act can be found here.