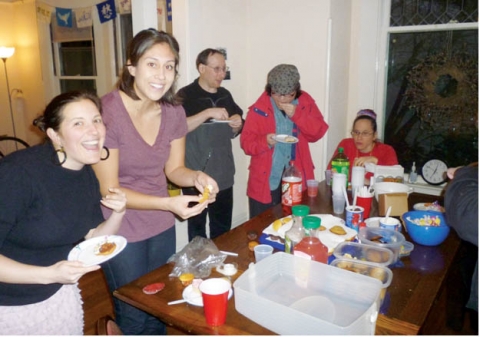 Moishe House and Tikvah have teamed up to coordinate events that integrate young adults with disabilities into the community.
Tikvah is Jewish Family and Child Service's social group for young adults with disabilities. Moishe House resident Emly Oren heard about Tikvah when she started working for JFCS in November 2011.
"I realized there are some Tikvah members who do not have social contact with anyone outside the group. A partnership between Tikvah and Moishe House was a great opportunity for Tikvah members to socially engage with others their own age, where having a disability does not matter," said Oren.
Residents of Moishe House provide programs and support for other young adults in the Jewish community. Moishe House's mission to engage all members of the community, especially those who may feel they have nowhere else to go, is what inspired Oren to reach out to Tikvah.
"I thought that engaging with Tikvah members could make them feel part of something bigger and also allow Moishe House community members to make a difference in someone else's life," explained Oren. 
Oren reached out to Corinne Spiegel, the disabilities inclusion specialist at JFCS. She works with families, individuals and organizations in the Portland area dealing with issues for those with disabilities.
"Emly had the idea to do more all-inclusive social events with Moishe House and Tikvah," said Spiegel. To date they have had a Valentine's Day candy exchange, pizza party and bowling night. As Oren puts it, the goal of these events has been to "have an inclusive community where members are exposed to all kinds of activities and Tikvah members are not isolated to certain activities."
Spiegel said that these events have been a wonderful outlet. "Sometimes people with disabilities feel secluded. These events allow them to interact in a comfortable environment because Moishe House makes community a priority," explained Spiegel.
Oren says that the biggest challenge is actually helping Tikvah members feel less shy. "Some of the Tikvah members are not used to having others approach them and be genuinely interested in their life," said Oren. They have found that the best solution is to have events where everyone is participating in an activity.
"I hope to have many more engaging events and unite Moishe and Tikvah further," said Oren.