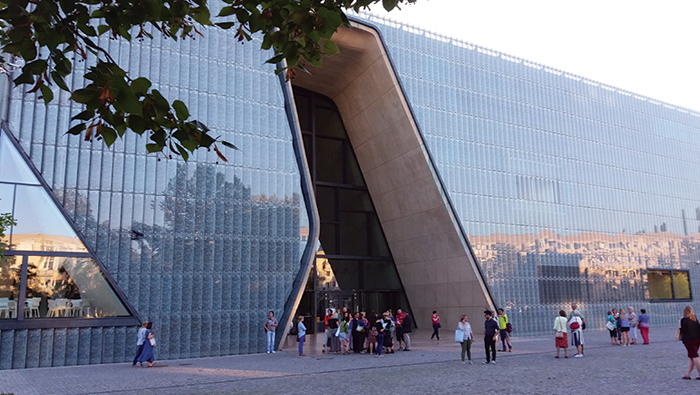 By Alicia Gutman Mannix
As a child growing up in a small town in western Poland, being Jewish meant that I was decidedly UN-Polish. Small town anti-Semitism was relentless in the 1950s and '60s. Being called "dirty Jew" or being accused of killing Jesus was fairly routine in school, even among friends. It was painful. Even hearing the word Zyd (Jew) felt like a punch in the stomach, a rush of blood to my face, much to the amusement of my classmates. When my family left Poland for the United States in 1969, our Jewish identities were fractured and underlain with shame.
While living in Portland from 1979-1984, my then husband, David Mannix, and I were members of Havurah Shalom and frequented Chabad with our two children. Currently my ​daughter and two sons​ (Aletta, Ezra and Thomas) and I belong to two congregations: Havurah Shir Hadash in Ashland (since 1990, including 14 years while living in Ashland) and Anshe Shalom of Klamath Falls for the last six years.
When I returned to Poland this fall and toured the new POLIN Museum of the History of Polish Jews on the site of the former Warsaw Ghetto, the experience was cathartic. I began to see myself in each of the exhibits, from the 10th century to the present. I smiled and greeted people who felt like family and friends, displayed on animated life-sized photographs, paintings and videos. For the first time in my life, I stood on Polish ground as a Jew and felt love, pride and joy. Finally, my place of birth felt like my homeland.
There was a time when Jews actually prospered in Poland. Before World War II, more than 3 million Jews resided in Poland. At POLIN, I focused on the story of the Polish Queen Esther (Esterke, in Yiddish). According to the legend, Esther was the beautiful daughter of a Jewish tailor who lived in Opoczno, Poland, in the 14th century. The Polish king, Casimir the Great, was on a hunting expedition and met Esther while she was picking herbs in the forest. He was so impressed with her beauty, intelligence and regal poise that he made her his wife. Jews were granted special privileges by Casimir's grandfather that guaranteed their economic rights and freedom to practice Judaism, so between 1348 and 1370 she persuaded the king to invite large numbers of Jews to settle in Poland. In a parallel to the story of Purim, she persuaded King Casimir to assure the safety of her people escaping persecution in Germany, just as biblical Esther did for a Jewish population under Persian rule. The POLIN Museum uses Esther to illustrate the mission of the museum: to highlight the positive relationship between Poles and Jews for the last 10 centuries.
Jewish identity in Poland has always been mysterious and confusing. Is it a religion, a nationality, an ethnic group? This is a source of confusion in America, as well, but the difference is that if you are born here, no one questions your identity as American, regardless of your ancestry. In Poland, being Jewish meant you could never be Polish. Officially, we were citizens of Poland, but never considered Polish. In our identity documents, "Jewish" was written across the rubric for nationality.
My recent journey to Poland revealed encouraging new attitudes toward Judaism after a nearly extinguished Jewish presence following the last exodus in which my family took part. Those who stayed were either old, married to non-Jews or chose to renounce their Jewish heritage altogether.
But a Jewish renaissance began in the 1990s, a few years after the fall of Communism.
Agata Rakowicz, the director of Warsaw's JCC, is the child of a mixed family that stayed. Now in her early 30s, she is ushering in the revival of Jewish life in a unique way, striving to not duplicate or compete with the four major congregations in Warsaw.
"Our community here is growing organically, offering an intellectual forum to a diverse audience," Rakowicz says. She explains this approach is attracting those who have discovered their Jewish roots but are not ready to jump into a religious environment: "We offer a safe place where learning about Judaism is accessible to everyone who is curious, even those who have no Jewish roots at all."
I met many different members of the JCC during a wine tasting and lecture on a balmy September evening. For example, I met a non-Jewish Japanese translator who frequents social events there and takes Hebrew classes because she finds the alphabet and the language structure eerily similar to Japanese.
My motivations behind embracing my Jewish ancestry are compatible with this modern schema, because my own Jewish heritage is likewise not completely straightforward. Being the child of a Polish/Jewish father and a Russian mother, my Jewish identity is intricate. After World War II, my father relinquished his Jewish faith from his Hasidic upbringing after nearly all of his family perished in the Holocaust. I would hear him say that there is no G-d if this genocide was allowed to happen. He escaped to Russia in 1940 and was sent to labor camps by the Stalin regime to Siberia. More than 300,000 Jews escaped the Nazis by going to Russia.
In 1945 he married my mother, a Russian, and they settled in the western region of post-war Poland, which was formerly part of Germany. My mother is not Jewish, so I am not Jewish, right? That didn't matter to the residents of my hometown. Our last name was Gutman, and we were Jews to everyone we knew. Many years later I took my three children to live in Jerusalem so that my oldest son could study and have his bar mitzvah at the Kotel. We lived in Israel for six months. At that time, I converted officially.
This refreshing perspective in Poland could come only from an untainted generation. An additional layer of complexity to Jewish identity in contemporary Poland has emerged: the millennials, a key demographic group in the search for Jewish identity, are planting a new Garden of Eden. As an example, kashrut dietary laws are appealing to younger generations because a lot of these laws pertain to quality of food and compassion for animals, an ethical mind frame that has resurfaced as a millennial mantra. Perhaps more importantly, they do not have active memories of the Holocaust.
My visit to Poland was much more than a peek into the Jewish renewal of the last 20 years. It was a deep inquiry into an entire realm of Jewish and Polish shared history. Never before with a home in the world, I can now say I've experienced my genuine homecoming.
Alicia Gutman Mannix is an art/art history instructor at Klamath Community College and a professional artist. She creates Judaica as well as other genres. She is now planning a series merging Polish folk motifs with Jewish imagery to celebrate the Polish-Jewish cultural fusion. Aletta Mannix, a delivery nurse at Sky Lakes hospital in Klamath Falls, and Ezra, a journalist in Boston, helped Alicia with this piece. AliciaMannix.com