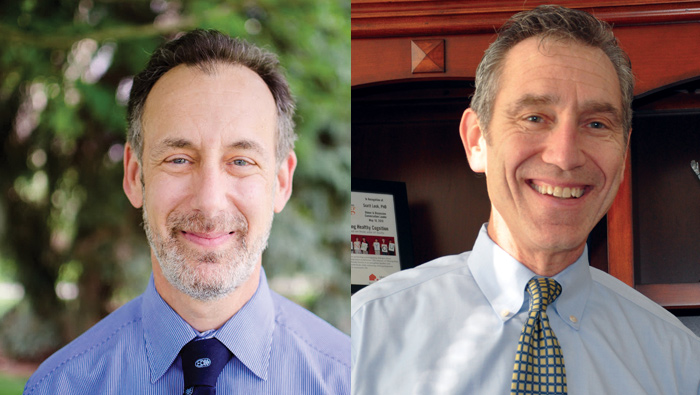 While the economic and emotional costs of Alzheimer's disease are astronomical, two Portland researchers are optimistic that current research and lifestyle modifications may offer hope for seniors facing memory loss.
"Over 56,000 Oregonians have Alzheimer's disease or a related disorder," writes Jeffrey Kaye, M.D, director of the Layton Aging & Alzheimer's Disease Center at OHSU, on the center's website (ohsu.edu/research/alzheimers). The Layton Center is one of 30 Alzheimer's Disease Centers of the National Institute on Aging. It is participating in the A4 study for older individuals (ages 65-85) who have normal thinking and memory function, but who may be at risk for developing Alzheimer's-related memory loss sometime in the future.
Meanwhile, other research studies are targeting those with mild cognitive impairment (MCI). Memory Health Center at Summit Research Network is participating in these MCI studies, with Scott Losk, Ph.D., serving as principal investigator.
"Our hope at this point is to achieve stabilization," says Losk. "The focus of research on the MCI group is to catch people before dementia."
Both the A4 and MCI clinical trials focus on individuals whose brain scans reveal the buildup of amyloid plaque, which is believed to cause memory loss in Alzheimer's patients.
The A4, or Anti-Amyloid Treatment in Asymptomatic Alzheimer's study, began last year and is the first study to test whether a new investigational treatment can slow the memory loss caused by Alzheimer's disease.
"If we can block amyloids, we could prevent the emergence of symptoms," says Kaye.
Losk says the first amyloid-blocking studies of MCI patients began in 2007; five years ago studies began into BACE inhibitors (beta-site amyloid precursor protein cleaving enzyme). BACE inhibitors should decrease the amount of 'bad' amyloid produced in the brain. "We are just now seeing a combination of stabilization of memory tests and lowering of amyloid on PET scans."
Both men encourage those with concerns about their memory to have a checkup.
"Just because someone has memory problems, doesn't mean they have Alzheimer's," says Kaye. "It's important to get checked. Some (causes of memory loss) are eminently treatable."
For instance, people with hypothyroid, B12 deficiency, chronic infection or medication side effects can reclaim their memory through treatment.
Losk notes that memory problems can also seem worse when aging "collides with those with lifelong ADD.
"Stress and anxiety can cause memory inefficiencies, so it's important to have an evaluation; some causes can be reversed, or just the process of understanding can help people deal with it," he says.
Regardless of whether memory loss is caused by Alzheimer's or other factors, brain function can be improved with lifestyle focus on diet, exercise and social connectivity, says Losk.
Kaye agrees: "We need to learn to manage (memory loss). With realization of symptoms, even if it's not curable, people can learn to cope and maximize quality of life, and they can slow the decline by using (steps) … that are not expensive."
Kaye lists five areas for better brain health: Sleep – brains consolidate memories during sleep, so improving sleep hygiene is important. Physical activity – people who remain active have better brain function and less brain atrophy. Diet – consume unsaturated fats and omega 3 fats; red wine consumption in moderation can help brain health; include foods high in antioxidants such as fresh fruits, vegetables and grains. Remain socially engaged – people without social interactions do not do as well in maintaining cognitive function; do not sit alone at home.
The current MCI and A4 studies are testing medicines to treat the pathology of Alzheimer's rather than the symptoms.
But prescription medicines already are available to treat the symptoms of Alzheimer's.
"Alzheimer's disease is the most expensive disease in America, exceeding our nation's costs for cancer and heart disease," says Kaye. "We really need to aggressively work on finding effective treatments and helping the millions of families affected today as well as in the future."
Losk notes that "The FDA is interested in fast-tracking any medicine that looks promising (to combat Alzheimer's)."
Coincidentally, both of the researchers interviewed for this article have surnames that their Jewish grandfathers shortened when they immigrated.
"My great-grandfather came from the Ukraine; Losk was shortened from Tochelusfsky," says Losk. "My grandparents raised three boys in Portland." Losk was raised in Seattle and moved to Portland in 2005.
When Kaye's grandfather reached Ellis Island, emigrating from a town sometimes in Poland and sometimes in Russia, he shortened the long "ski" name to be more American. Kaye was raised in a kosher home in New Jersey, where he became a bar mitzvah. He has lived in Portland for about 25 years and belongs to the Mittleman Jewish Community Center.
For information on enrolling in an Alzheimer's clinical trial at Summit Research Network contact: 503-228-2273 or
oregon@summitnetwork.com.
OHSU's Layton Center is enrolling participants in the A4 study. For more information, contact Allison Bianchi at
503-494-7615.