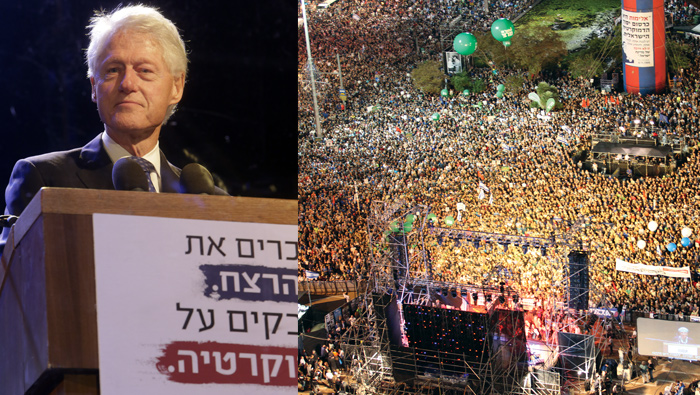 Story and photos courtesy of "Remembering the Murder, Fighting for Democracy"
The annual memorial rally marking the assassination of Yitzhak Rabin took place Oct. 31 in Rabin Square, Tel Aviv. This peace rally held at the site of the murder marked the 20th year since the former prime minister and defense minister was assassinated.
Under the banner "Remembering the murder, fighting for democracy," the rally was attended by an unprecedented 100,000 people from all ages and sectors of Israeli society.
Speakers included former U.S. President Bill Clinton and Israeli President Reuven Rivlin.
President Rivlin said, "We might be arguing about the right way, but we dream together about an Israel free of extremism and racism."
Bill Clinton said, "Only you can decide that a future of peace is less dangerous to the state of Israel than a future of war."
President Obama delivered a special video message to the participants and the Israeli public, saying, "Let's prove that we are opposing violence and extremism. Rabin's spirit and dream will never die."
Tony Naser, head of the Arab division of the Noar Oved VeLomed youth movement, said, "I am moved and excited to think about the possibility that what's happening here, in this rally, Jews and Arabs, Orthodox and secular together, will become our day-to-day reality."
Other speakers included Israeli leaders from different backgrounds, including Rabbi Yuval Cherlow; Sarah Rosenfeld, mother of Malachi Rosenfeld, who was murdered in a terror act near Shviut Rachel; and Yitzhak Rabin's grandson, Yonatan Ben-Artzi. There were powerful musical performances from a number of Israeli artists including Rita, Nisreen Kadry and Shai Ozeri.
All speakers denounced acts of exclusion and terror in Israel such as those labeled "price tag" acts.
There was a large presence of youth movement members in the crowd, and many of the speakers spoke directly to them, urging them to be the new generation to fight for democracy and against violence in Israel. The event was coordinated by a council composed of members of various movements and organizations, including Dror Israel, Bnei Akiva, Hashomer Hatzair, the Student Union and several American Jewish federations. All sponsoring organizations signed a declaration calling for a more democratic and inclusive society.
The declaration concluded with this statement: Therefore, we the undersigned hereby call on all Bnei Yisrael and all parts of Israeli society to undertake our generations' mission, with the understanding that Israel faces difficult historic and fateful decisions. These decisions can only be made through the democratic process and moral values. We seek to hold up the assassination of Prime Minister and Defense Minister Yitzhak Rabin as a warning sign to Israeli society as we grapple with the decisions that are knocking at our door, and to commit that all disputes be decided through the democratic process.