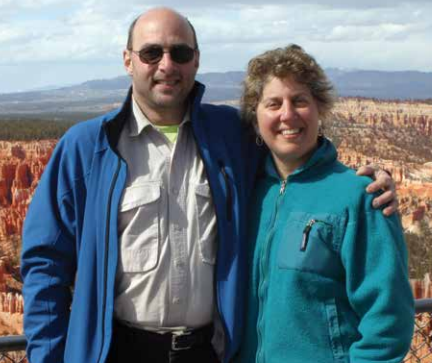 Growing up in Portland attending Congregation Beth Israel,
Rachel Shimshak learned the value of Oregon's environment
and tikkun olam. After graduating from the University of
Oregon, she spent 16 years in Colorado, Washington, DC,  
and Massachusetts gaining experience and skills that now
benefit her home state. 
Since its inception in 1994, Rachel has been the executive
director of Renewable Northwest Project – a renewable
energy advocacy organization formed by nearly 60 for-profit
and nonprofit energy, environment and consumer companies
and groups. On Earth Day this year, RNP released a report
on the impact of renewables on Oregon's economy since then. 
Investment in new (not existing hydroelectric) renewable
energy manufacturing and projects exceeds $9 billion and 
has contributed more than $79 million in cumulative public  
revenue to local communities. Wind, solar and geothermal 
projects also have created an estimated 4,600 jobs in the state, 
according to the report. 
"Our mission is to promote the expansion of responsible renewable energy resources in the Northwest," says Rachel, noting  
RNP is active in Oregon, Washington, Idaho and Montana. "We  
have for-profits and nonprofits working together to make good  
in the world."
RNP focuses its advocacy on decision makers who influence  
resource use including officials at utilities, Bonneville Power
Administration, state agencies and elected officials.
"Utilities are always planning how to meet energy needs," says
Rachel. "We want to make sure they have fair choices and they
look at costs and risks associated with each resource."  
With the Northwest's extensive hydroelectric capacity, the  
region has a history of renewable power as well as a population  
"that cares about its environment and quality of life." 
"We wanted to build on that and diversify with wind, solar and geothermal,"
says Rachel. The region now boasts 7,600
megawatts of energy from new renewable  
energy projects. To make that number  
more meaningful, Rachel explains that
this capacity is enough to serve the electric needs of almost 2 million households
annually. Though RNP launched in 1994,
the first project went online in 1998 and
most of that additional power is from
projects created in the past decade. 
"By increasing the new renewable
energy in our supply, we are reducing 
the amount of CO2 going into the 
atmosphere," she says, adding that CO2
contributes to global warming. 
In 1993 Rachel was living in Boston  
with her husband, David Barenberg,
and young son, Max Barenberg, and  
working as the policy director for the  
Massachusetts Division of Energy
Resources. While in Portland for
Thanksgiving with her parents, Jack and  
Helen Shimshak, she interviewed to become the first executive director of RNP,  
which a group of businesses and nonprofits had spent three years developing. 
Recalling when she phoned to tell her  
mother she had the job and would be  
moving to Portland, she says there was a l
ong silence from her mom. She was getting concerned her mom didn't want her
living so close, when she heard her say,  
"I'm just coming down from the clouds." 
Initially Rachel was RNP's only  
employee, and "my mother had to come in  
and do the books." 
Her mother died of ovarian cancer  
in 1997, and Jack, 94, now lives with  
Rachel, David and Max, 22, a Portland
Community College student. The family belongs to Havurah Shalom, where  
Rachel served as co-president from 2010
to 2011. 
As a teenager in Portland, Rachel was
very active in the National Federation of
Temple Youth, serving a term as president
of the region. She received a scholarship from Beth Israel to participate in a 
summer program in Israel in 1974 with 
25 Jewish teens from across the country,
including Portlander Cindy Saltzman, who is now publisher of 
Oregon Jewish Life. 
She returned to Israel for the first time in 2010 to visit Max, 
when he spent a gap year in Israel on the Kivunim program. 
Max, a graduate of Portland Jewish Academy, also followed 
her example of teen leadership becoming regional president of 
BBYO while in high school. 
At Havurah she feels drawn to the sense of community and 
adds, "I am very inspired by the music." Rachel notes she isn't i
nvolved with Havurah's social action programs because, "I like
to separate my work and spiritual life."
Her work life has provided plenty of opportunities for tikkun 
olam (healing the world). She likes to recount the many successes of RNP.
Tax incentives, such as the wind tax credit that has been 
extended through 2013, helps keep the playing field level, she 
says. "Every source of energy is affected by some policy. Oil and 
gas have been in the tax code for like a hundred years."
One policy in Oregon that RNP helped get passed is a  
renewable energy standard that requires the state's largest utilities to gradually increase the amount of new renewable energy 
in their supply, so by 2025 new renewables will make up 25% 
of the electric supply. "With a broad coalition, we negotiated, 
wrote and supported passage of the law in 2007," says Rachel. 
"Utilities that are responsible for meeting the standard are 
all meeting it at almost no incremental cost … that is, the 
renewable energy they purchased was competitive with other 
resources they might have bought."
Currently more than 40% of the electricity consumed in 
Oregon comes from fossil fuels and nuclear, she notes.
"We are trying to gradually transition away from fossil fuels 
to a sustainable future," she says.
Another success she is proud of is getting PGE to agree to 
early retirement of the Boardman Coal Plant in eastern Oregon
by 2020.
She says expanding renewables in the recent recession has
been challenging for two reasons – energy use decreases in a  
down economy and natural gas prices have been especially low.
While natural gas prices have a history of cyclical prices where
extreme lows are followed by extreme highs, she notes that
the cost for renewables comes when building the factory or 
production site. Once built, energy costs are stable for the life of 
the factory because, "Renewables don't have fuel costs; Mother 
Nature supplies the fuel."
But she thinks some of the best news is that in addition to 
delivering environmental benefits, renewable energy also has 
economic benefits for the region. For instance, in Sherman 
County, which was hit hard by the recession, property tax paid 
by a large wind project sited there has enabled the county 
to improve roads and pay for school programs. Additionally, 
the project created a number of construction jobs, as well as 
permanent jobs at the facility. Columbia Gorge College now has 
a training program for wind technicians, which means young 
people can now find jobs where they grew up.
"That's my happy story," says Rachel. "These are local resources and local jobs." 
Responding to a common concern that wind turbines kill
birds, Rachel notes that proper siting to keep wind farms out of 
migratory paths greatly minimizes that problem. Pollution, cars, 
house cats and high buildings are all threats to birds. "If we are 
smart about where we put tall structures, we minimize interactions. We've worked hard to create siting criteria," she says. 
Sitting in a downtown Portland office surrounded by photos 
of beautiful landscapes in the states where RNP is working, 
Rachel is visibly proud of the work they do.
"Our hope is people will connect their energy use to the 
consequences of its production, just like people have begun to 
pay attention to where their food comes from."