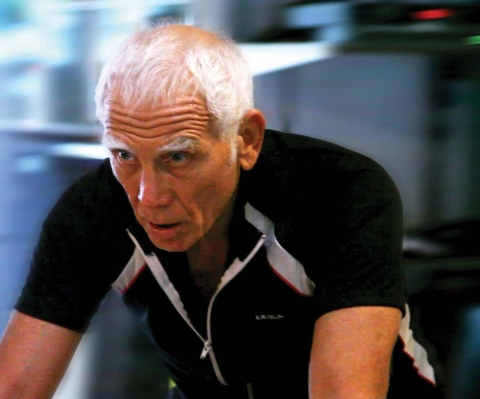 Arnold ("Jin") Zidell has poured his mind, soul and wealth into Blue Planet Network, whose goal is as vast as the ocean: to bring safe drinking water to hundreds of millions of people in developing nations.
Now he is dedicating his body to the cause.
Never mind that it's a 73-year-old body.
Since August, that body has been training for the Race Across America, billed as the toughest bicycle race in the world, which starts June 16. Zidell will race with Team Hope, whose purpose is to raise funds for a safe drinking water project for children in Uganda.
Each of the 700 students at Saint Bonaventure School, half of them orphans, must walk miles a day for water and haul it back to the school, then boil it, according to Zidell.
"Correcting that is what Team Hope and Blue Planet Network are all about," he said.
With this vision before him, Zidell will compete in the 3,000-mile Race Across America, which is one-third longer than the Tour d'France and finishes in half the time.
The founder and chairman of Blue Planet Network doesn't talk about age. Instead, he says his three team members are "30, 47 and 52 years younger than I."
Before he started rigorous endurance training last August, Zidell said he had "only biked 40 miles in the past 40 years and had never participated in any endurance event."
The RAAM "is globally seen as the highest rung of the ultra-endurance sports ladder," he blogged. "Once started on the West Coast … the clock doesn't stop until each racer reaches the finish line on the East Coast."
During the nonstop race from Oceanside, CA, to Annapolis, MD, he said Team Hope will be "sleeping on the road a handful of hours and each of us riding more than 100 miles each day."
According to Zidell, last year the fastest four-person team crossed the U.S. in five days, 11 hours and 17 minutes. He said Team Hope's race plan is "five hours on, five hours off; 110 miles a day … will get us across the country in seven days."
That means two teams of two will alternate five hours on, five hours off. The "on" team will take turns riding 5-mile sprints. One person will ride while the other rider and bike are shuttled to the next 5-mile start, where they switch places.
Donating a penny a mile for Team Hope's Race Across America will provide safe drinking water for life to one person in a rural community in a developing nation, said Zidell.
As the Portland philanthropist and businessman puts it, "That is a really good value proposition."
Blue Planet Network works to empower the global community to combat the water crisis. Donations to Blue Planet Network can be made online at www.blueplanetnetwork.org/donate or by mailing a check to Blue Planet Network, PO Box 3059, Redwood City, CA 94064-3059. All donations will be acknowledged by letter.
Zidell, the son of Rose and Sam Zidell, is active in Jewish and non-Jewish philanthropies both as a financial supporter and board member. Until 1991 he was part owner of the Zidell family businesses.
Zidell lived in his native Portland, where he was a member of Congregation Neveh Shalom, until 1980 and currently resides in the San Francisco area.
To follow Zidell during the race, visit www.jinzidell.com.