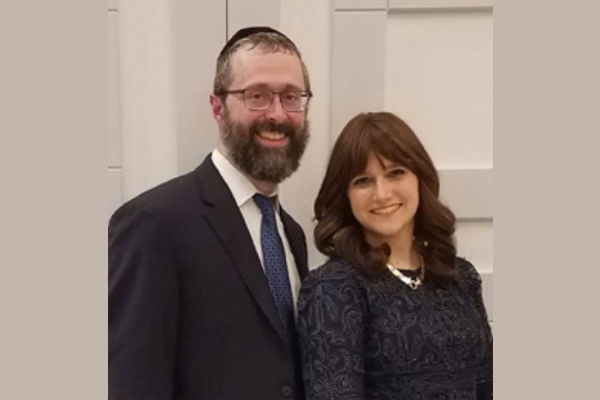 On May 5, the rabbi of the Portland Kollel sent the following message:
A Personal Letter From Rabbi Tzvi and Esther Fischer
Over the past 15 years, our family has had the great opportunity to be engaged in building our Portland community through the Portland Kollel. Watching the Kollel community grow from its infancy into a vibrant part of Jewish Portland has been truly rewarding.
This last year, with its many trials, we had some particular challenges and sadness for our family. As a result, we have decided to move closer to our family on the East Coast, to support and be supported in this difficult time.
This decision did not come easily. We have been privileged to be a part of the Portland Kollel and its extended community, giving us the opportunity to connect with hundreds of Jewish families, whether in our home or through the various relationships, classes, and programs we have been involved with. We have been inspired by the lives we have touched, and the many special people we have come to know during our time here.
We write this letter with a deep sense of gratitude to the many people, organizations, and institutions that have touched our lives and have allowed us to affect theirs. We have been involved personally and professionally with many institutions here that we will miss dearly. These include Maayan Torah Day School, which our children and Esther have joyfully called their second home. Maayan's leadership, its dedicated teachers, and its student families are our family. Kesser Israel and its members, with whom we have formed close relationships and shared so much of our Portland Jewish experience. The Jewish Federation of Greater Portland, the various committees Rabbi Fischer served with, as well as Rachel's Well Mikvah project. The Oregon Kosher team and its clients. And so many more.
We love this community. We have so many dear friends. So many of you are our family.  We will always hold you dear.
Our community is strong, with many talented members and leaders. We have confidence that the next stages for our community will bring continued growth at the Kollel under the able leadership of Rabbi Spivak, Rabbi Diskind and the rest of the Kollel team.  Rabbi Spivak, an outstanding Torah scholar with a breadth of Torah knowledge and Halachic expertise, has been a leader at the Kollel since its inception. Together we have led the Kollel to its important place in the community. The Kollel has already spent the last few months taking steps towards bringing future community leaders to Portland that will create strong solutions to help propel Jewish life here in Portland to even greater heights. The many other strong communal leaders, in their respective roles, and community members, each with their own special skills and abilities, will continue to strengthen our community. We will be actively working with these community leaders to help create a smooth transition, and we are certain that Portland will continue to thrive in their very capable hands.
We don't have a firm departure date yet, but we expect it will be sometime this summer. We are sad to be leaving, and Portland will always have a special place in our hearts. We will continue to stay in touch, and we look forward to hearing only great news from all of you.
We wish we could have spoken to each and every one of you personally since we feel so close to all of you. Thank you for understanding that this is a difficult decision for our family, and please do feel comfortable to reach out to us.
Thank you for being a part of our journey these 15 years, and thank you, most of all, for your friendship and your support.
Rabbi Tzvi and Esther Fischer