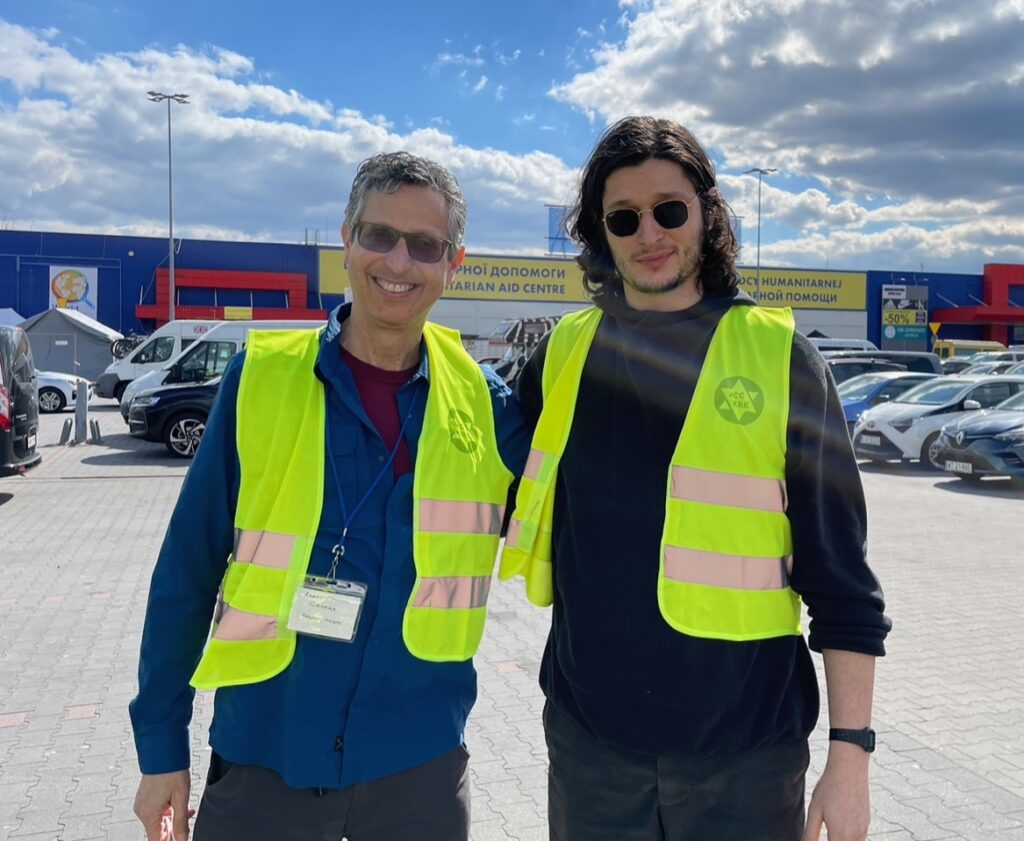 Rabbi Cahana unpacks supplies from Portland, Oregon, to be donated
More than three million refugees have made their way to Poland since Russian forces invaded Ukraine on Feb. 24. With that many people on the move, things could quickly unravel into chaos. Instead, Rabbi Michael
Z. Cahana, who was at Poland's border with Ukraine last month, described "a festival feeling, with all the warmth and love from people helping from all over the world – an amazing thing to see."
Cahana, senior rabbi at
Portland's Congregation Beth
Israel, was in Krakow April 9-14, with the Central Conference of American Rabbis. CCAR, along with a handful of other international groups of Reform rabbis and cantors, brought money and supplies to assist a refugee predicament that gets bigger every day.
All told, the cohort arrived in
Poland with about two tons of supplies and $750,000. Cahana alone brought "five really big duffel bags, about 50 pounds each, and a big check, over $60,000," he said. Portlanders answered the call for donations so generously, that he didn't have space to bring everything. Thus, what he couldn't carry he gave to Positive Charge!
PDX, a Portland charity also assists Ukrainian refugees.
Cahana had expected mostly monetary donations, but a lot of people purchased items for him to deliver. "There was something really powerful for people about putting something that they had held in their hands into my hands to give to the refugees – a sense of real physical connection," he said.
Jonathan Ornstein, CEO of the Jewish Community Centre of Krakow and the local point person for CCAR, said all the donations "had a tremendous impact on our humanitarian relief effort." He was grateful that Cahana and the other rabbis
"TREATING PEOPLE AS HONORED GUESTS, GOES A LONG WAY TO GIVE FOLKS A SMALL SENSE OF NORMALCY IN AN OTHERWISE TRAUMATIC TIME."
~ DAVID CAHANA
"worked shoulder to shoulder" with the staff "doing whatever was necessary."
At the Ukrainian border, three hours from Krakow, Cahana saw volunteers from across the globe meeting refugees, giving them food, arranging transportation and playing with the children, "just giving them a little bit of distraction so the parents, the moms can get the resources they need," he said.
The scene was impressive, but Cahana said the most impressive – and surprising – part of the whole operation is that with millions of people crossing, he saw no refugee camps as there are in other hotspots around the world. "Here people are met and helped and taken care of – whatever it is that they need – right away," he said. "It's really quite amazing."
Back in Krakow, Cahana described another astute piece of assistance inside an abandoned shopping mall. The big, once-empty space, is filled with a plethora of supplies being sorted discretely by volunteers, so that when refugees walk in they have something akin to an ordinary shopping experience: clothes and shoes displayed, sorted by size, and toy-filled bins for children. There are even dressing rooms. Mothers can shop for what they need, while their children play in a kid-friendly area. Cahana said the only thing missing was a cash register.
"People came in, took what they needed and left with their dignity," he said.
Seeing all the resources that had been brought to bear on the crisis, made him reflect on the issue of homelessness in his own city of Portland. For that population, "it's always a scramble for resources, but it's always an afterthought," he said.
"We say it's a crisis, but we don't treat it like a crisis; we treat it like a burden," he said. People often talk about caring for refugees or for homeless people, he said, but instead of doing what's "convenient for us in terms of how we give, we should consider what is most dignified for the person receiving."
Volunteers at the border waiting to greet refugees; Rabbi Cahana and his son, David, outside a humanitarian aid Centre in Przemyśl, near the Polish / Ukrainian border, donated toys for the children and the Rabbis and Cantors from the Heneini Group with the supplies we carried, outside the JCC Krakow.
Cahana brought his son with him to Krakow. David Cahana works with homeless people in Michigan, and he agreed with his father in calling the Polish response to refugees "incredible." Treating people as "honored guests," David said, "goes a long way to give folks a small sense of normalcy in an otherwise traumatic time."
The refugee story is "our history" as Jews, Rabbi Cahana said. And being there right before Passover, he and his fellow rabbis talked about how the refugee situation they were witnessing resonated so powerfully for them: "the experience of leaving a dangerous place, running for their lives and coming into a place of freedom," he said.
Yet, even with all the goodwill toward refugees that now exists, he fears what may come.
"What the Russians are doing – it's war crimes," Cahana said. "It's attacks on civilians; it's intentionally trying to create a refugee crisis; and it's really horrific."
In March, Poland enacted a law that allows Ukrainians to live and work in the country for 18 months or more, and it is giving Polish cities financial help in finding housing and jobs for the refugees. But in the face of continued violence, more people will cross the border and eventually be met with fewer resources.
After hearing so many insults hurled at refugees from Syria, Afghanistan and South America, and seeing door after door close on them, Cahana has to wonder how long the positive feelings toward Ukrainian refugees will last.