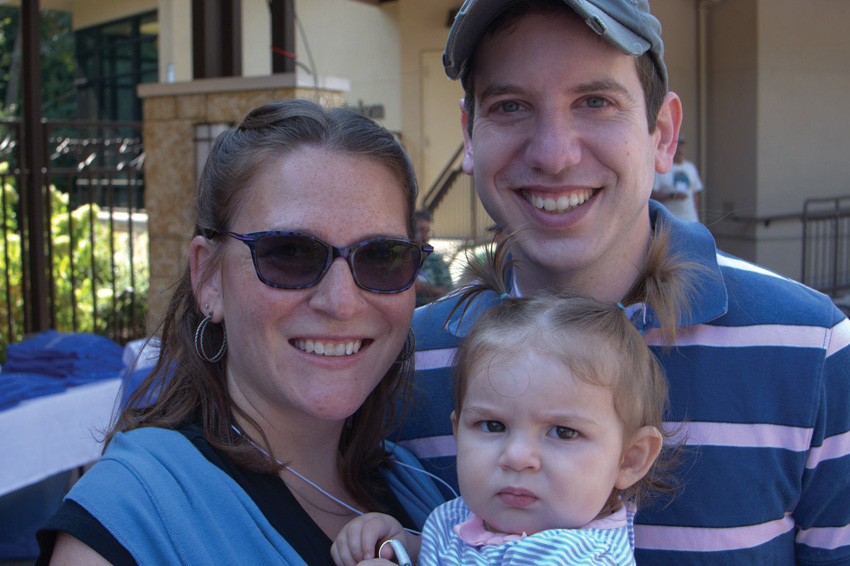 Rabbi Eve Posen looks forward to her first Passover in Portland and wants to help other women enjoy the holiday, too. As the new youth director and rabbinic educator at Congregation Neveh Shalom, Rabbi Posen's "Inspirational Women's Passover Experience" will explore central themes of the seder while providing tips and tricks. Open to Portland's entire Jewish community, the March 19 event will include wine, desserts and special noshes.
Of course, innovative programming is the norm for Rabbi Posen. A graduate of the Ziegler School of Rabbinic Studies at the American Jewish University, she also earned a master's degree in experiential education, a philosophy that combines learning with concrete experiences, and emphasizes teaching both outside and inside the box.
"I like being on the bimah, but the real connection for me is in the classroom," she says. "People ask questions, and we can explore the journey together." Questions begin each Monday morning with Neveh Shalom Foundation School for 2-year-olds to pre-kindergarten.
"They're so excited," she says. "We start by asking what they are thankful to G-d for. Then we sing Modeh Ani, talk about gratitude, do the Havdalah blessing and send them into their week."
Her Wednesday night seminar for high school seniors features whatever Jewish topic the students request. "Earlier this year they wanted to hear about how Judaism tells us to care for our bodies," Rabbi Posen says. "I talked about the text on self-caring and the importance of taking a rest. The whole class went and got pedicures." (The boys didn't color their nails.)
Rabbi Posen's interest in education includes programs for all ages. She collaborates with Director of Congregational Learning Mel Berwin to identify current needs.
At "Rabbi a la Carte," Rabbi Posen meets congregants wherever they want to discuss topics of their choice. "I've done some women's learning in a home," she says, referring to a recent class titled "How to Say Here I Am." "We talked about what it means to be present for ourselves and our family. We held a class about the true miracle of Hanukkah at a coffee shop, and we have one coming up in a bar."
At a Super Bowl party she compared football and Jewish leaders using Vince Lombardi and Yitro from the Torah.
Another interesting program is one titled "Hope and Healing," which explores rituals and prayers that accompany life's stages. "Learners explore Jewish methods of moving forward," Rabbi Posen says. "We study the psalms for life-cycle events and try to interpret what the writer meant and what it means to us. We have old and young, people who are moving through a loss, new empty nesters, people coming through an illness, people who had a loss years ago. It's become a nice place to read text and build community."
Rabbi Posen hopes women from outside the congregation will join them for the upcoming Passover experience. Neveh Shalom Program Director Jennifer Greenberg is helping to coordinate.
"It isn't a model seder as much as a fun and meaningful look at Passover," Jennifer says. "Women will come away with tools – things they can use at their seder. They'll be fun surprises. And, they'll have the chance to taste good Passover wines."
An "Inspirational Women's Passover Experience" will take place on Thursday, March 19, 7 pm at Congregation Neveh Shalom, 2900 SW Peaceful Lane, Portland.
The cost is $18
per person. Visit tinyurl.com/wseder15 or call 503-246-8831
to RSVP.