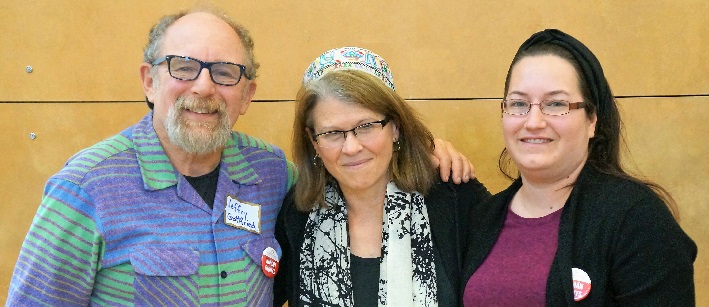 PHOTO: Jeff Gottfried, husband of Emily Gottfried, z"l, and Portland Human Rights Commissioner Sonia Marie Leikam, present the Emily G. Gottfried Human Rights Awards  Lifetime Achievement Award to  Rabbi Ariel Stone, center.
Rabbi Ariel Stone received the Emily G. Gottfried Human Rights Award for Lifetime Achievement from the Portland Human Rights Commission on Dec. 7. The Shir Tikvah rabbi was honored for her work as an ally for all targeted communities.
Community leader and Human Rights Commissioner, Emily G. Gottfried, championed and organized the first Portland Human Rights Awards luncheon in 2013. Sadly, she passed away shortly thereafter. In 2014, the awards were renamed in Emily's honor. The awards honor community human rights champions who work to eliminate discrimination and bigotry; strengthen inter-group relationships; and foster greater understanding, inclusion, and justice for those who live, work, study, worship, travel and play in the city of Portland. The categories are: Lifetime Achievement, Emerging Leader and Outstanding Organization.
The award was presented at a free luncheon at the Immigrant and Refugee Community Organization.
The nomination form noted that Rabbi Stone: co-founded Oregon's Jewish indigent burial society, Hesed Shel Emet, which guarantees a dignified burial for any Jew; helped co-found the Jewish free loan program in Oregon; was instrumental in the creation of the Oregon Holocaust Memorial, providing spiritual guidance for the eight Holocaust survivors who returned to the killing camps to collect soil for the memorial; and has supported the LGBTQ+ community, rallying for the legalization of same sex marriage and was one of the first clergy members to perform same sex marriage in Portland.
Portland Human Rights Commissioner Sonia Marie Leikam presented the award to the rabbi.
"For 25 plus  years, Rabbi Ariel Stone has been pushing the faith community forward through her action-based commitment to the Jewish concept of Tikkun Olam (repairing the world)," said Sonia Marie during the presentation. "You may have met her at a protest, wearing a  purple vest that says 'Clergy Witness,' blowing her shofar in front of city hall during a Stop the Hate rally,  organizing a Shabbat service at the ICE building or participating in a an interfaith dialogue group.
"Committed to justice for all, Rabbi Stone has been on the front lines of having an open and loving space for everyone. She does what is right even when it is hard if it means if one person can find comfort and healing. She pushes all of us to redefine our ideas of what faith leaders should be doing to protect those who are most vulnerable in our society. Jewish tradition commands us to pursue justice. Hence we are not to wait for the right opportunity to come along, the right time and place, but instead we are to be actively seek opportunities to practice justice. Rabbi Ariel is always seeking these opportunities. She has been steadfast in her commitment to human rights and the belief that the divine is to be found and honored in every living being.
"Mazel tov to you Rabbi Ariel on this well-deserved award!"
In 1993-94 the World Union for Progressive Judaism sent Rabbi Stone to the Ukraine, where she served as rabbi of Congregation HaTikvah of Kiev and assisted in the establishment of the first progressive congregations in Ukraine that continue to flourish today.
Between 1995 and 2001, she served as associate rabbi at Congregation Beth Israel in Portland until moving to Israel for a two-year fellowship at the Mandel School for Educational and Social Leadership. From 2003 to the present, she has served as Congregation Shir Tikvah's rabbi and has worked tirelessly to bring light to a dark time in our history. She also serves as adjunct faculty with the Judaic Studies department at Portland State University.