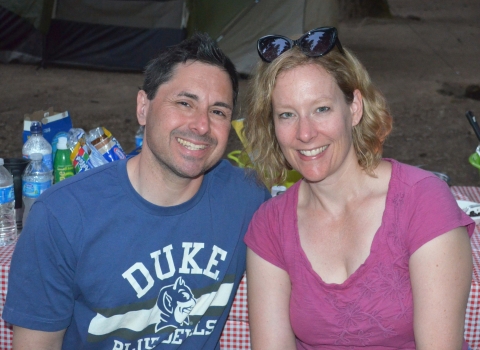 Whether he's talking one-on-one with a U.S. Senator, addressing a roomful of hundreds of Portland Jews or emailing thousands his thoughts on such esoteric topics as what the Jewish community can learn from the Roller Derby, Marc Blattner is listening, learning and challenging the status quo to ensure an evolution – perhaps even a revolution – designed to meet the needs of the Portland Jewish community for generations to come.  
On Sept. 1, 2010, Blattner became CEO and president of the Jewish Federation of Greater Portland with a mandate from the board to "help us change."
Like the crackling static of a thunderstorm, the air feels electric these days.
"I'd say that the entire community has been energized with new ideas and new energy, both from Marc and from the board," says Lisa Horowitz, executive director of federation partner agencies Mittleman Jewish Community Center and Portland Jewish Academy.
Lifelong Portlander Lois Shenker, 75, feels that same energy.
"He honors those of us who are already involved and seeks new ways to open doors to those who are not yet involved," says Shenker, who has been a federation supporter for 50 years. "I value his ability to listen and his ability to think outside the box. I'm impressed by how well informed he is about the national Jewish community and his willingness to take risks and challenges because even if the status quo is good, he doesn't accept it as good enough."
Horowitz agrees: "Marc's not afraid to challenge conventional wisdom and try new things. That risk-taking is so refreshing; not everything works out or works out perfectly, of course, but it's worth trying. Oregon Jewish Life itself is a large part of the new energy as well, with creative coverage about our community that goes beyond the day-to-day."
Oregon Jewish Museum Director Judith Margles adds, "One of Marc's most critical accomplishments has been the engagement of a younger demographic in Jewish communal affairs. The work is just beginning – and Marc knows this – but I am seeing more and more young adults express awareness of federation and appreciation for Jewish programming."
One representative of that younger demographic, Portland native Lauren Goldstein, agrees. "He's enthused the community with his thinking and ideas," says Goldstein, who joined the federation board after Blattner's arrival. "He is setting the stage to help us think about the community in a more holistic way."
Blattner says he believes the biggest transformation federation has made is to take a long-term community view.
"If we don't recognize the dramatic shift in the world in the past 10 to 15 years, we are fooling ourselves," Blattner says of the need to adapt. "I don't think we are changing fast enough. I'm not sure we have the luxury of time to make the changes we need."
One major change has been to take the federation beyond its historic mandate as a fund-raiser to become a think tank and a convener for the community.
Federation board chair Michael Weiner notes, "Beyond the visible programmatic shifts … perhaps Marc's most significant accomplishment has been to begin the process of transforming federation from its previous role as funder of agencies to that of community builder, which includes funder of agencies." 
While admiring Blattner's "desire to reach beyond federation's traditional constituency," Cedar Sinai Park CEO David Fuks says the funding shift has been "painful." That shift, combined with the economic recession, has created a reduction in the federation allocation to CSP's Robison Jewish Health Center. Still Fuks says, "We feel strongly that Marc and federation are very important partners to our agency."
Blattner acknowledges the importance of federation's partner agencies but notes they do not touch the majority of Jews in the community. Finding ways to connect the unaffiliated is a key goal of his revolution. Blattner says that just about everything the Jewish community offers can be found elsewhere. Only Jewish education and religion are hard to find outside of the Jewish community. He believes it is important to find out what people are interested in and find creative ways to tap into those interests.
Larger-scale Community Initiative Grants ($300,000 last year) allowed federation "to look at ways to impact the community as a whole." CIGs have helped build partnerships with synagogues and other Jewish organizations by funding innovative programs and events.
One such grant has funded a joint exploration by CSP and Jewish Family and Child Service to explore the future of serving the community's seniors. Fuks says, "We are having serious conversations about where we are taking services to the elderly and partnering creatively to think through new directions for our community."
Noting that when he arrived, most information was anecdotal, Blattner says the federation's population study combined with more sharing of data from agencies have produced a more concrete picture of the Greater Portland Jewish community. The population study revealed the metro area has some 47,000 Jews, more than twice previous estimates, and that the population is more dispersed than previously believed. Learning that some 10,000 Jews live on the east side of the Willamette River prompted the federation to survey east-siders on their interests and needs.
Weiner says, "Marc has begun to educate this community that time is short to shed the ways of the past and recognize that for whatever reason – demographics or a new Jewish reality – there is a new way of communicating, of fund-raising, of bringing the community together as Jews."
Noting he has tremendous respect for what the community has built, Blattner asks, "How do we build on that foundation in a positive way? …We need to think creatively and differently on how to meet needs. As a convener, we need to bring together national experts and help fund initiatives."
Blattner says he hopes those new ideas inspire people to invest in the future.
"New initiatives may attract new dollars. How do we get the best return on the community's philanthropic investment? By meeting the needs of tomorrow," he replies. "We have to make Jewish life fun, exciting, spiritual and able to connect to people on a range of issues."
Increasing access to proven Jewish identity-building experiences such as Jewish camps and day schools is one change he hopes the community can make.
"We appreciate the continued strong support … (for) MJCC and PJA. That's a vote of confidence and an acknowledgment of how central both agencies are to our community's continued vitality," says Horowitz. She agrees the need to change while protecting the community safety net is a hard balance to strike. "I believe that the ongoing, significant challenge for federation remains how to grow involvement, grow 'the pie' and especially to engage a younger generation of donors."
Blattner wants to find ways to reach all of the people who have an interest in being touched by Jewish life. He says his biggest disappointment is that his idea to create the first Jewish community membership card has not gained traction. The "one-price experience fee" would enable a family to participate in every Jewish institution and program in town. If just 40 percent of known Jewish households in Portland paid $1,800 a year for such a card, he says the budgets of most Jewish organizations would be covered. Giving card holders access to any synagogue, day school, Hebrew school, camp and community center would go a long way to building Jewish identity.
"I think it's an opportunity to look at," he says.
On a personal level, Goldstein agrees: "Young families like ours would be huge advocates for it."
Blattner says it is disappointing when people immediately reject new ideas. "I want the reaction to be, 'Hmm, let's think about that.'"
"Our job is to support the community. …We need to find a balance to maintain the level of engagement of those already involved with the need to increase participation of those not involved."
He believes trying new ideas is important, even though some may not work.
One idea that has gained wide support and enthusiasm is the April 18-21, 2013, Food for Thought Festival. Chaired by the idea's creator, Cheryl Tonkin and her cousin Ed Tonkin, the festival will include programs, food, lectures, activities and tours in multiple locations around town.
Blattner is eager to talk to anyone who has ideas, suggestions or criticism and freely shares his email and direct phone number (marc@jewishportland.org and 503-245-6482). His Marc's Remarks email goes out to 4,600 people every week (to get on the list, email rachel@jewishportland.org).
While Blattner the CEO is very public, he says, "When I'm home, I like to be home with my family and relax."
The family enjoys camping and hiking, which is one reason they were excited to move to Oregon. Sarah is the technology integration specialist at PJA, where their son Shai, 9, is starting fourth grade. Daughter Aliyah, 11, attended PJA through fifth grade before auditioning for the Arts and Communications Magnet Academy in Beaverton where she will begin sixth grade this fall.
Blattner credits his wide and diverse interests as the inspiration for some of the innovations he has proposed.
"I'm a sports enthusiast, a professional wrestling historian and fan, a regular viewer of mixed martial arts and I prefer to read magazines and periodicals," he says when asked about his interests outside work. When he is doing all those things, "I look at them through the lens of what are they doing right that we could build on."
For example, when he wrote about the Roller Derby in Marc's Remarks, he says he looked at it in terms of how it was promoted. "We're in the same business – messaging. … I watch and listen."
Community leaders and members appreciate those efforts.
"I value Marc's creativity, openness and the seriousness with which he works for our community," says Fuks.
"Marc has tremendous energy and willingness to work tirelessly for our community," says Shenker, echoing thoughts expressed by many in the community. "I think that is pretty special."