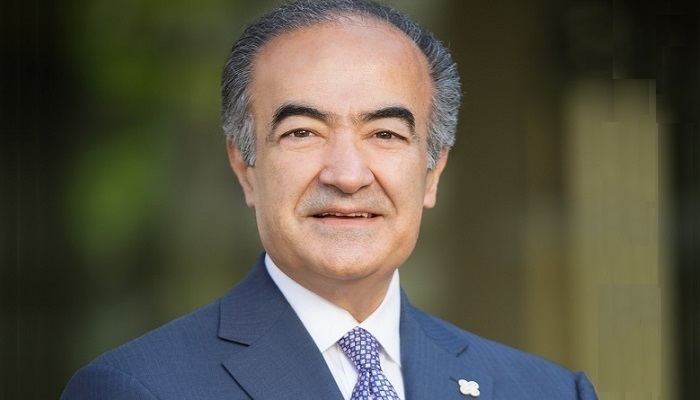 PHOTO: Dr. Rahmat Shoureshi, president of Portland State University
Dr. Rahmat Shoureshi, who last year became the ninth president of Portland State University, will be the keynote speaker at the 10th anniversary celebration of the Greater Portland Hillel (see below).
"We are thrilled that President Shoureshi will be our keynote speaker for the event on April 29," says PDX Hillel Director Rhonda Abrams. "Although he only began at PSU in August, he became a fast friend of PDX Hillel. Under his leadership, we have found new and exciting ways to partner with Portland State University, and we look forward to sharing those updates with the community at our event."
President Shoureshi leads Oregon's most diverse and innovative public university. With nearly four decades of academic experience, he has a record of expanding research opportunities and a history of inspiring faculty collaboration.
Prior to joining PSU, Dr. Shoureshi served the New York Institute of Technology as provost and vice president for academic affairs, then interim president. He has held faculty positions at Wayne State University, Purdue University and the Colorado School of Mines. He served as dean of the School of Engineering & Computer Science at the University of Denver from 2003 to 2011. An expert in automation, control systems design and artificial intelligence, Dr. Shoureshi holds nine U.S. patents for biomedical and engineering systems, sensors and devices.
"There are so many exciting new developments at PSU to share with the community," says PDX Hillel President Debbie Plawner. "I know readers will appreciate learning of his commitment and passion for supporting Jewish life on campus."
The Hillel celebration is being used as a fundraiser to support having an Israel Fellow in Portland. Former Israel Fellow Shiran Halfon plans to fly in from Israel to join the celebration.
"Our belief in the power of an Israel Fellow comes from the myriad of stories we hear from students about how the Israel Fellow welcomed them to coffee and helped spark a desire in them to think more deeply about Israel, about themselves and their place in the world," says Debbie. "I get goosebumps when I think about students who have shared with us how our Israel Fellows have changed their lives."
Funds from the brunch will ensure future Portland area students will have access to such rich experiences.
Current Israel Fellow Hagit Ojalvo has made a huge impact in just six months. Hagit has recruited and guided student leaders at PSU (including Muslim student leaders) on a trip to Israel and has planned a week-long series of innovative, educational and fun events for the whole community to join students on our campuses and celebrate Yom Ha'atzmaut .
Greater Portland Hillel 10th Anniversary Brunch
WHEN: 10 am, April 29, 2018
WHERE: Mittleman Jewish Community Center, 6651 SW Capitol Hwy., Portland
HONORING: Rob and Mara Shlachter
TICKETS: $36 available at pdxhillel.org/celebrate10 or 503-867-3646