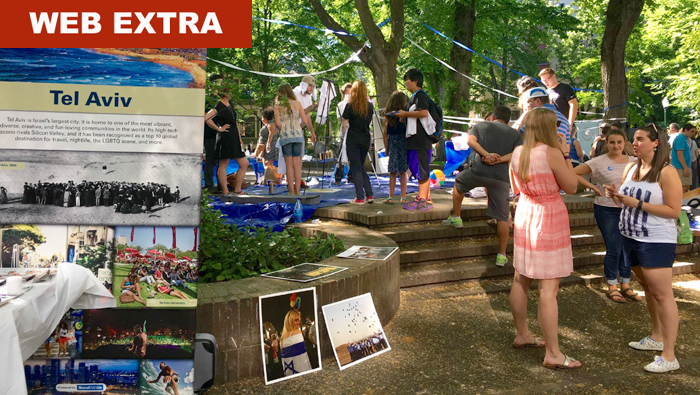 On the day the Portland State University student senate planned to vote on a resolution for PSU to divest from specific companies doing business with Israel, Jewish students invited the community to attend an Israel Fest to celebrate Israel.
On June 6, 150 students, community members and families with kids gathered in the PSU Park Blocks for a celebration of Israeli culture, food and art. That same evening, the student senate voted to table the BDS resolution until next fall.
"It was really great to see the community coming out to stand with us in this fight and celebrate together," says PDX Managing Director and Jewish Agency Israel Fellow Shiran Halfon.
Participants could make their own graffiti T-shirt with Artist4Israel, get a henna tattoo and enjoy Israeli food. The fest also included tables of information and representatives from different pro-Israel organizations such as Israel on Campus Coalition, StandWithUs and Hinenu.
In an invitation to the event, Shiran noted that the past month has been very difficult for our PSU Jewish students with the introduction by the BDS movement of an anti-Israel resolution.
"At multiple student senate meetings held in May 2016, BDS supporters expressed clear hatred of Israel, and anti-Semitic rhetoric that required our students to stand up for Israel and themselves in the face of booing and visible protest," wrote Shiran. "The group promoting the BDS resolution filled these meetings with community members that hissed at our students and showed great disrespect for our community. We were more shocked to witness a few of the student senators snapping in agreement with the Anti-Israel speech and shaking their heads as our students took the floor. At the end of one of the hearings, a student senator actually stated that Palestinian terrorism is justified since it is their only way of resistance."
It was that background that prompted students to decide "rather than continuing to take part in the hateful BDS debate, we have decided to focus on celebrating our own culture."
Israel Fest was co-sponsored by: Jewish Federation of Greater Portland, Israel on Campus Coalition, StandWithUs and Hinenu.
"I would like to thank the Jewish Federation of Greater Portland, JCRC committee and Bob Horenstein, Hillel International and Eric Fingerhut, Oregon Hillel, StandWithUs and Hinenu for working with us in our fight against this resolution and overall being great partners in the challenge of educating students on campus about Israel," adds Shiran.