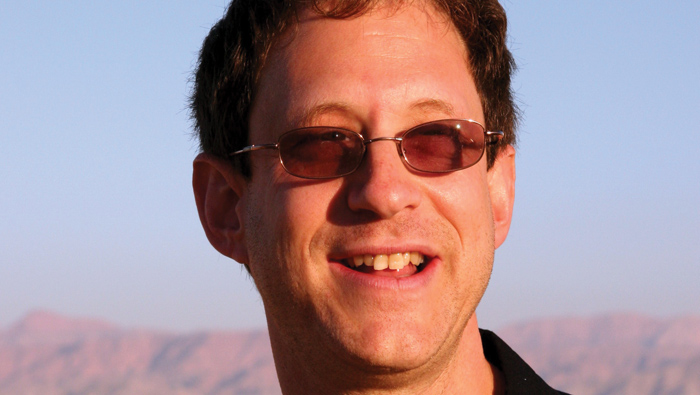 Yosef Abramowitz, aka Captain Sunshine, was a member of the negotiating team representing Israel at the 2015 Paris climate talks. Serious business, yes, but he spent much of his time there getting hugged by African energy officials.
As the only one of the 50,000 or so attendees wearing a yarmulke, he was easy to spot. And African representatives were eager to talk to him about the success of the first commercial solar energy field in sub-Saharan Africa. A project of Yossi's Energiya Global, the 8.5-megawatt field increased Rwanda's production of electricity by 6%, with zero increase in emissions – thus bucking the conventional wisdom that poor countries need to burn carbon in pursuit of prosperity. Now 10 African nations are working with Energiya (which means energy of God) on solar projects in various stages of development, including a new solar field in Burundi expected to provide 15% of that poor nation's electricity by March of this year.
Yossi will be in Portland at about that time as the keynote speaker at the March 5 Friends of the Center Brunch at the MJCC (see below). He hopes his reception in the United States will be as warm and the impact will be lasting.
"Rosy (Steve Rosenberg) invited me to come talk about my Jewish journey," he says, noting the two met through the Wexner Jewish leadership program. "How do we apply our Jewish values in our personal life and in the world doing unusual things?"
The Rwanda project earned Yossi his third nomination for the Nobel Peace Prize, based on two reasons: for the energy solution itself and because it was situated at the Agahozo-Shalom Youth Village, providing income for the orphans of the Rwandan genocide. His first two nominations were for his participation in the movement to free Soviet Jewry, which Yossi calls "the greatest human rights victory in the world – we were able to free a million people without shedding blood."
Shifting his focus to solar energy was unplanned, but maintaining his emphasis on tikkun olam as he created a new business model was not.
Yossi is a former journalist and Jewish educator. He and his wife, Rabbi Susan Silverman, now a leader of the Women of the Wall movement, each planned to write a book in 2006 when they made aliyah with their five children (two adopted from Ethiopia). Moving from Boston to Kibbutz Ketura in southern Israel, Yossi was astounded to learn there were no solar energy fields in the sun-drenched nation. Government regulations and the national utility had quashed that option.
As a newcomer, Yossi didn't know how hard it would be to change the laws. Believing solar energy was a natural step, he co-founded Arava Power Company with David Rosenblatt from New Jersey and Ed Hofland of Kibbutz Ketura. Following a lengthy bureaucratic battle, Arava opened Israel's first solar field at the kibbutz in 2011. Yossi says he expected solar power to explode in Israel following the changes in the law. While solar now supplies 70% of daytime electric needs in southern Israel, nationwide only 2% of Israel's power is from renewable sources.
"We've only scratched the surface," says Yossi. "The rest of the country is way too slow considering the pace of climate change."
When the first field opened, Yossi says, "People came from 58 poor countries and said, 'Startup Nation, can you help us?' "
"As solar developers, we have a strong humanitarian mission," says Yossi. "It's not just about the bottom line. We are interested in a quadruple bottom line. In addition to a good return for our investors, we have a strong environmental mission, a strong humanitarian mission and we are strengthening Israel's diplomacy in Africa."
He says Israel can help provide Africans with the four things they need most – water (Israel water technology is the best in the world), food (we can grow things almost anywhere), energy (solar) and security from Islamic extremism, which Israel unfortunately has expertise in.
"African leaders are turning to Israel for all those needs," says Yossi. "When we bring prosperity and security to them, Israel gets more support from those countries."
With the Rwandan solar project online before the Paris talks, a key sticking point in past climate talks was overcome.
"Energy is a key component to economic prosperity," says Yossi. Decoupling GDP from emissions means poor countries don't need to "burn their way to prosperity."
"It's a business model for tikkun olam that is backed by guarantees from the World Bank and the U.S. government."
While in Portland, he also plans to speak to students at Portland Jewish Academy, deliver a d'var Torah at Congregation Shaarie Torah and address the Oregon-Israel Business Alliance.
"My wife and I are donating 30 boxes of a parenting book we did to thank the JCC for its interest and in honor of Rosy and Ellen (Lippmann, Rosy's wife)," says Yossi. He says he hopes the books and the story of his Jewish journey to improve the world "will inspire the community and the next generation to take seriously climate change."
When he finishes his Portland visit, he will fly to Washington, D.C., to participate in President Trump's first briefing about the Power Africa and the Electrify Africa Act, a bill passed by both chambers of Congress with bipartisan support and signed into law by President Obama Feb. 8, 2016.
While he worries that the Trump administration may build pipelines and grant more oil and drilling rights, he is hopeful that the reality of jobs will encourage President Trump to support renewable energy, too.
"Wind and solar are creating more new jobs in the U.S. than coal, oil and gas," says Yossi. "If the president has an emphasis on jobs, hopefully we won't lose too much momentum on the climate side."
FRIENDS OF THE CENTER BRUNCH
SPEAKER: Josef Abramowitz: Energized to Change the World Through Solar
WHEN: 10 am-noon, Sunday, March 5
WHERE: MJCC, 6651 SW Capitol Hwy., Portland
TICKETS: $54, individual; $36, 36 and under; $432, table
RSVP by Feb. 22: oregonjcc.org/brunch