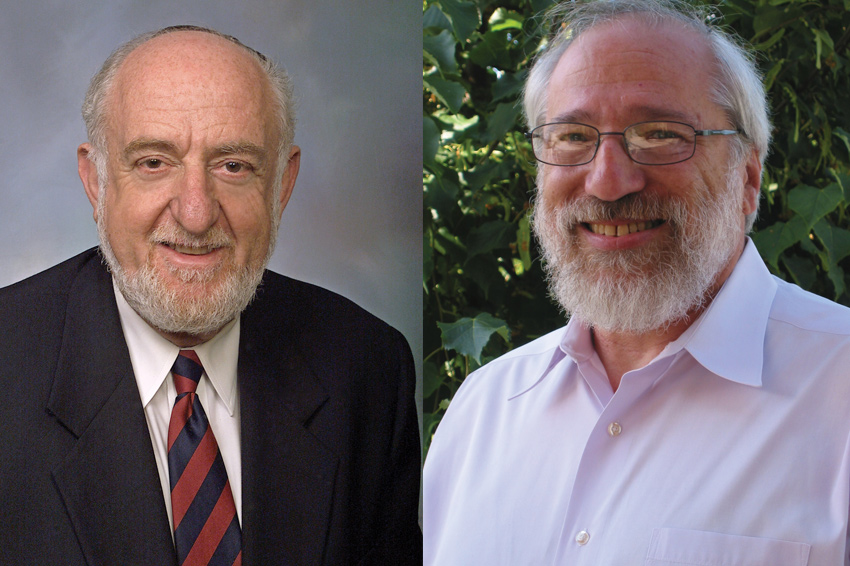 Federation's 95th annual meeting June 9
The Jewish Federation of Greater Portland's 95th Annual Meeting on June 9 will feature an inspiring talk by Avraham Infeld, who has invested a lifetime enhancing Jewish education and identity. The 4:30-6 pm free program will also feature the presentation of the inaugural Laurie Rogoway Outstanding Jewish Professional Award.
Following Laurie's retirement, federation created this award to honor Laurie's dedication to community and passion for Jewish life. Nominations are due by noon, May 4. The recipient will receive up to $1,000 for professional development. For information, caron@jewishportland.org or 503-245-6449.
Federation invites the community to "celebrate another wonderful year of Jewish community," and get inspired by Avraham as he speaks about his project The 5 Legged Table.
A native of South Africa, Avraham immigrated to Israel in 1959. In the 1970s he founded Melitz, a nonprofit educational service institution that fosters Jewish identity rooted in a pluralistic understanding of Jewish life and the centrality of Israel.
Avraham will speak about his most recent project focused on the five components, or "legs" of Jewish life – memory, family, covenant at Mount Sinai, Israel and Hebrew. At the 2010 event announcing project, Avraham described The 5 Legged Table is a metaphor for a strong and stable Jewish identity. Avraham argues that all Jews should commit to at least three of the five legs. In this way, whenever he or she meets another Jew who has made the same commitment, they will always have at least one of the legs in common.
Avraham often speaks about the "Jewish people being unified but not uniform." This project celebrates Jewish unity while demonstrating creatively the rich diversity of religious, cultural and ideological voices that make up the Jewish people.
This year's meeting will be held at Rose Schnitzer Manor on the Cedar Sinai Park campus. 503-245-6219 or info@jewishportland.org.
Oregon Jewish Museum and Center for Holocaust Education presents two new exhibits on display through June 21. "Frank Barnett: FotoMacher – Examining Lives with Jewish Eyes" and "Shelley Jordon – Ordinary Matters" are the museum's current exhibits.
Photographer Frank Barnett seeks access to unusual and edgy outsider subjects. His images of Angola prison rodeo performers at the Louisiana State Penitentiary, nursing home patients and his late wife during her two-year losing battle with cancer are emblematic of his inclination to photograph on the edge of things – among the dispossessed, the outcasts and the hopeless in our midst. An award-winning photographer, Barnett's work is included in private, corporate and museum collections. His rodeo photography and iconic images of New York Harbor and Bourbon Street in New Orleans were selected by Pendleton Woolen Mills to be woven in wool and included in their Limited Edition Fine Art Tapestry Series.
"Ordinary Matters"  is an exhibit of artwork by Portland-based painter and moving image artist Shelley Jordon. In these paintings, animated installations and films Shelley explores interior and exterior worlds and the complex nature of memory. Using traditional forms of drawing and painting as well as hand-drawn animation, she focuses on everyday objects and brings out their emotional and psychological resonance. Daily life, relationships and everyday objects are investigated and informed by perceptions of previous experiences that reveal emotional and psychological resonance and reflect the passage of time.
She is a professor of art at Oregon State University. She has had more than 50 solo exhibitions, including the Wexner Center for the Arts, Columbus, OH; the Whitebox Gallery Portland, OR; and the Frye Museum, in Seattle, WA.
Regular exhibition gallery hours are Tuesday through Thursday 10:30 am-4 pm, Friday 10:30 am-3 pm, and Saturday and Sunday from noon to 4 pm. Admission is $6 for adults, $4 for students and seniors, and free for members and children under 12 accompanied by a parent or guardian. Tours of the Oregon Holocaust Memorial are free and available by appointment.
OJMCHE is located at 1953 NW Kearney St., Portland. For more information, call 503-226-3600.
Learn about SW Corridor transit options May 12
Before the Portland's Southwest Corridor Project Steering Committee makes significant choices about transit, roadway, bicycle and pedestrian improvements, they want to hear from the people who live, work and travel in the Southwest part of the metro region. The corridor project looks at an area that is home to several synagogues, Jewish schools and the Mittleman Jewish Community Center, as well as a large concentration of the Jewish population in Portland.
Attend a community forum at Wilson High School on May 12. Join project decision makers, staff and other interested community stakeholders to help shape the next steps for the SW Corridor project. At Wilson High School cafeteria from 6:00-8:30pm you can learn more about the tradeoffs between surface and tunnel alignment options; the impacts of tunnel construction; and future road, bike, pedestrian and local transit improvements. Various stations and short presentations will highlight considerations specific to the South Portland, Hillsdale and Portland Community College that will inform the steering committee's July 11 decision, as well as information on project discussions this summer and fall about Tigard, Tualatin and other areas along the corridor. www.swcorridorplan.org
Celebrate 40 years of Rabbi Yitz
The Temple Beth Israel hosts a gathering at 4:30 pm, Sunday, May 31 at TBI to honor Rabbi Yitzhak Husbands-Hankin and Shonna Husband-Hankin's 40 years of service and leadership building Jewish community in Eugene.
The formal program will last about an hour, and will include reflections from Rabbi Yitz. There will be lots of time for socializing, noshing and reminiscing. TBI welcomes any and all former and current TBI members as well as friends of TBI to join us in honoring and celebrating Rabbi Yitz as he transitions to rabbi emeritus of TBI.
Temple Beth Israel-Center for Jewish Life is located at 1175 East 29th Ave., Eugene. For more information, call 541-485-7218 or email info@tbieugene.org.