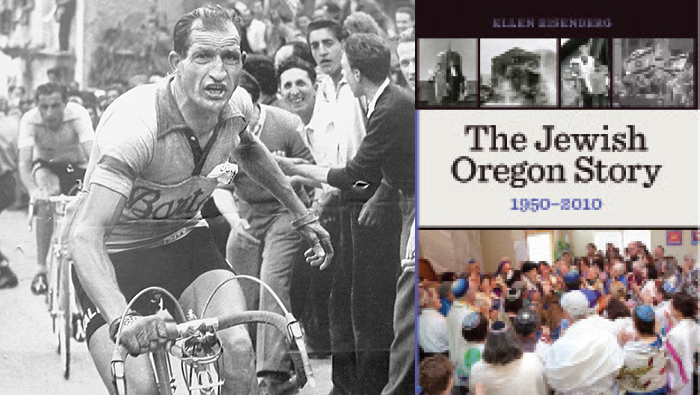 PORTLAND HADASSAH PRESENTS WINE, DESSERT AND BG SEPT. 15
Barbara Goldstein, deputy director of the Hadassah office in Israel, will speak on "Hadassah! Research in Service to Humanity" at a Wine and Dessert Reception 7- 9 pm, Sept. 15, at Hotel DeLuxe, 729 SW 15th Ave., Portland.
Known as BG to most of the Zionist world, Barbara is past national vice president of Hadassah. Jumpstarting what would be a long career in Jewish communal work, Barbara was a volunteer during the Yom Kippur War working directly with the wounded soldiers and others before serving on numerous boards and committee for the American Zionist Movement, the Joint Authority for Jewish and Zionist Education and, of course, Hadassah.
Tickets are $36. For more information, contact event chairs Diana Lindemann at 503-312-2530 or diana2504@msn.com, or Carolee Kawer at 503-657-3928 or ceekay1014@gmail.com. Register online at hadassah.org/events/portlandwd.
HEROIC ITALIAN CYCLING CHAMPION CELEBRATED SEPT. 11
Cycling legend Gino Bartali was a multiple winner of the Tour de France and Giro d'Italia cycling races, and an athlete recognized as a Righteous Among the Nations. Yad Vashem Holocaust Remembrance Center in Israel bestows the honor on gentiles who risked their lives to save Jews during the Holocaust. Bartali's heroic story will be celebrated this fall at a bike ride organized by Congregation Shir Tikvah. The third annual Simcha Cyclathon begins at 8 am Sunday, Sept. 11, on the Banks-Vernonia State Trail.
"Gino Bartali risked his life, over and over again on a bicycle in order to save that of a stranger," says Rabbi Ariel Stone of Congregation Shir Tikvah. "We will be cycling for fun, but also from the vantage point that was his, to consider his courage. What does it take to defend the innocent stranger among us from the murderous discrimination and persecution we ourselves have known? "
At the height of World War II, Bartali enjoyed notoriety and prestige as a world-renowned cyclist; he was notorious for his epic training rides across German-occupied central Italy. Yet despite – or perhaps because of – his celebrity, a secret stash of forged papers that could have cost him his life went undetected in the handlebar and seat of his trusty steed. Bartali is thought to have saved some 800 lives by distributing exit visas to Jewish families hiding in houses and convents across the countryside.
A devout Catholic, Bartali worked for a Jewish rescue network run by the archbishop of Florence, Cardinal Elia Dalla Costa, and later for the Assisi Underground, which was run by local priests. He rarely spoke about his wartime efforts, instead insisting that "you do good deeds – you don't talk about them." Shir Tikvah's ride is open to the public. There are 5-, 10- and 40-mile route options. Buxton Trailhead is the start point for all rides. Bring a picnic and enjoy live bluegrass music performed by Mountain Honey at noon at the Buxton Trailhead.
Proceeds from the event will support Shir Tikvah's ongoing programming needs. Donations will be matched by sponsors. Shir Tikvah is a synagogue with an independent streak. This program and the tribute to Gino Bartali reflect that bent.
503-473-8227 | shirtikvahpdx.org
JEWISH MUSEUM BOOK EVENTS SEPT. 6, 20, 27
Powell's City of Books, 1005 W. Burnside St., hosts Chasing Portraits, at 7:30 pm, Sept. 6. Elizabeth Rynecki, author of Chasing Portraits, A Great Granddaughter's Quest for her Lost Art Legacy, in conversation with OJMCHE Director Judith Margles. Rynecki's book is a memoir of one woman's emotional quest to find the art of her Polish-Jewish great-grandfather, lost during World War II.
For the final week of its final exhbit in its current location, OJMCHE presents Secrets of the Greatest Generation: stories our mothers never told us. Come at 6:30 pm to see exhibit of photos by Katherine Joseph then at 7:15, hear her daughter Suzanne Hertzberg, author of Katherine Joseph: Photographing an Era of Social Significance. When her mother died in 1990, Suzanne discovered a trove of memorabilia from her mother's career as a Roosevelt-era photographer for the International Ladies Garment Workers Union.
At 6 pm, Sept. 27, OJMCHE joins the Oregon Historical Society and Oregon State University Press to celebrate the publication of The Jewish Oregon Story 1950–2010 by Ellen Eisenberg.
The Jewish Oregon Story traces the history of diverse Jewish Oregonians and their communities during a period of dramatic change. Drawing on archival sources, including a collection of over 500 oral histories, the book explores how Jewish Oregonians both contributed to and were shaped by the "Oregon Story," a political shift that fueled Oregon's – and particularly Portland's – emerging reputation for progressivism and sustainability. Historian Ellen Eisenberg examines a community grappling with, and increasingly embracing, change – from the dramatic national shifts in women's roles and inter-group relations to local issues such as the razing of the historic South Portland Jewish neighborhood.
Ellen Eisenberg holds the Dwight and Margaret Lear chair in American History at Willamette University, where she has taught since 1990. The Jewish Oregon Story, 1950-2010 is a companion volume to her earlier book, Embracing a Western Identity: Jewish Oregonians, 1849–1950.
503-226-3600 | ojmche.org
MOTHERS CIRCLE PREVIEW SESSION SEPT. 18
The Mothers Circle is a 13-week community-wide empowering program geared to women of other religious backgrounds raising kids in a Jewish family environment. Held at the MJCC, this supportive class is for anyone wanting to learn more about the "how-tos' of tradition, holidays and ritual. There is no cost and childcare is provided.  Come learn more at an information session, Mothers Circle style Rosh Hashanah "mini-lesson" and coffee 9:30-10:30 am,Sept. 18, 9 at the MJCC.
programs@nevehshalom.org | 503 293-7313