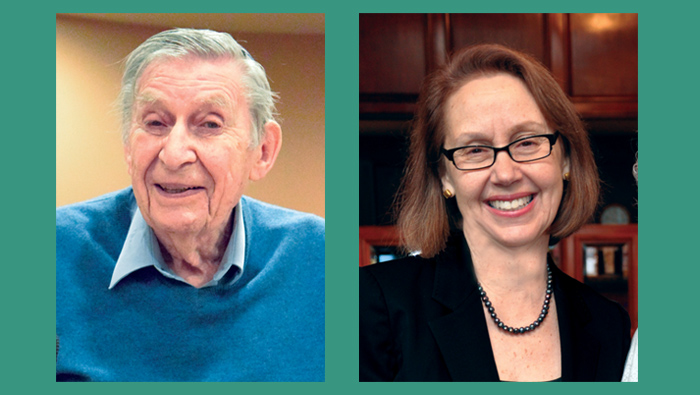 Rabbi Stampfer to Receive Ageless Award April 27
Jessie F. Richardson Foundation will present Rabbi Joshua Stampfer with its Ageless Award April 27.
Since 2013, JFRF has given the Ageless Award to individuals who are 75 years or older, and demonstrate the importance of living a purposeful life and continue to make significant contributions to society: as volunteers, philanthropists, mentors and civic leaders. "We give out this award because we think it's important to celebrate people who have gone above and beyond in their lives to serve others and who inspire people to do more in their communities," according the foundation's press release. "Our annual Ageless Award Luncheon and fundraiser is our way of reminding others how important the contributions of older adults are to our communities."
Past honorees include Governor Barbara Roberts, Gerry Frank, Tom Vaughn, Serge D'Rovencourt and Ken Austin.
Rabbi Stampfer was Congregation Neveh Shalom's rabbi from 1953 to 1993 he now serves as Rabbi Emeritus and after 60 years at CNS still teaches his Talmud class every Tuesday. He serves on the Oregon Government Ethics Commission. He has developed major conferences under the auspices of the Institute for Judaic Studies, including Sephardic History and culture, the Vienna of Freud and Herzl, the Teachings of Abraham Joshua Heschel, Interfaith Conference on Biblical Studies, From Powerlessness to Power – Israel and Japan 1948-1988, as well as a number of single lectures in Judaica.
The annual awards luncheon will be 11:30 am to 1 pm, April 27 at the Multnomah Athletic Club. Tickets are $100 with sponsorships starting at $1,000.
503-408-4759
Celebrating Our Caring Community Luncheon May 2
Oregon Attorney General Ellen Rosenblum will be the featured speaker at this year's Celebrate Our Caring Community luncheon.
Proceeds from this yearly event support Jewish Family & Child Service. For nearly 70 years, JFCS has provided social services in the Portland area, helping people of all faiths and backgrounds realize their full potential. The JFCS team helps ensure that isolated seniors, people with disabilities, and others who are facing adversity are treated with dignity and compassion. "We work to heal the community – one person, one family at a time."
Rosenblum was elected to a four-year term as Oregon's 17th attorney general in November 2012. She is the state's first woman and first Jewish attorney general, and the Jewish values she has learned throughout her life dovetail with her priorities.
As attorney general, her emphasis includes advocating for Oregon's most vulnerable residents, particularly families and children, seniors, Oregonians whose first language is not English, and students who have incurred significant education-related debt.
The luncheon will be 11:30 am to 1 pm, May 2 at the Multnomah Athletic Club. Honorary Event Chairs are Eve Rosenfeld and Mark Rosenbaum. Tickets are complimentary, however guests will be asked to make a meaningful gift to support the JFCS mission.
patapofft@cedarsinaipark.org
503-535-4360.
Jewish Community Orchestra Spring Concert April 9
The Jewish Community Orchestra will present its spring concert at 3 pm, April 9 at the Mittleman Jewish Community Center, 6651 SW Capitol Hwy., Portland.
For more than 40 years, the Jewish Community Orchestra has combined standard classical fare with works by Jewish composers, or works relating to Jewish themes and historical events. As amateur musicians, the JCO's goal is to further the growth of local artists by presenting concerts that attract, educate and entertain the audience. Although all JCO concerts are Sunday afternoons at the MJCC, the orchestra hold rehearsals Wednesday evenings at the Rose Schnitzer Manor, where residents can drop in to listen for free.
The April 9 concert will feature soloist Linda Appert. Music selections will be: Weber – Overture to Euryanthe; Mozart– Ach ich liebte from from Il Seraglio; Naftel – Aubade Pastorale for strings; J. Strauss –"Mein Herr Marquis" from Die Fledermaus; Herbert – Italian Street Song from Naughty Marietta; and Grieg – Symphonic Dances.
Tickets are available at the door for $10 adults, $8 seniors, $5 students and children under 6 free.
503-244-0111 | jewishcommunityorchestra.org/wordpress/