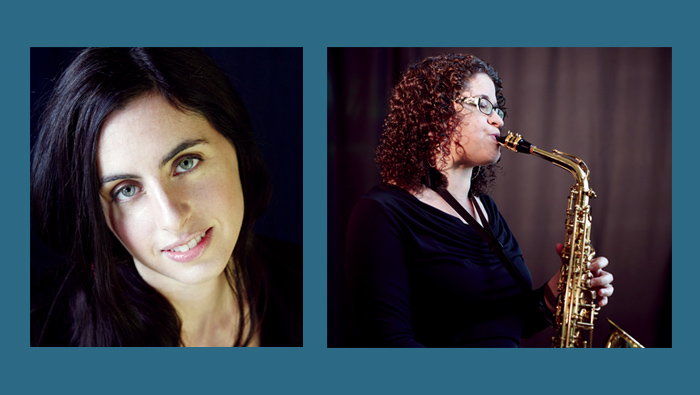 PDX Jazz Presents Kerry Politzer & Idit Schner
On Feb. 21 from 5 to 7 pm, pianist Kerry Politzer and saxophonist Idit Shner will perform at Portland Prime (121 SW Third Ave.) as part of the 2017 PDX Jazz Festival. The duo will play a variety of original jazz compositions as well as some Brazilian jazz favorites.
The classically trained Shner has performed throughout the United States and Israel. She currently performs with her quartet in Portland and Eugene at the same time that she serves as an associate professor of saxophone and jazz studies at the University of Oregon. The saxophonist's three recordings, which run the gamut from contemporary classical music to traditional Israeli themes, have been praised by such publications as The Washington Post.
Politzer is a member of the jazz faculty at Portland State University. A Portland Jazz Composers Ensemble artist, she released her latest album, Below the Surface (PJCE Records), in 2014. Before moving to Portland, the pianist lived in New York, during which time she fell in love with the music of Brazil. Politzer's love of the idiom informs many of the compositions on her six albums.
Shner and Politzer are excited to share their diverse musical interests with Portland jazz listeners.
For more information, call 503-223-6200.
A Humanistic View of Death: A Matter of Choice
Dr. Martin Seidenfeld speaks about assisted suicide at Kol Shalom at 10:30 am, Feb. 5, at the Kol Shalom Center, 1509 SW Sunset Blvd., Ste. 1E, Portland.
Dr. Martin Seidenfeld is a board member for the Final Exit Network (formerly the Hemlock Society) and serves as a guide for those choosing to hasten their death. He will describe the dilemmas facing us at the end of life and how the Final Exit Network works with individuals to make their ends come quickly and painlessly at a time of their own choosing. The Final Exit Network believes that mentally competent adults suffering major illness, intractable pain and loss of personal dignity have a basic human right to choose to end their lives.
Dr. Seidenfeld is a clinical psychologist, organizational consultant, university professor and seminar presenter.
Kol Shalom offers occasional Sunday Forums of general and/or Jewish interest. The forums are open to the public. For more information, call 503-459-4210.