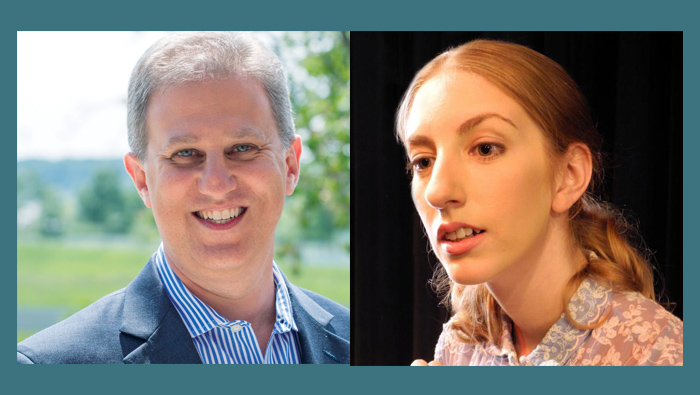 Federation annual meeting June 13
The Jewish Federation of Greater Portland invites the community to its 97th annual meeting. New board members Lauren Goldstein and Rochelle Schwartz will be installed and the Laurie Rogoway Leadership Award will be presented to Ben Winkleblack. Outgoing board members Andrew Berlinberg, Shelly Klapper and Joyce Mendelsohn will be recognized for their service. All are welcome for this free event.
Rabbi Jay Moses will speak on leadership. Rabbi Moses is vice president of the Wexner Foundation. He served for many years as director of the Wexner Heritage program, North America's premier Jewish leadership education program. The Heritage program will return to Portland in 2020 as part of the Federation's Centennial Celebration.
The meeting will be 4:30-6 pm, June 13, at the Stampfer Chapel, Congregation Neveh Shalom, 2900 SW Peaceful Lane, Portland. For more information, call 503-245-6219.
Jewish Writing and Reading Workshop June 7
On the Border: Jewish Writing and Reading Workshop will be led by Richard Chess, director for the Center for Jewish Studies at UNC Asheville. The workshop will begin at 6:30 pm, June 7, at the Mittleman Jewish Community Center.
Richard says, "Borders define and divide us. They can be sites of conflict, and they can be meeting places, where love, compassion and kindness arise. Think of the threshold of a Jewish home, with its mezuzah affixed aslant there reminding us to love … and to compromise, to come together in a mutually agreed upon promise or intention, to make one out of two. In this workshop, we'll look at the way poems by mostly Jewish writers consider borders of all kinds: political, religious, cultural, historical, and linguistic."
Participants will then write their own poems and prose. Richard will also share a couple of poems and works of lyrical prose from his new book, Love Nailed to the Doorpost, which will be available for purchase and signing at the conclusion of the workshop.
Workshop cost is $5.
Register: oregonjcc.org/richardchess
Play looks at an American girl in Hitler's Germany
Ingrid Garner will perform her one-woman play, "Eleanor's Story: An American Girl in Hitler's Germany," twice on June 3. It is a one-hour theatrical adaptation of her grandmother's best-selling memoir. She performed the play in the third and second largest theatre festivals in Perth and Adelaide, Australia, where it was listed as one of the "Top-5 Must See" performances, won a Best Theatre Award and a Critics Choice Award out of more than 1,200 shows.
In the fall of 1939, at 9 years old, Eleanor and her family left New York on the SS Hamburg bound for Germany. A new job and a secure financial future awaited her father in Berlin. Half-way across the Atlantic, Hitler declared war on Poland and their return to America became impossible.
This is the true story of Eleanor Ramrath Garner growing up as an American trapped in Nazi Germany during World War II. Adapted for the stage and performed by her granddaughter Ingrid, Eleanor's award-winning autobiography details her youth struggling to maintain stability, hope, and identity in a world of terror and contrasts. Her family faces hunger, fascist oppression, carpet bombing, the final fierce battle for Berlin, the Russian invasion and the horrors of Soviet occupancy. The play exposes audiences to an unusual perspective of World War II and provides insight into the seldom reported lives of civilians in wartime.
Two performances at Beaverton High School, 13000 SW Second St., on June 3, at 2 and 4 pm. Group rates available. Tickets are available at the door. For information, visit eleanorsstory.com.
First Summer Sundays: Holocaust Memorial Tours
OJMCHE presents free public tours of the Oregon Holocaust Memorial on First Sundays July through October.
While the Oregon Holocaust Memorial is open during all park hours, on July 2, Aug. 6, Sept. 3 and Oct. 1, knowledgeable OJMCHE docents will be on hand to give tours of the Memorial from 1 to 2pm. Many docents are Holocaust survivors and family members with personal stories to share.
The Oregon Holocaust Memorial is located in Washington Park at the intersection of SW Washington Way & Wright Avenue.
The Memorial was dedicated in 2004 and, as the stewards, OJMCHE works to teach the lessons of the Holocaust, pay homage to those who lost their lives and provide hope that future generations will learn to honor the rights of all people. Each year hundreds of school children tour the Memorial with OJMCHE docents. To schedule a tour for your school or organization call 503-226-3600.