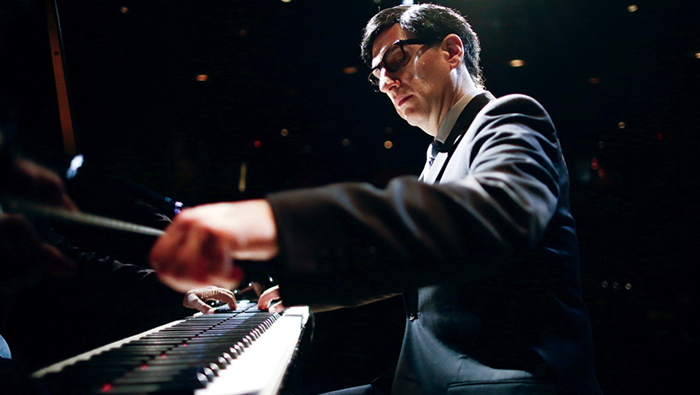 Museum fundraiser presents Hershey Felder as Irving Berlin
This year's annual theater fundraiser for the Oregon Jewish Museum and Center for Holocaust Education is not only a theater event, it is a musical tour of Jewish and American history.
OJMCHE presents Hershey Felder as Irving Berlin at the Dec. 18 matinee at Portland Center Stage with a special Behind the Scenes Conversation at 1 pm; the show begins at 2 pm.
The show takes the audience from the depths of anti-Semitism in Czarist Russia to New York's Lower East Side – and ultimately throughout America and the world. That journey is a good fit for the museum, which presents programs, exhibits, films, lectures and concerts relating to Jewish art, culture and heritage.
Hershey enjoys bringing Irving Berlin to life on stage. During the show, he invites the audience to sing along at times – and of course they are very familiar with the melodies and lyrics of the iconic Berlin. As the famous Jerome Kern is reported saying, "Irving Berlin has no place in American music. He IS American music."
Hershey not only sings the songs, he also captures the personality and spirit of Berlin. He mixes things up a bit by including impressions of other characters in Berlin's life, helping to round out the scenario. During the pre-show conversation about Irving Berlin's background and life, Hershey will share his observations from the role and participate in a Q and A.
Audiences will be treated to snippets and full renditions of many of Berlin's standards, such as "Always," "What'll I Do?," "Blue Skies," "There's No Business Like Show Business," "Puttin' on the Ritz," "Cheek to Cheek," and of course "God Bless America."
It's the kind of show that is bound to stir nostalgia and warm the patriotic fervor while delighting audiences with familiar tunes all wrapped up in an engaging personality.
Tickets for the OJMCHE conversation and matinee are $65 per person; $25 is a charitable donation. For tickets to the Dec. 18 fundraiser, visit ojmche.org/tickets/hershey-felder-as-irving-berlin.
The play continues through Dec. 30 on the U.S. Bank Main Stage at The Armory, 128 NW 11th Ave., Portland. pcs.org
Weekend in Quest explores Shakespeare and Philip Roth
Registration is now open for the 11th Annual Weekend in Quest presented by The Institute for Judaic Studies March 3-5, 2017, at the Holiday Inn Express in Astoria.
This year's theme is Who is the Jew? Anti-Semitism in Shakespeare and Philip Roth. Scholar in Residence will be Professor Roger Porter, emeritus professor of English and humanities at Reed College, Portland.
Shabbat Services will be led by Rabbi Yitzhak Husbands-Hankin, emeritus rabbi at Temple Beth Israel in Eugene. The weekend includes four lectures, services, Saturday evening entertainment, catered meals, entertainment and hotel.
For more information and to register, visit weekendinquest.org or contact Mimi Epstein at mimiepstein42@comcast.net.
Blazers bring back Jewish Heritage Night
The Portland Trailblazers and Chabad of Oregon presented Jewish Heritage Night during Hanukkah for six years. Now after a three-year hiatus, Jewish Heritage Night with the Trailblazers returns to the Moda Center. Celebrate Hanukkah with the Portland Trailblazers as they play the Sacramento Kings at 7 pm, Dec. 28.
The celebration includes a pregame Hanukkah party, commemorative giveaway and menorah lighting in the arena.
Tickets start at $30. For heritage night tickets, call Andrew 503-963-3956.
For more Hanukkah celebrations around the state, see our Hanukkah roundup on page 26.