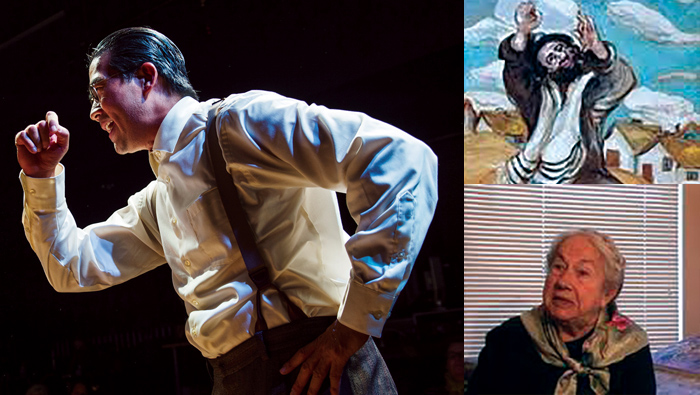 Hold These Truths on stage through Nov. 13
Portland Center Stage presents two plays during November that are well worth a look.
On stage through Nov. 13, Hold These Truths is a timely example of what can happen in America when racism and hysteria come together.
During World War II, University of Washington student Gordon Hirabayashi fights the government's orders to forcibly remove and mass incarcerate all people of Japanese ancestry on the West Coast. As he struggles to reconcile his country's betrayal with his passionate belief in the U.S. Constitution, Hirabayashi journeys toward a greater understanding of America's triumphs – and a confrontation with its failures. Since the play's critically acclaimed world premiere in Los Angeles in 2007, director Jessica Kubzansky and actor Ryun Yu have partnered on several productions of Hold These Truths, most recently at Act Theatre in Seattle.
"When I discovered Gordon's story in the late 1990s – so full of heartbreak, but also his irrepressible humor and zest for life – it was a life-changing experience," says playwright Jeanne Sakata. "I knew I had to try to bring his story to the American stage, not just as an act of healing for myself, my family and my community, but also to inspire and give hope to any American citizen who has been denied equal treatment under the law promised by our Constitution because of factors such as race, gender, sexual orientation and who must battle constantly to make those promises a living reality."
Ryun Yu, who played Hirabayashi at ACT Theatre in Seattle, powerfully reprises the role at The Armory. The play continues in the Ellyn Bye Studio at The Armory through Nov. 13.
At the end of the month, Hershey Felder as Irving Berlin opens on the U.S. Bank Main Stage at The Armory. From Nov. 30 through Dec. 30, you can experience the remarkable story of "America's Composer." Felder takes us from the depths of anti-Semitism in Czarist Russia to New York's Lower East Side – and ultimately throughout America and the world.
503-445-3700 | pcs.org
Renate Dollinger brings shtetl paintings to ORA's 10th annual art show and sale
Renate Dollinger (world renowned artist) will be in Portland this month when ORA Northwest Jewish Artists returns to the Mittleman Jewish Community Center for its 10th annual art show and sale. ORA will throw a preview party and sale for its juried art show Nov. 5 and 6.
Renate Dollinger was a landscape painter with a small gallery in Palo Alto, CA, a husband, four children and lots of dogs when, in 1968, at the age of 44, she suddenly turned to painting life in a shtetl. In the early 1970s a Berkeley museum curator called Renate out of the blue, came to look at the paintings and signed her up for a one-person show: "The Lost World of the Shtetl." She has been painting the scenes ever since. Renate's brochure says: "The rich culture of the shtetl is evoked in Renate's compelling paintings with their uncanny portrayals …While the scenes are born of the artist's imagination, they possess a compelling sense of truth … as if they were part of Renate's own personal experience."
Renate and her husband raised their children in Palo Alto and then moved to Salem to be near their daughter. Today she lives at a senior residence near Seattle, close to another daughter.
At age 92, Renate continues to paint and will sell some of her paintings at this event.
The Taste of Art Preview Party and Sale will be 7-9:30 pm, Nov. 5. The Celebration of Art Sale runs 10:30-4:30 pm, Nov. 6. Admission to both events is free.
503-244-0111 | northwestjewishartists.org
Come to J for Books, Bagels and Hanukkah Gift Fair Nov. 20
The Mittleman Jewish Community Center hosts a double celebration of Jewish Book Month.
Enjoy a bagel nosh and story time in the PJA Library at 11 am, Nov. 20.
Books will be just one of the treasures you can find at the Hanukkah Gift Fair the same day from 10 am to 2 pm. About 20 vendors are expected to offer an array of treasures perfect for Hanukkah gift giving. Craft and fine artists will share their creations along with music and books galore.
A latke lunch will be available at Cafe at the J.
503-244-0111 | oregonjcc.org
Sephardic Film Festival schedule announced
Congregation Ahavath Achim, in cooperation with the Sephardic Cultural Center of Oregon, announce the full schedule for the 10th Annual Sephardic Winter Film Series. The Nov. 1 film, Above & Beyond, was announced last month. The remainder of the schedule is:
Dec. 6 (double feature): 1913: Seeds of Conflict.  Explore an overlooked moment in pre-World War I Palestine when Jewish, Muslim and Christian communities intermingled with a cultural fluidity enjoyed freely by all, and few could contemplate the conflict that would engulf the region for the next century.
Arab & Jew Return to the Promised Land.  The grinding struggle that has caused such suffering by Israeli Jews and Palestinian Arabs is pictured in searing human terms. Written and narrated by Pulitzer-Prize winner David K. Shipler, this program taps the powerful yearnings of two peoples.
Jan. 3, 2017:  Among The Righteous. Seeking a hopeful response to the plague of Holocaust denial in the Arab world, Robert Satloff sets out in the wake of 9/11, on an eight-year journey to find an Arab hero whose story would change the way Arabs and Jews view their history. Satloff found not only the Arab heroes he sought, but also the story of the half-million Jews of Arab lands in North Africa under Vichy, Fascist and Nazi control.
Feb. 7, 2017:  The Long Way Home.  This Academy Award-winning documentary examines the critical post-World War II period from 1945-1948, and the plight of the tens of thousands of refugees who survived the Nazi Holocaust but whom most of the world left to fend for themselves. Their clandestine attempts to get to the Jewish homeland led to the creation of the State of Israel in 1948.
March 7, 2017:  The Truce.  A biographical documentary about Italian chemist turned author Primo Levi, who was interned in Auschwitz during World War II.  Following his release, he returned to his native Turin.  This movie depicts his hellish nine month journey from the camp back to his home.
April 4, 2017:  The Ballad of the Weeping Spring.  Musical instruments take the place of guns and an Iranian symphony takes the place of a gun fight in this clever, emotional homage to The Magnificent Seven.  Winner of 4 Israeli Academy Awards, plus 5 nominations including Best Film, and winner of Best Music at Jerusalem Film Festival.
Films with Sephardic content screen at 7 pm the first Tuesday of each month November 2016 through April 2017. Films, dessert and discussions at Ahavath Achim, 3225 SW Barbur Blvd., Portland, are free (donations accepted).
David: 503-892-6634 | jewishfilmportland.org